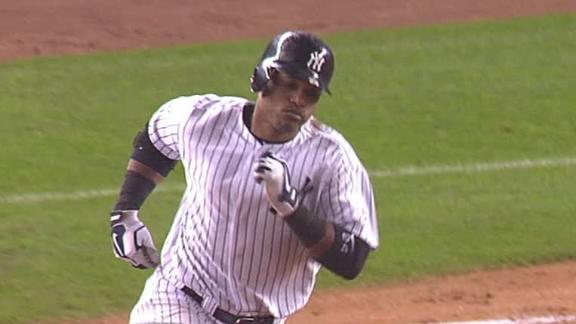 Yanks clinch AL East, await O's-Rangers winner
ESPN.com
Updated Oct 3, 2012
Robinson Cano and Curtis Granderson each hit a pair of homers, powering the New York Yankees past the Boston Red Sox 14-2 on a raucous Wednesday night in the Bronx for their 13th AL East title in 17 years.
Upvote
Share
Tweet
MLB.com

Oct 3, 2012

Buck Showalter hasn't yet decided who will start the AL Wild Card matchup against Texas, but one thing is sure: It will be either Steve Johnson or Joe Saunders.

Upvote Share Tweet

In a wild, wild finish, the A's won the AL West by rallying past the Rangers 12-5 and capping a comeback that began when they were 13 games back in late June, says Jay Jaffe.

Upvote Share Tweet

yahoo.com

Oct 3, 2012

Every bad collapse needs an error to lead the lowlight reels and Josh Hamilton unfortunately found himself as the source for the one fronting the fade of the 2012 Texas Rangers during Wednesday's 12-5 loss at Oakland.With Texas poised to finally escape …

Upvote Share Tweet

Manager Ron Washington said Yu Darvish will be the Rangers' first starter in the playoffs, whether it's the American League Wild Card game on Friday or an AL Division Series game this weekend.

Upvote Share Tweet

Blackley silences Rangers as A's pull even in AL West

Upvote Share Tweet

The Juice: A's and Rangers all tied up with one to go, Raúl Ibañez cuts Yanks magic number to one

yahoo.com

Oct 3, 2012

The Juice is nearing the end of its fifth season of fun! Stop by each weekday for an ample serving of news from the action, plus great photos, stats and video highlights. It all comes down to this: No, the Texas Rangers haven't known any place but first…

Upvote Share Tweet

A's Win AL West

Oct 3

Athletics finish off sweep of Rangers with 12-5 win to capture the division title.

Baseball Tonight Spotlight

Oct 3

A's capture AL West title after finishing off sweep of Rangers with 12-5 win.