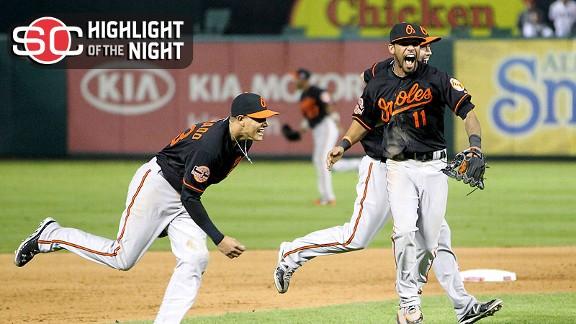 Updated Oct 6, 2012

Share Tweet

No controversy here, writes Ted Keith. Backed by a solid start from Joe Saunders, the amazing O's used a lot of small ball to eliminate the Rangers 5-1 and advance to the Division Series.

Source:

CNNSI.com

Updated Oct 6, 2012

Share Tweet

The opportunity was there for Josh Hamilton. In the very first inning, he was gift-wrapped a first and third situation that could have put himself and the Texas Rangers back on track to another extended postseason run. That crucial at-bat didn't last lo…

Source:

yahoo.com

Updated Oct 6, 2012

Share Tweet

Joe Saunders pitched effectively into the sixth inning, Adam Jones hit a tiebreaking sacrifice fly, and the Baltimore Orioles beat the two-time defending AL champion Texas Rangers 5-1 in the wild-card game playoff Friday night.

Is Hamilton Done In Texas?

Oct 6

Buster Olney thinks there is a strong possibility that Josh Hamilton is going to leave the Rangers following Texas' meltdown and elimination from the playoffs.