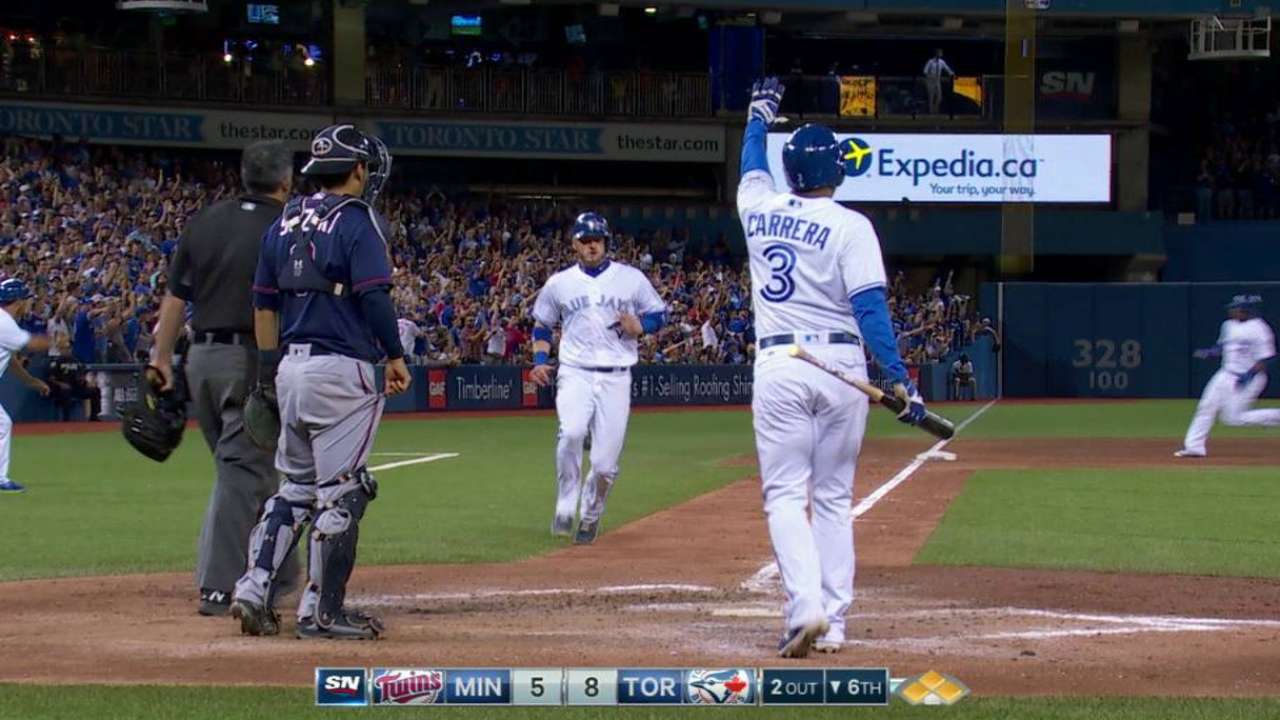 MLB.com
nytimes.com
Updated 4 hours ago
The Blue Jays' offense finally came back to life on Friday, recording 15 hits in Toronto's 15-8 rout of the Twins.
Share
Tweet
Pujols Reaches 100 RBIs for 13th Time, Angels Beat Jays 6-3

nytimes.com

Aug 25 (yesterday)

Albert Pujols reached the 100-RBI mark for the 13th time, the fifth player in history to achieve the feat, Mike Trout had three hits and drove in four runs, and the Los Angeles Angels beat the Toronto Blue Jays 6-3 on Thursday night.

Share Tweet

Blue Jays Assistant Offers The Hottest Advanced Stats Take Of All

deadspin.com

Aug 25 (yesterday)

Are you seated? Are you prepared to hear the rawest, truest sabermetrics take of all time from Blue Jays scout Steve Springer?Read more...

Share Tweet

Pujols passes Big Mac with 584th HR

Albert Pujols moved past Mark McGwire and into sole possession of 10th on the all-time home run leaders list after going yard in the first inning off Marco Estrada for his 584th career home run during Wednesday's 8-2 win over the Blue Jays.

Share Tweet

Pujols' milestone, Shoemaker key rout of Jays

Mike Trout and Albert Pujols each homered as the Angels scored early and often to back six scoreless innings from Matt Shoemaker during an 8-2 victory over the Blue Jays on Wednesday night at Rogers Centre.

Share Tweet

Jose Bautista made his return to the Blue Jays' starting lineup on Thursday night after missing the previous 15 days with a twisted left knee.

Share Tweet

Martin Has 3 Hits, Blue Jays Beat Slumping Angels 7-2

nytimes.com

Aug 23 (3 days ago)

Russell Martin had three hits and two RBIs, R.A. Dickey pitched 6 2/3 innings for his first home win since July 10 and the Toronto Blue Jays beat the Los Angeles Angels 7-2 on Tuesday night.

Share Tweet

yahoo.com

Aug 23 (4 days ago)

Edwin Encarnacion (Getty Images) Toronto Blue Jays first basemen Edwin Encarnacion is embroiled in a stunning lawsuit that alleges, among other things, that he knowingly gave a woman two STDs. Encarnacion himself won't be commenting on the suit, but he …

Share Tweet

yahoo.com

Aug 22 (5 days ago)

A week ago, things were looking pretty good for the Baltimore Orioles. They were second in the AL East with a 66-51 record, just 0.5 games behind the Toronto Blue Jays. They had the best home record in the AL (39-17), and they had a chance to put more s…

Share Tweet

MLB.com nytimes.com yahoo.com

Aug 22 (5 days ago)

When you think of the Blue Jays, you often think of them outslugging opponents. But they have quietly had the AL's best pitching staff this season.

Share Tweet

yahoo.com

Aug 21 (6 days ago)

The Toronto Blue Jays turned a few heads Sunday morning when they elected to option Aaron Sanchez to the minor leagues. The 24-year-old right-hander has pitched like the team's ace all season, posting a 12-2 mark with a 2.99 ERA and 132 strikeouts in 15…

Share Tweet

Encarnacion, Osuna Lead Blue Jays Over Indians 6-5

nytimes.com

Aug 20 (6 days ago)

Roberto Osuna had no negative thoughts when Tyler Naquin came to the plate in the ninth inning.

Share Tweet

Indians activate Tomlin, option Armstrong

MLB.com

Aug 20 (6 days ago)

Prior to Saturday's game with the Blue Jays, the Indians announced they have activated right-hander Josh Tomlin from the Family Medical Emergency List. To make room for Tomlin, Cleveland optioned right-hander Shawn Armstrong to Triple-A Columbus.

Share Tweet

yahoo.com

Aug 19

In a possible postseason preview, the Cleveland Indians and Toronto Blue Jays provided drama on Friday night that is typically reserved for October's biggest moments. With two ninth-inning swings and one mad dash around the bases, the Indians turned a o…

Share Tweet

nytimes.com

Aug 19

Tyler Naquin hit a game-ending inside-the-park homer, sprinting around the bases to cap a two-run rally in the ninth inning as the Cleveland Indians stunned the Toronto Blue Jays 3-2 on Friday night.

Share Tweet

Donaldson, Tulo sit out with minor injuries

MLB.com

Aug 19

Josh Donaldson and Troy Tulowitzki were held out of the Blue Jays' lineup on Friday as each dealt with a minor injury.

Share Tweet

Indians call up Armstrong, option Crockett

MLB.com

Aug 19

The Indians shuffled their bullpen again on Friday prior to the start of a three-game set with the Blue Jays at Progressive Field. Cleveland recalled right-hander Shawn Armstrong from Triple-A Columbus. To make room for Armstrong on the 25-man roster, t…

Share Tweet

Sabathia Discusses Spring Debut

Mar 17

Buster Olney speaks with Yankees pitcher CC Sabathia about his first pitching outing since May. He allowed two runs in two innings Tuesday against the Blue Jays.

Marcus Stroman Injury Devastating Blow For Blue Jays

Mar 10

ESPN SweetSpot blogger David Schoenfield discusses Marcus Stroman's season-ending torn ACL.

Blue Jays: High Expectations In 2015

Feb 25

The Blue Jays have the talent on paper to win the AL East, but whether all the pieces can come together is the biggest question in Toronto.

Josh Donaldson To Earn $4.3M

Feb 13

Jerry Crasnick discusses why Blue Jays third baseman Josh Donaldson was awarded $4.3 million in arbitration instead of the $5.75 million he had been seeking.