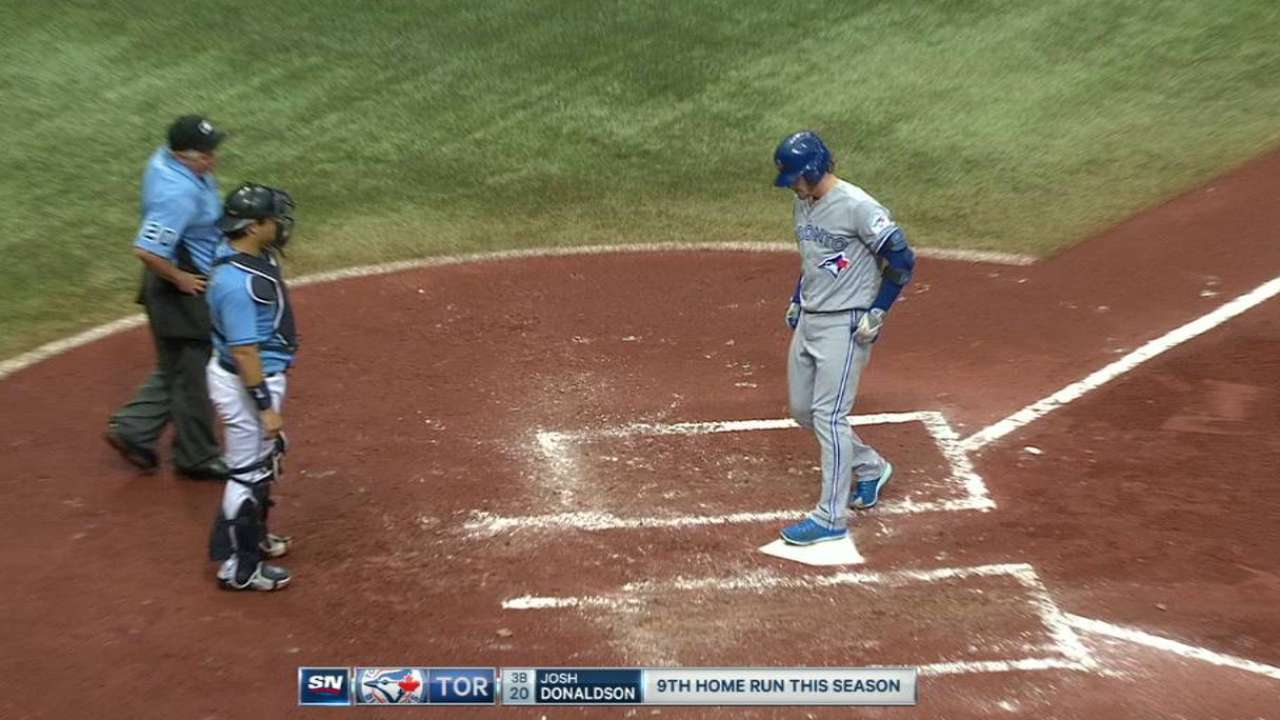 nytimes.com
MLB.com
Updated 8 hours ago
Marcus Stroman gave himself and the Toronto Blue Jays a birthday gift.
Share
Tweet
nytimes.com MLB.com

Apr 30 (yesterday)

After the first walkoff hit of his career, Curt Casali had to give credit to the man in the on-deck circle.

Share Tweet

Cash ejected for first time this season

MLB.com

Apr 29 (2 days ago)

Kevin Cash got ejected from Friday night's Blue Jays-Rays contest at Tropicana Field.

Share Tweet

MLB.com nytimes.com

Apr 29 (2 days ago)

The Blue Jays used four solo home runs Friday night en route to a 6-1 win over the Rays at Tropicana Field.

Share Tweet

yahoo.com MLB.com nytimes.com

Apr 28 (4 days ago)

Welcome to The Walk Off, the nightly MLB recap from Big League Stew. Here we'll look at the top performers of the night, show you a must-see highlight and rundown the scoreboard. First, we start with a game you need to know about. Some people thought th…

Share Tweet

nytimes.com

Apr 26 (5 days ago)

Starter Chris Sale went eight innings, giving up just one run and four hits, and Chicago battered Toronto for 10 runs and 15 hits in a road rout.

Share Tweet

yahoo.com

Apr 26 (5 days ago)

There's one very familiar public-relations strategy that athletes who get busted or questioned about performance-enhancing drugs often use: Deny, deny, deny. That isn't the case, however, for Chris Colabello, the Toronto Blue Jays first baseman/outfield…

Share Tweet

Sale on aces with tonight's MLB.TV slate

MLB.com

Apr 26 (6 days ago)

Chris Sale will try to become the season's first five-game winner today as he takes the mound for the White Sox opposite R.A. Dickey and the Blue Jays. His quest for five wins is just one of many intriguing matchups on tap for a 15-game slate that inclu…

Share Tweet

Stats of the Day: Rollins rolling right along

MLB.com

Apr 26 (6 days ago)

In the White Sox 7-5 win over the Blue Jays, 37-year-old Jimmy Rollins collected three hits (two singles and a double) and stole third base. Rollins is the oldest White Sox shortstop to have at least three hits (with one going for extra bases) and a ste…

Share Tweet

MLB.com

Apr 25 (6 days ago)

The White Sox scored five runs and sent 11 batters to the plate in the seventh inning alone to steal a game away from the Blue Jays with a 7-5 victory on Monday night at Rogers Centre. Chicago has now won four consecutive games.

Share Tweet

Frazier Drives in Go-Ahead Run, White Sox Beat Blue Jays 7-5

nytimes.com

Apr 25 (6 days ago)

Todd Frazier doubled home the go-ahead run in a five-run seventh inning and the Chicago White Sox rallied to beat the Toronto Blue Jays 7-5 on Monday night.

Share Tweet

Blue Jays bit by minor injury bug

MLB.com

Apr 25 (6 days ago)

The list of injuries continues to expand for the Blue Jays, but the good news is that none of the nagging ailments appear to be something that will turn into long-term concerns.

Share Tweet

nytimes.com

Apr 24

Jose Bautista hit a two-run homer, Ezequiel Carrera added a solo shot and the Toronto Blue Jays beat the Oakland Athletics 6-3 on Sunday.

Share Tweet

yahoo.com

Apr 24

Bryce Harper got the undivided attention of the sporting world this spring when he stated his belief that baseball is a tired game, while sharing his opinion that his fellow players should feel more comfortable showing emotion on the field. [Elsewhere: …

Share Tweet

Sabathia Discusses Spring Debut

Mar 17

Buster Olney speaks with Yankees pitcher CC Sabathia about his first pitching outing since May. He allowed two runs in two innings Tuesday against the Blue Jays.

Marcus Stroman Injury Devastating Blow For Blue Jays

Mar 10

ESPN SweetSpot blogger David Schoenfield discusses Marcus Stroman's season-ending torn ACL.

Blue Jays: High Expectations In 2015

Feb 25

The Blue Jays have the talent on paper to win the AL East, but whether all the pieces can come together is the biggest question in Toronto.

Josh Donaldson To Earn $4.3M

Feb 13

Jerry Crasnick discusses why Blue Jays third baseman Josh Donaldson was awarded $4.3 million in arbitration instead of the $5.75 million he had been seeking.