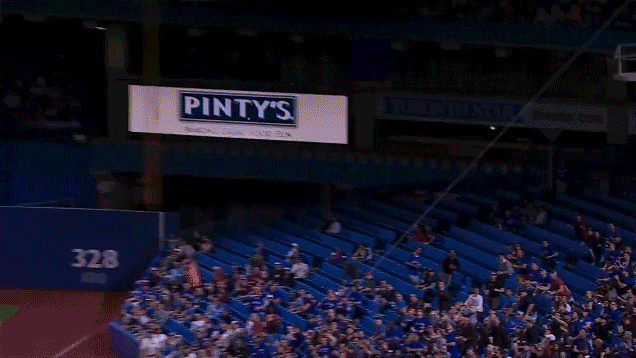 Reminder: Beer Cans Are Not Tools For Catching Baseballs
deadspin.com
Updated 24 minutes ago
This Blue Jays fan saw a foul ball headed his way during today's game at Rogers Centre against the Braves. He then tried to catch the ball, apparently, with his can of beer. The result: he didn't catch the ball, and he wasted beer. Gotta save at least o…
Share
Tweet
Blue Jays shortstop Jose Reyes may be facing a trip to the disabled list with a broken rib, according to a report from the Toronto Star. The newspaper reported on Friday that Reyes has been playing with the cracked rib for "almost a week." The…

Share Tweet

MLB.com nytimes.com

Apr 17 (yesterday)

Mark Buehrle and Chris Archer appeared to be shouting at each other from their respective dugouts after Rays third baseman Evan Longoria was hit by a pitch from Blue Jays reliever Marco Estrada and was subsequently forced to the leave the game on Thursd…

Share Tweet

Cash ejected for first time as a manager

MLB.com

Apr 16 (yesterday)

Kevin Cash got ejected for the first time as manager of the Rays in the eighth inning of Thursday night's game against the Blue Jays.

Share Tweet

yahoo.com

Apr 16 (yesterday)

From time to time, The Stew will highlight an under-the-radar player making noise in MLB. Maybe it's an upstart star, a rookie coming into the league or player having a breakout season. Today, we tell you all about Kevin Pillar, the Toronto Blue Jays' b…

Share Tweet

yahoo.com deadspin.com

Apr 16 (2 days ago)

It's only been three games, but already there are concerns about the new artificial turf at the Rogers Centre, the home of the Toronto Blue Jays. In the 26 years since its opening, the Rogers Centre, neé SkyDome, has gone through five different kinds of…

Share Tweet

MLB.com nytimes.com yahoo.com

Apr 15 (3 days ago)

Jose Bautista, Devon Travis and Dalton Pompey each homered while Josh Donaldson enjoyed a three-hit right as the Blue Jays scored early and often in an 12-7 victory over the Rays on Wednesday night at Rogers Centre on Jackie Robinson Day.

Share Tweet

Steven Souza Jr. launches monster home run in Rays' win

yahoo.com

Apr 15 (3 days ago)

Steven Souza Jr.'s big game at the plate in Tampa Bay's 3-2 win over Toronto on Tuesday started off with a bang. Souza smashed a 463-foot solo shot to deep center field off Blue Jays left-hander Daniel Norris in the first inning to put the Rays on the b…

Share Tweet

MLB.com nytimes.com

Apr 13 (5 days ago)

Can't say enough good things about Jake Odorizzi these days, as the right-hander turned in his second quality outing in as many starts this season against the Blue Jays on Monday night.

Share Tweet

Knuckling under: Dickey foiled by command issues

MLB.com

Apr 13 (5 days ago)

One of R.A. Dickey's top priorities this season is limiting his number of walks, but he didn't have much luck in that area as he issued five free passes in the Blue Jays' 2-1 loss to the Rays on Monday night.

Share Tweet

MLB.com

Apr 13 (5 days ago)

Major League Baseball Commissioner Rob Manfred has left the door open to the possibility of the Blue Jays hosting an All-Star Game in the not-so-distant future.

Share Tweet

Jose Bautista's Home-Run Skip Was Part Of A Two-Year-Old Grudge

deadspin.com

Apr 13 (5 days ago)

After Orioles reliever Darren O'Day threw behind Jose Bautista Sunday, the Blue Jays outfielder slapped a two-run home run as Toronto won, 10-7. Bautista started his trot by skipping for a few seconds. Though it was enjoyable enough without context, the…

Share Tweet

MLB.com nytimes.com

Apr 12 (6 days ago)

When a franchise has gone 21 seasons without advancing to the postseason, as Toronto has done, building positive momentum right from the get-go can only be a plus. That becomes even more pertinent considering that the Blue Jays are relying on six rookie…

Share Tweet

Three homers lead Blue Jays past O's to claim series

Jose Reyes went 3-for-5 with an RBI and Blue Jays rookie Dalton Pompey and Jose Bautista each delivered two-run homers to lead Toronto to a 10-7 slugfest series win over Baltimore on Sunday at Camden Yards. Adam Jones homered and chipped in three RBIs, …

Share Tweet

Saunders has setback with tight right hamstring

Michael Saunders was removed from his rehab game with Class A Advanced Dunedin on Sunday afternoon because of a tight right hamstring. The Blue Jays have been monitoring the outfielder's progression before considering him for a callup.

Share Tweet

Andriese to make first Major League start Tuesday vs. Toronto

Matt Andriese will make his first Major League start on Tuesday night for the Rays against the Toronto Blue Jays.

Share Tweet

Schoop's first slam could be sign of things to come

MLB.com

Apr 11 (7 days ago)

Jonathan Schoop proved his strength with a fifth-inning grand slam in the O's 7-1 victory over the Blue Jays on Saturday, the first of his career, and manager Buck Showalter said the second baseman is learning every day.

Share Tweet

Sabathia Discusses Spring Debut

Mar 17

Buster Olney speaks with Yankees pitcher CC Sabathia about his first pitching outing since May. He allowed two runs in two innings Tuesday against the Blue Jays.

Marcus Stroman Injury Devastating Blow For Blue Jays

Mar 10

ESPN SweetSpot blogger David Schoenfield discusses Marcus Stroman's season-ending torn ACL.

Blue Jays: High Expectations In 2015

Feb 25

The Blue Jays have the talent on paper to win the AL East, but whether all the pieces can come together is the biggest question in Toronto.

Josh Donaldson To Earn $4.3M

Feb 13

Jerry Crasnick discusses why Blue Jays third baseman Josh Donaldson was awarded $4.3 million in arbitration instead of the $5.75 million he had been seeking.