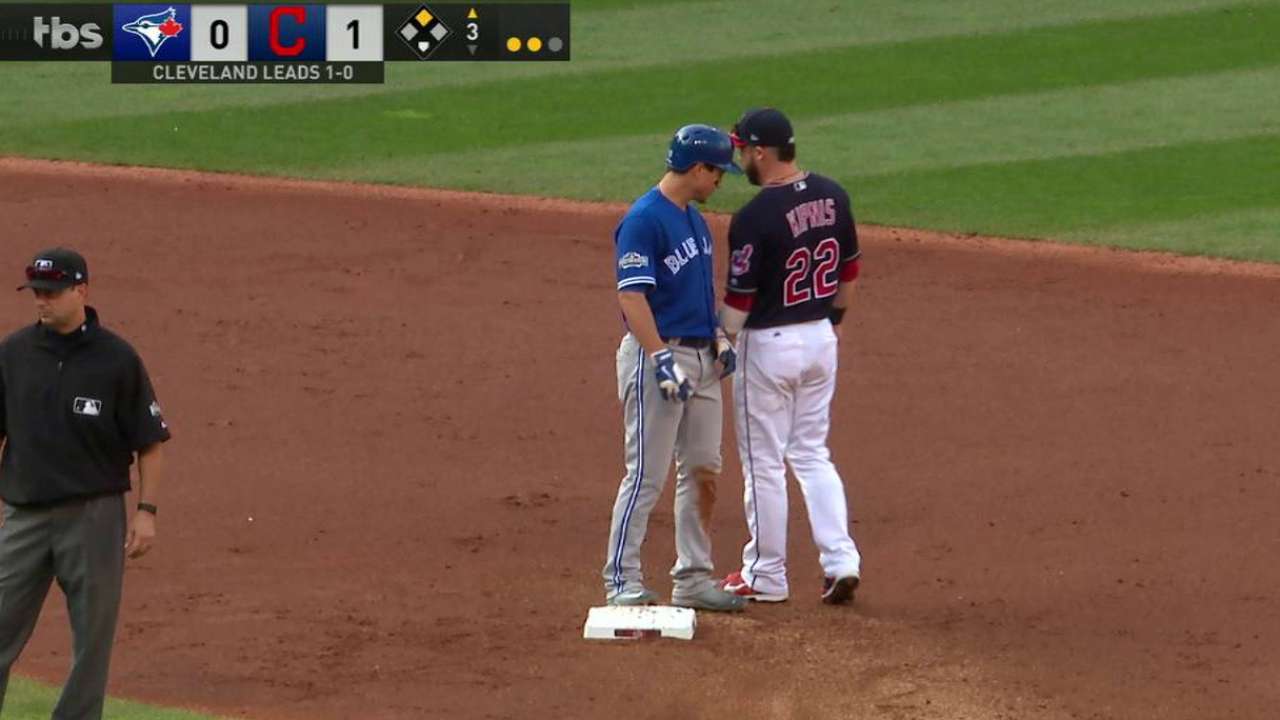 MLB.com
Updated 8 hours ago
The Blue Jays tendered contracts to all four of their arbitration-eligible players prior to Friday night's 8 ET deadline.
Share
Tweet
Inbox: Is there a chance Encarnacion returns?

MLB.com

Nov 23

Blue Jays beat reporter answers questions about Kendrys Morales, Edwin Encarnacion, Joe Biagini and more in the latest edition of the Inbox.

Share Tweet

yahoo.com

Nov 21

Marcus Stroman was back in the music studio this offseason. (Getty Images/Alex Trautwig) Don't call it a comeback … or, wait … do call it a comeback? Toronto Blue Jays pitcher Marcus Stroman made his triumphant return to the rap game recently. The 25-ye…

Share Tweet

yahoo.com

Nov 19

If at first you don't succeed, hope Jimmy Fallon notices, get invited back to the Tonight Show, and try it all over again. That's not a typical path to redemption for most of us, but that's the path Toronto Blue Jays rookie Joe Biagini took after he was…

Share Tweet

yahoo.com

Nov 19

Your browser does not support iframes. Welcome to The Stew's Hot Stove Digest, our daily rundown of MLB news, rumors and gossip for Hot Stove season. Here you'll find a quick recap of all the day's action and other fun stuff from around the internet tha…

Share Tweet

Cuthbert may be Royals' backup plan at DH

MLB.com

Nov 14

Just a few days after general manager Dayton Moore said the Royals "had interest" in re-signing designated hitter Kendrys Morales, Morales reportedly has a deal with the Blue Jays.

Share Tweet

Jose Bautista has been one of the best power hitters in the American League for years, and one of the faces of the Blue Jays alongside Edwin Encarnacion. This offseason, other teams finally have a chance to make a run at him.

Share Tweet

yahoo.com

Nov 11

Veteran Jesse Chavez pitched for the Blue Jays and Dodgers in 2016. (Getty Images) What's expected to be a busy offseason for the Los Angeles Angels will begin with the addition of free agent pitcher Jesse Chavez. According to ESPN's Jerry Crasnick, the…

Share Tweet

Boston among 5 best fits for Edwin's bat

MLB.com

Nov 11

At this week's GM Meetings, Red Sox president of baseball operations Dave Dombrowski didn't come right out and say he wasn't interested in Edwin Encarnacion. And it's unclear where the free-agent slugger will land, after the Blue Jays reportedly struck …

Share Tweet

Kendrys Morales will replace Edwin Encarnacion in Toronto. (Getty Images/Hannah Foslien) The Edwin Encarnacion era in Toronto appears to be over. The Toronto Blue Jays reportedly agreed to a deal with his replacement Friday, inking designated hitter Ken…

Share Tweet

MLB.com

Nov 7

The Hot Stove season is underway, and we keep you up to date with the latest free-agent news, trade buzz, rumors and more.

Share Tweet

MLB.com

Nov 11

Lourdes Gurriel Jr., ranked No. 6 on MLBPipeline.com's Top 30 International Prospects List, has agreed to a seven-year, $22 million deal with the Blue Jays, according to industry sources.

Share Tweet

yahoo.com

Nov 10

R.A. Dickey #43 of the Toronto Blue Jays pitches in the first inning against the Houston Astros at Minute Maid Park on August 2, 2016 in Houston, Texas. (Getty Images) It's hot stove time in MLB, and the Braves have pulled a pot off that hot stove and m…

Share Tweet

Blue Jays remain focused on re-signing Edwin

MLB.com

Nov 8

The offseason Hot Stove is in full swing and the Blue Jays find themselves front and center with the uncertain futures of Edwin Encarnacion and Jose Bautista.

Share Tweet

Blue Jays officially exercise option on Grilli

MLB.com

Nov 5

The Blue Jays got their offseason started on Saturday afternoon by exercising the team option on reliever Jason Grilli's contract for the 2017 season.

Share Tweet

yahoo.com

Nov 3

We can't blame Cleveland Indians fans for feeling confident. After sweeping the Boston Red Sox in the ALDS and dispatching the Toronto Blue Jays in the ALCS, their team came into the World Series against the Chicago Cubs flying high, despite being overw…

Share Tweet

yahoo.com

Oct 26

It's been an eventful postseason for Cleveland Indians pitcher Trevor Bauer. Two weeks ago he needed stitches after his pinky finger got mangled while repairing one of his hobby drones. That pushed back his start in the American League Championship Seri…

Share Tweet

yahoo.com

Oct 20

The Cleveland Indians are four wins away from ending a 68-year World Series championship drought. After ousting the Toronto Blue Jays from the American League Championship Series in five games, they're headed to the Fall Classic for the first time since…

Share Tweet

deadspin.com

Oct 20

Cleveland rookie pitcher Ryan Merritt was making just the second start of his career yesterday when manager Terry Francona sent him to the mound to face the Blue Jays in Game 5 of the ALCS. Before the game, Blue Jays slugger Jose Bautista seemed confide…

Share Tweet

Sabathia Discusses Spring Debut

Mar 17

Buster Olney speaks with Yankees pitcher CC Sabathia about his first pitching outing since May. He allowed two runs in two innings Tuesday against the Blue Jays.

Marcus Stroman Injury Devastating Blow For Blue Jays

Mar 10

ESPN SweetSpot blogger David Schoenfield discusses Marcus Stroman's season-ending torn ACL.

Blue Jays: High Expectations In 2015

Feb 25

The Blue Jays have the talent on paper to win the AL East, but whether all the pieces can come together is the biggest question in Toronto.

Josh Donaldson To Earn $4.3M

Feb 13

Jerry Crasnick discusses why Blue Jays third baseman Josh Donaldson was awarded $4.3 million in arbitration instead of the $5.75 million he had been seeking.