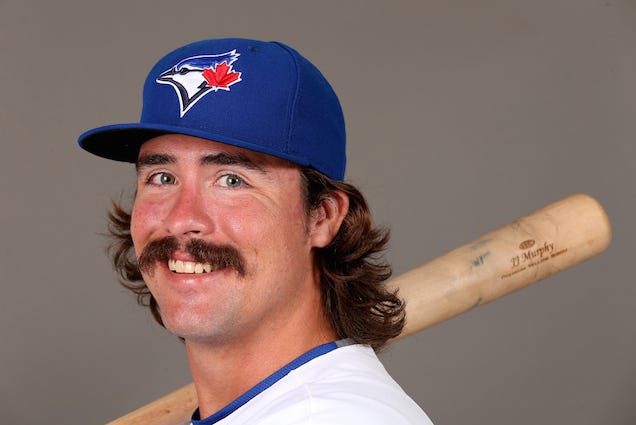 MLB Photo Day Never Disappoints
deadspin.com
Updated 17 hours ago
This is the week when most MLB teams have their official Photo Day, meaning that we have once again been graced with a bunch of pictures of professional athletes looking like awkward eighth-graders. We browsed through a bunch of this year's crop and fou…
Upvote
Share
Tweet
Derek Jeter's Lessons Live On ... With Blue Jays

nytimes.com

Mar 1 (yesterday)

The former Yankees catcher Russell Martin, who signed with Toronto in the off-season, said he had vivid memories of Derek Jeter's strict routines and unyielding approach to the game.

Upvote Share Tweet

The Toronto Blue Jays have boosted their outfield depth, signing Dayan Viciedo to a minor league contract.

Upvote Share Tweet

nytimes.com ESPN.com yahoo.com

Feb 27 (3 days ago)

Toronto Blue Jays left fielder Michael Saunders had surgery on his left knee Friday and could return to the team sooner than previously expected, perhaps in mid-April.

Upvote Share Tweet

nytimes.com ESPN.com yahoo.com MLB.com

Feb 26 (4 days ago)

The Toronto Blue Jays signed the two-time Cy Young winner Johan Santana to a minor league deal and invited him to spring training.

Upvote Share Tweet

deadspin.com yahoo.com ESPN.com nytimes.com MLB.com

Feb 26 (5 days ago)

Blue Jays fans received their sucker punch early this season. Outfielder Michael Saunders stepped on a sprinkler head in spring training, and now he needs surgery. He might be out until the All-Star break.Read more...

Upvote Share Tweet

yahoo.com

Feb 26 (5 days ago)

Last week current broadcaster and former major league catcher Gregg Zaun weighed in on the atmosphere in the Toronto Blue Jays clubhouse last season. In particular, Zaun was critical of Brett Lawrie, who appeared to be a future franchise player but fell…

Upvote Share Tweet

MLB.com

Feb 24 (7 days ago)

Josh Donaldson said he has no doubt playing half of his games in Rogers Centre instead of the O.co Coliseum will be "a positive for me and my career."

Upvote Share Tweet

Anthopoulos: Filling out Blue Jays rotation first a priority

MLB.com

Feb 24 (7 days ago)

General manager Alex Anthopoulos said on Tuesday that Aaron Sanchez, Marco Estrada and Daniel Norris could all be in the mix for both the Blue Jays' starting rotation and the bullpen this spring.

Upvote Share Tweet

Alex Anthopoulos said Tuesday he understands why catcher Dioner Navarro wants to be traded, and he actually expects that to happen. But the Blue Jays' general manager also made it clear he expects to "get good value back."

Upvote Share Tweet

New arrival Nolin starts road back to mound

MLB.com

Feb 21

Sean Nolin, acquired from the Blue Jays in the Josh Donaldson deal, threw from flat ground for the first time Saturday since offseason surgery, joining several other A's hurlers on the mend.

Upvote Share Tweet

Josh Donaldson To Earn $4.3M

Feb 13

Jerry Crasnick discusses why Blue Jays third baseman Josh Donaldson was awarded $4.3 million in arbitration instead of the $5.75 million he had been seeking.

Buster's Blog: AL East Outlook

Dec 2

Despite the moves by the Red Sox and Blue Jays, Buster Olney explains why there are still major holes to fill with those and every team in the AL East.

Donaldson Traded To Toronto

Nov 28

ESPN.com senior writer Jerry Crasnick discusses the trade between the Blue Jays and Athletics that sends 3B Josh Donaldson to Toronto for Brett Lawrie and others.

Buster's Blog: Cubs Miss Martin

Nov 20

Buster Olney discusses Russell Martin signing with the Blue Jays and, in light of this, whether the Cubs will still prioritize signing a catcher in the offseason.