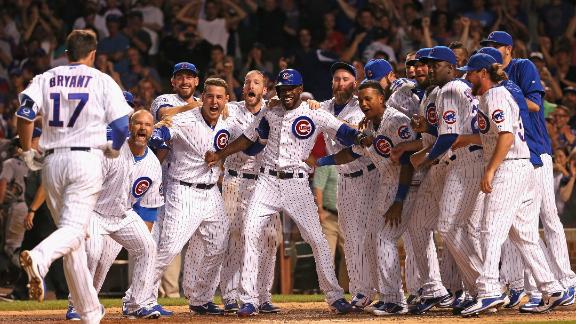 ESPN.com
nytimes.com
yahoo.com
MLB.com
deadspin.com
Updated 1 hour ago
Baltimore Orioles not worried about the Toronto Blue Jays' big trade
Share
Tweet
Nolan Arenado on Tulo trade: 'I don't know any of these dudes we got'

yahoo.com

4 hours ago

The tenor of the Colorado Rockies clubhouse was understandably foul after news spread that the team had dealt star shortstop Troy Tulowitzki to the Toronto Blue Jays. Yahoo Sports' Jeff Passan wrote a column looking behind-the-scenes at how Tulo and his…

Share Tweet

Rumor roundup: More waves after Tulo splash

MLB.com

9 hours ago

The Blue Jays pulled off the biggest surprise of the Trade Deadline season late Monday night, when news surfaced of a deal with the Rockies for star shortstop Troy Tulowitzki. But there is plenty of time remaining for more bombshells to drop before Frid…

Share Tweet

Hawkins excited for next chapter with Blue Jays

MLB.com

16 hours ago

Right-handed reliever LaTroy Hawkins had boarded the Rockies' team bus after Monday night's 9-8 loss to the Cubs at Wrigley Field when Rockies general manager Jeff Bridich rang to inform him the team had agreed to trade him and star shortstop Troy Tulow…

Share Tweet

nytimes.com yahoo.com

Jul 26 (2 days ago)

Franklin Gutierrez homered with one out in the bottom of the 10th inning Sunday to give Seattle a 6-5 victory over the Toronto Blue Jays, a game the Mariners kept close with the aid of a triple play.

Share Tweet

Blue Jays' Awful Baserunning Turns Grounder Into Triple Play

deadspin.com

Jul 26 (2 days ago)

You want to see a 3-6-2 triple play? Here's one, courtesy of some putrid baserunning by the Toronto Blue Jays. How rare is this play? The last time it happened was in 1955, according to SABR. Read more...

Share Tweet

MLB.com

Jul 25 (3 days ago)

Chris Colabello hit a go-ahead two-run single in the ninth inning as the Blue Jays came from behind to beat the Mariners, 8-6, in the second game of a three-game series Saturday afternoon at Safeco Field.

Share Tweet

nytimes.com

Jul 25 (3 days ago)

Madison Bumgarner hit a home run and pitched seven innings for his third consecutive win, powering the host San Francisco Giants past the Oakland Athletics, 2-1, on Saturday.

Share Tweet

Sucre belts first Major League home run

MLB.com

Jul 25 (3 days ago)

Mariners catcher Jesus Sucre drove a first-pitch fastball from Blue Jays starter Drew Hutchison 387 feet and over the left-center-field wall Saturday for his first career home run, with one out in the second inning.

Share Tweet

Felix tames Toronto for AL-best 12th win

MLB.com

Jul 25 (4 days ago)

Felix Hernandez forged a tie for the American League lead in wins with No. 12 as the Mariners beat the Blue Jays, 5-2, in Friday night's series opener at Safeco Field.

Share Tweet

Hutchison scratched again due to flu

MLB.com

Jul 24 (4 days ago)

Blue Jays right-hander Drew Hutchison was scratched from Friday's game against the Mariners, and the start instead went to Marco Estrada.

Share Tweet

Miggy not rushing rehab of calf injury

MLB.com

Jul 24 (4 days ago)

Few could have envisioned exactly how serious Miguel Cabrera's left calf injury would be when the Tigers' first baseman came out of a July 3 win over the Blue Jays.

Share Tweet

Martin, Dickey lead Blue Jays to win over A's

MLB.com

Jul 23 (5 days ago)

Russell Martin homered and drove in three runs, R.A. Dickey allowed two runs in a sharp 8 1/3-inning effort and the Blue Jays beat the A's 5-2 on Thursday to win the series two games to one.

Share Tweet

MLB.com nytimes.com

Jul 23 (6 days ago)

A's pinch-hitter Ike Davis beat out an infield single for a walk-off hit against Blue Jays right-hander Roberto Osuna that gave Oakland a 4-3 victory in the 10th inning Wednesday night. The final play was reviewed, but the call stood,

Share Tweet

nytimes.com MLB.com

Jul 22 (7 days ago)

Russell Martin, Jose Bautista and Edwin Encarnacion homered to power the Toronto Blue Jays past the Oakland Athletics 7-1 on Tuesday night.

Share Tweet

Donaldson back in Oakland: 'My heart started fluttering'

MLB.com

Jul 22 (7 days ago)

James Donaldson returned to Oakland for the first time since being traded from the A's to the Blue Jays in the offseason. And while he's happy in Toronto, he said "my heart started fluttering" when he first saw the Coliseum on Tuesday.

Share Tweet

Estrada Tosses Gem as Blue Jays Beat Archer, Rays 4-0

nytimes.com

Jul 19

Marco Estrada pitched eight shutout innings to outduel Chris Archer, Chris Colabello and Jose Bautista each hit two-run homers and the Toronto Blue Jays beat the Tampa Bay Rays 4-0 on Sunday.

Share Tweet

Casali Hits Tiebreaking HR in 8th, Rays Edge Blue Jays

nytimes.com

Jul 18

Curt Casali hit a tiebreaking home run in the eighth inning and the Tampa Bay Rays beat the Toronto Blue Jays 3-2 on Saturday.

Share Tweet

Sabathia Discusses Spring Debut

Mar 17

Buster Olney speaks with Yankees pitcher CC Sabathia about his first pitching outing since May. He allowed two runs in two innings Tuesday against the Blue Jays.

Marcus Stroman Injury Devastating Blow For Blue Jays

Mar 10

ESPN SweetSpot blogger David Schoenfield discusses Marcus Stroman's season-ending torn ACL.

Blue Jays: High Expectations In 2015

Feb 25

The Blue Jays have the talent on paper to win the AL East, but whether all the pieces can come together is the biggest question in Toronto.

Josh Donaldson To Earn $4.3M

Feb 13

Jerry Crasnick discusses why Blue Jays third baseman Josh Donaldson was awarded $4.3 million in arbitration instead of the $5.75 million he had been seeking.