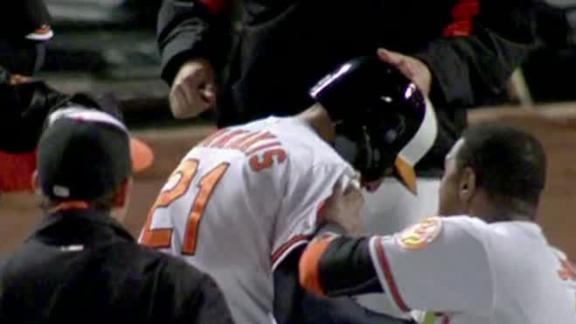 Updated Apr 22
Share
Tweet
Nick Markakis singled home the winning run with two outs in the bottom of the ninth inning, giving the Baltimore Orioles a 2-1 victory over the Toronto Blue Jays on Monday night.
Source:
ESPN.com
Updated Apr 22

Share Tweet

Blue Jays right-hander R.A. Dickey expects to make his scheduled start on Tuesday against the Orioles despite being bothered by soreness in his neck and back.

Source:

ESPN.com

Britton, Garcia leading candidates for rotation spot

Updated Apr 22

Share Tweet

The Orioles will need a starter for Wednesday's series finale against the Blue Jays, due to Friday's rainout and the subsequent doubleheader, and he will likely come from Triple-A Norfolk.

Source:

MLB.com

Updated Apr 22

Share Tweet

OAKLAND, Calif. (AP) -- The Oakland Athletics have bought outfielder Casper Wells from the Toronto Blue Jays.

New York Yankees' traveling private security helps to eject fans at Toronto's Rogers Centre

Updated Apr 22

Share Tweet

The New York Yankees do not trust another team's ballpark security alone to handle potentially unruly fans, so they bring their own private guards on the road with them. One ticket holder at a recent Toronto Blue Jays game said he witnessed Yankees trav…

Source:

yahoo.com

Orioles Walk Off With Win

Apr 22

Nick Markakis' RBI in the ninth inning gives the Orioles the win over the Blue Jays.