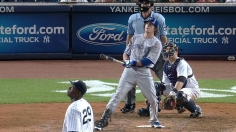 Yankees first baseman Mark Teixeira was removed from Monday's game against the Blue Jays with a left calf strain. Teixeira was taken to New York-Presbyterian Hospital for an MRI exam, which revealed a Grade 1 strain.

Upvote Share Tweet

Henderson Alvarez was forced to depart Monday night's game against the Yankees in the fourth inning because of an apparent left leg injury.

Upvote Share Tweet

Blue Jays Need 11 Innings To Get Win Over Yankees

Aug 27

Blue Jays top Yankees 8-7 in 11 innings.