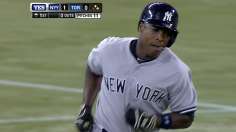 MLB.com
Updated Aug 27, 2013
The Yankees flexed some serious right-handed muscle while celebrating a sterling effort by left-hander Andy Pettitte, slugging four home runs in a 7-1 pounding of the Blue Jays on Tuesday at Rogers Centre.
Share
Tweet
MLB.com nytimes.com ESPN.com

Aug 27, 2013

Yankees star second baseman Robinson Cano is day to day with a left hand bruise he sustained after a 90-mph J.A. Happ fastball struck him in the first inning of Tuesday's game against the Blue Jays in Toronto.

Share Tweet

Anthopoulos confirms Gibbons will return in '14

MLB.com

Aug 27, 2013

John Gibbons is not in danger of being dismissed and will return to the Blue Jays' dugout in 2014, according to general manager Alex Anthopoulos. Gibbons has received a lot of criticism in recent weeks for the disappointing performance of his roster. Th…

Share Tweet

ESPN.com

Aug 27, 2013

John Gibbons won't pay the price for the Blue Jays' disappointing season, general manager Alex Anthopoulos said Tuesday.

Share Tweet

Cano Injured; Soriano Hits 400th HR

Aug 27

After Robinson Cano was hit on the hand by a pitch, Alfonso Soriano hit two home runs and drove in four RBIs to lift the Yankees to a 7-1 win over the Blue Jays.