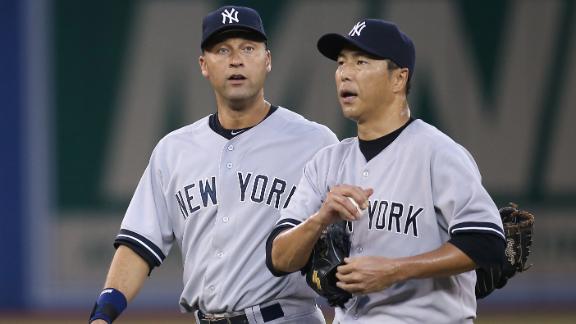 Kuroda only adds to slump with latest loss

MLB.com

Aug 28, 2013

Hiroki Kuroda struggled for a third straight start to fuel concerns about his possible fatigue late in the schedule, coughing up seven runs (five earned) over five innings, as the Yankees fell, 7-2, to the Blue Jays on Wednesday at Rogers Centre.

Upvote Share Tweet

Blue Jays hopeful for Romero, but no guarantees

MLB.com

Aug 28, 2013

Blue Jays general manager Alex Anthopoulos recently went through a lengthy list of pitchers who might be under consideration for a job next spring, and one conspicuous absence from the discussion was left-hander Ricky Romero.

Upvote Share Tweet

Kuroda Hit Hard By Blue Jays

Aug 28

Hiroki Kuroda surrendered seven runs in his second straight start as the Yankees fell to the Blue Jays 7-2.

Sports Columnists

Sources -- Milwaukee Bucks near deal to acquire Caron Butler from Phoenix …

Aug 29

The Milwaukee Bucks and Phoenix Suns are in advanced discussions on a trade that would send Wisconsin native Caron Butler to his home-state team, according to sources with knowledge of the talks.