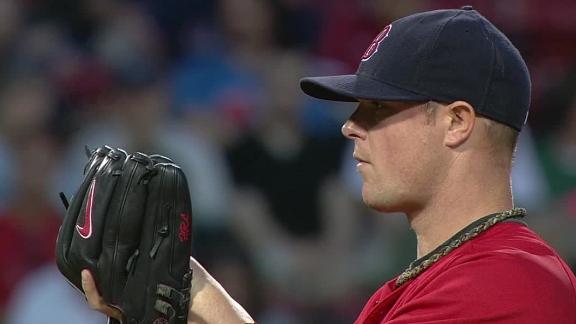 Jon Lester pitched a one-hitter Friday night, allowing only Maicer Izturis' two-out double in the sixth inning, and the Boston Red Sox broke a three-game losing streak with a 5-0 win over the Toronto Blue Jays.
Share
Tweet
R.A. Dickey on Toronto Blue Jays: 'We're playing hard as crud'

yahoo.com

May 10, 2013

The full quote from Toronto Blue Jays right-hander R.A. Dickey, via the Toronto Star, goes like this:"It's just sad, because you pour your heart and soul into the game and it doesn't always end up in a win. We're playing hard. We're not maybe pl

Share Tweet

Jays' loss to Rays indicative of disappointing '13

MLB.com

May 10, 2013

The struggling Blue Jays, who had so much hope and anticipation before the season opened, have been baseball's biggest disappointment.

Share Tweet

MLB.com

May 10, 2013

A walk proved to be as good as a hit Thursday night when Luke Scott drew one with the bases loaded in the 10th to give the Rays a 5-4 walk-off victory over the Blue Jays at Tropicana Field.

Share Tweet

Lester, Red Sox Shut Out Blue Jays

May 10

Jon Lester's one-hitter, his 10th career complete game, leads the Red Sox to a 5-0 win over the Blue Jays.

Sports Columnists

Don Banks: Now the NFL's lone iron man, Fletcher reflects on his past, fut…

May 10

With the retirement of Tampa Bay defensive back Ronde Barber this week, the NFL lost one of its consummate professionals and a player who had become a hallmark of consistency throughout his celebrated 16-year career.

2013 NBA playoffs: Golden State Warriors coach Mark Jackson has fresh appr…

May 10

Golden State coach Mark Jackson is succeeding with a fresh approach.