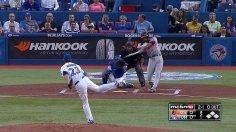 Updated Sep 5, 2012
Share
Tweet
The Orioles failed to complete a three-game sweep against the Blue Jays, as a four-run seventh by Toronto broke open a tie and led to a 6-4 loss at Rogers Centre on Wednesday.
Source:
MLB.com
The Dome Broke In Toronto Last Night

Updated Sep 5, 2012

Share Tweet

It was one of those nights. Never mind the 12-0 drubbing at the hands of the Orioles, or the season-low attendance of 13,556, or even the gradual realization that the Jays aren't going to sniff .500, a figure they always tend to be within a couple games…

Source:

deadspin.com

Updated Sep 5, 2012

Share Tweet

In a year that has seen the Toronto Blue Jays send waves of players to the DL, it only makes sense that the Rogers Centre roof would also be physically unable to perform at some point. And that's exactly what happened on Tuesday night as the ballpark's …

Source:

yahoo.com

Blue Jays Snap Orioles Three-Game Win Winning Streak

Sep 5

Rajai Davis lifts Blue Jays past Orioles.