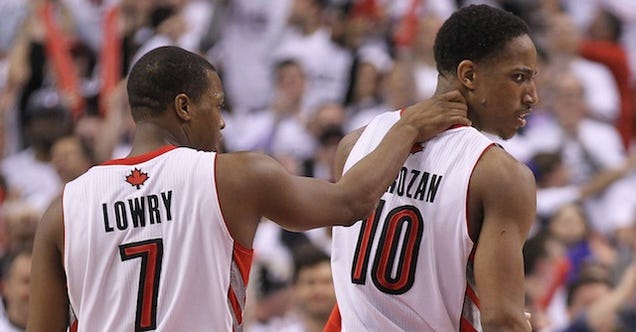 deadspin.com
ESPN.com
Updated 14 hours ago
The Toronto Raptors have hit a bit of a rough patch this month, and the team's struggles have a lot to do with backcourt duo Kyle Lowry and DeMar DeRozan playing like trash. Their words, not mine!Read more...
Upvote
Share
Tweet
deadspin.com ESPN.com

Feb 25 (3 days ago)

Dallas Mavericks head coach Rick Carlisle did not have the best day at the office yesterday. His team came away with a 99-92 victory over the Toronto Raptors, which was good, but he also got into a shouting match with starting point guard Rajon Rondo in…

Upvote Share Tweet

Alexis Ajinca capped a 16-point performance with a go-ahead layup in the final minute, and the New Orleans Pelicans erased an 18-point deficit en route to a 100-97 victory over the Toronto Raptors on Monday night.

Upvote Share Tweet

Raptors rout Hawks in meeting of East's best

ESPN.com

Feb 20

The matchup of the Eastern Conference's top teams was a rout as Toronto opened the second half of the season with a surprisingly lopsided 105-80 win over the Atlanta Hawks on Friday night.

Upvote Share Tweet

yahoo.com

Feb 11

Despite the resurgence (or just surgence?) of the Cleveland Cavaliers and generally very impressive play of the Atlanta Hawks, the NBA's Eastern Conference remains fairly wide open. The East's eventual representative in the NBA Finals could depend on ma…

Upvote Share Tweet

The Washington Wizards say shooting guard Bradley Beal has a right leg injury and will sit out the team's game at the Toronto Raptors.

Upvote Share Tweet

ESPN.com

Feb 8

James Johnson scored a season-high 20 points in his return to the starting lineup, DeMar DeRozan had 18 and the Toronto Raptors beat San Antonio 87-82 Sunday night, denying Spurs coach Gregg Popovich his 1,000th career victory.

Upvote Share Tweet

Raptors' DeRozan fined for hard foul on Bogdanovic

nba.com

Feb 5

Toronto Raptors guard DeMar DeRozan has been fined $15,000 for making excessive contact with Brooklyn Nets guard-forward Bojan Bogdanovic, it was announced Thursday by Rod Thorn, President, Basketball Operations.

Upvote Share Tweet

dimemag.com

Feb 3

Right now, Stephen Curry is probably our pick for NBA MVP this season. His Warriors have the top seed in the West, and even though Atlanta briefly passed them for a better overall record — before losing last night — he's the best player on the best team…

Upvote Share Tweet

yahoo.com

Feb 2

Jarrett Jack entered Monday's matchup with the Los Angeles Clippers coming off a career-high 35-point performance in Friday's loss to the Toronto Raptors. He wasn't nearly as productive at Barclays Center on Monday, but the Brooklyn Nets' veteran point …

Upvote Share Tweet

Bucks' Knight (quadriceps) out vs. Raptors

nba.com

Feb 2

Milwaukee guard Brandon Knight is sitting out Monday's game against the Raptors with a sore right quadriceps muscle, leaving the Bucks with just nine players available against the Atlantic Division leaders.

Upvote Share Tweet

GIF: Kyle Lowry Fools Pistons By Feigning Timeout

dimemag.com

Jan 26

This isn't standard, but a layup by Kyle Lowry with a little under four minutes to go in the first quarter in last night's Raptors-Pistons game only happened after he lulled Detroit into thinking he was about to call a timeout. Lowry's switch-up has bee…

Upvote Share Tweet

yahoo.com

Jan 22

Nine years ago today, Kobe Bryant put on a performance for the ages, scoring 81 points in a win over the Toronto Raptors, an effort that in a lot of ways is more impressive than Wilt Chamberlain's NBA record of 100 points per game. Thursday's anniversar…

Upvote Share Tweet

yahoo.com

Jan 22

Throughout the first half of the 2014-15 season, the three best point guards in the Eastern Conference have been Jeff Teague of the Atlanta Hawks, John Wall of the Washington Wizards and Kyle Lowry of the Toronto Raptors. Reasonable people can disagree …

Upvote Share Tweet

Lou Williams Comes To Amir Johnson's Defense On Instagram

dimemag.com

Jan 21

Internet tough guys are pathetic, especially when the argument for which they're willing to so idiotically stand is unfounded. Toronto Raptors reserve Lou Williams seems to agree with us. After a Toronto Raptors "fan" chastised the play of Amir Johnson …

Upvote Share Tweet

Justin Bieber Tweets Support Of Kyle Lowry's All-Star Bid, Doesn't Actually Vote

dimemag.com

Jan 20

Poor Justin Bieber just can't seem to get out of his own way. While tweeting in support of Kyle Lowry's bid for All-Star starter, the Canadian megastar failed to include the proper hashtag that makes a vote actually count – leaving the Toronto Raptors' …

Upvote Share Tweet

Derrick Rose After Another Bulls Loss: "It's (Bleeping) Irritating"

dimemag.com

Jan 20

The Chicago Bulls were beaten by 14 in Cleveland last night, despite LeBron's lackluster effort on this play. It's their sixth loss in their last eight, and it dropped them a game back of the Raptors — who are also having a tough 2015 so far. Derrick Ro…

Upvote Share Tweet

yahoo.com dimemag.com

Jan 19

With All-Star chaos engine Anthony Davis and stalwart two-way point guard Jrue Holiday sidelined by injuries, the New Orleans Pelicans entered Sunday's trip north of the border to take on the Toronto Raptors short-handed and seemingly outgunned, in need…

Upvote Share Tweet

Tyreke Evans scored on a driving layup with less than 2 seconds to go and the New Orleans Pelicans beat Toronto 95-93 on Sunday, their first victory in seven meetings with the Raptors.

Upvote Share Tweet

Hansbrough And Ezeli Involved In Scuffle

Feb 27

Toronto Raptors forward Tyler Hansbrough and Golden State Warriors center Festus Ezeli got into a heated altercation after the two tangled arms for a rebound. Ezeli was ejected.

Mavs Pull Away From Raptors

Feb 24

Monta Ellis scored a game-high 20 points in the Mavericks' 99-92 win over the Raptors.

Pelicans Stun Raptors

Feb 23

Six Pelicans scored in double figures in New Orleans' 100-97 win over Toronto.

Hot Button: Mavs Bench Update

Feb 23

The "NBA Tonight" crew discussed which Mavs bench player will make the biggest impact the rest of season.