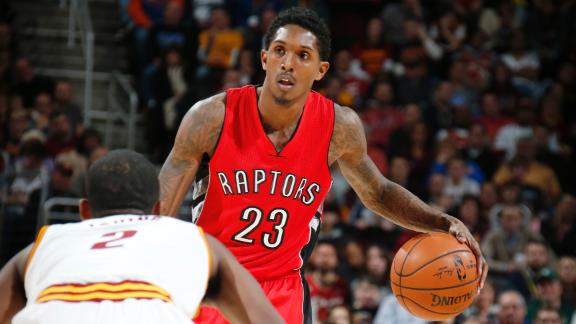 ESPN.com
Updated 4 hours ago
Lou Williams scored a career-high 36 points and the Toronto Raptors turned an 18-point deficit into a convincing 110-93 win over Cleveland on Saturday night, handing the Cavaliers their fourth straight loss.
Upvote
Share
Tweet
Watch Hyped-Up LeBron James Find Varejao With Behind-The-Back Dime

dimemag.com

8 hours ago

Now this is more like it for the Cleveland Cavaliers. Just 24 hours after being humbled by one Eastern Conference contender, LeBron James and company are dominating another early. Watch The King drop a sick behind-the-back bounce pass to Anderson Vareja…

Upvote Share Tweet

NBA corrects error from Bucks-Raptors game

nba.com

12 hours ago

The NBA announced Saturday that a scoring error was made during the Milwaukee Bucks-Toronto Raptors game on Nov. 21 at Air Canada Centre, which impacted the final score of the game but not the final outcome of the game.

Upvote Share Tweet

dimemag.com ESPN.com

Nov 20 (3 days ago)

Most people were watching LeBron James bobble his rematch against the Spurs, but the two team's sporting the best records in their respective conferences, the Raptors in the East and the Grizzlies in the West, played in Toronto last night at the Air Can…

Upvote Share Tweet

ESPN.com dimemag.com

Nov 19 (3 days ago)

The Raptors aired a video tribute for Vince Carter during the first quarter Wednesday, a moment that held the potential to outshine a showdown between the NBA's top teams as Carter was moved to tears.

Upvote Share Tweet

With 5 Grizzlies out sick, Memphis adds 2 players

nba.com

Nov 19 (3 days ago)

Memphis Grizzlies guard Courtney Lee and forward Tony Allen were among five players who were out for Wednesday's game against the Toronto Raptors because of illness.

Upvote Share Tweet

Vince Carter Receives Standing Ovation, Cries During Return to Toronto

deadspin.com

Nov 19 (3 days ago)

Vince Carter's Memphis Grizzlies are playing in Toronto tonight, and for the first time since the Raptors traded the former Air Canada to the Nets in 2004, he was cheered. Carter has played 16 games in Toronto since the trade—including a playoff series …

Upvote Share Tweet

GIF: Watch Terrence Ross Flush A Bonkers Alley-Oop

dimemag.com

Nov 16 (7 days ago)

The Jazz have surprised us this season with their ball movement in coach Quin Snyder's up-tempo motion offense where they're "playing with a pass, playing with pace and playing with a purpose," but the Raptors are really good — in case you didn't alread…

Upvote Share Tweet

Holy Shit, Terrence Ross!

deadspin.com

Nov 15

You've all figured out that you can't ignore the Raptors anymore, right? If not, here's why.Read more...

Upvote Share Tweet

yahoo.com dimemag.com deadspin.com

Nov 14

Derrick Rose wasn't the star of the Chicago Bulls' nationally televised Thursday win over the Toronto Raptors. That honor belongs to Pau Gasol, who proved damn near unguardable by Jonas Valanciunas and Amir Johnson en route to a game- and season-high 27…

Upvote Share Tweet

dimemag.com ESPN.com deadspin.com

Nov 14

As the Toronto Raptors staged a last-gasp comeback against the Chicago Bulls on Thursday, Derrick Rose was where we've seen him far too often over the past three years – on the bench. The former MVP took a spill while driving to the basket with 2:10 rem…

Upvote Share Tweet

Joakim Noah On Studying Raptors-Sixers Game: "I Wouldn't Watch That S***"

dimemag.com

Nov 13

Apparently there are lengths to which Joakim Noah is unwilling to go to get an edge on his opponent. After Chicago Bulls teammate Pau Gasol studied film of a recent game between the Philadelphia 76ers and Toronto Raptors to prepare for their team's Thur…

Upvote Share Tweet

yahoo.com

Nov 12

For three quarters on Tuesday, the Orlando Magic stunned the Toronto Raptors, punching above their weight class and taking the fight directly to the Eastern Conference-leading Dinos at the Air Canada Centre. A Magic team that had struggled this season t…

Upvote Share Tweet

yahoo.com

Nov 10

The Toronto Raptors aren't counting on James Johnson for offense. They brought him back to Canada this summer because they needed a big, tough, physical and versatile perimeter defender who could match up with the Joe Johnsons of the world after the Bro…

Upvote Share Tweet

Watch K.J. McDaniels Rise To Spike Greivis Vasquez's Layup High Into The Stands

dimemag.com

Nov 10

Philadelphia 76ers rookie wing K.J. McDaniels blocked four shots in his team's loss to DeMar DeRozan and the Toronto Raptors yesterday, pushing season-long average to an awesome 1.7 swats per game. And though the Clemson product had already provided mul…

Upvote Share Tweet

Ridiculously-Dressed Drake Pleased By Monster James Johnson Dunk

deadspin.com

Nov 9

The Raptors are blowing out the 76ers tonight, mostly because they are playing the NBA franchise from Philadelphia. James Johnson is getting in some garbage minutes, and his monster jam brought a certain Canadian dad to his feet. Wait—that's no dad!—tha…

Upvote Share Tweet

GIF: Kyle Lowry Lob To DeMar DeRozan In Record-Breaking Triple-Double

dimemag.com

Nov 8

While it was backup Wiz point guard Andre Miller who suffered the ignominy after Kyle Lowry's crossover behind the screen, starting Wiz point John Wall permitted Lowry to rack up a triple-double, a record fourth while a member of the Raptors in what was…

Upvote Share Tweet

dimemag.com yahoo.com

Nov 6

This certainly isn't a bad way to win. With the score tied against the Boston Celtics and the the fourth quarter game clock ticking below 40 seconds, Toronto Raptors stars Kyle Lowry and DeMar DeRozan did what they do best. Watch Lowry pick Marcus Smart…

Upvote Share Tweet

GIF: Accidental 'Punch' By Sebastian Telfair Draws Blood From Jonas Valanciunas

dimemag.com

Nov 4

Who would draw blood first in a fight between Jonas Valanciunas and Sebastian Telfair? If the Oklahoma City Thunder point guard's accidental punch to the face of the Toronto Raptors center is any indication, you guessed wrong. Watch the six-foot Telfair…

Upvote Share Tweet

Cavs Lose Fourth Straight

Nov 22

Louis Williams had a career-high 36 points to lead the Raptors to a 110-93 win over the Cavaliers.

Raptors Obliterate Bucks

Nov 21

Raptors cruise to 10-2 behind 20 points from Kyle Lowry in a 124-83 win over the Bucks.

Raptors Hand Grizzlies Second Loss

Nov 19

DeMar DeRozan led Toronto with 21 points as the Raptors beat Memphis 96-92.

Raptors Soar Past Jazz

Nov 15

DeMar DeRozan dropped 27 points as the Raptors defeated the Jazz 111-93 for their sixth win in seven games.