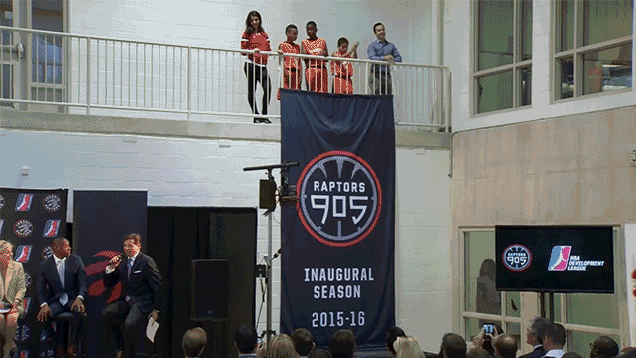 Meet The New Junior Raptors Mascots
deadspin.com
Updated 19 hours ago
The Toronto Raptors announced a new NBA D-League squad—Raptors 905—today, and with it came some new mascots. Several staffers here at Deadspin think they're cute, but personally I'd have gone with something more memorable.Read more...
Share
Tweet
nba.com

Jun 26 (4 days ago)

The Milwaukee Bucks acquired guard Greivis Vasquez from the Toronto Raptors in exchange for the draft rights to Norman Powell -- the 46th overall pick in tonight's draft -- and a protected 2017 first round pick that originally belonged to the L.A. Clipp…

Share Tweet

Raptors' Ross has ankle surgery to remove bone spurs

nba.com

May 23

Toronto Raptors guard Terrence Ross has had ankle surgery to remove bone spurs.

Share Tweet

yahoo.com

May 5

The Paul Pierce troll tour continues in Atlanta. A week removed from celebrating a sweep of the Toronto Raptors with a series of Internet memes, the Washington Wizards veteran wasted little time setting his "cold-blooded" sights on the Atlanta…

Share Tweet

yahoo.com deadspin.com ESPN.com

Apr 27

There are plenty of reasons why the Washington Wizards swept the Toronto Raptors out of the 2015 postseason. Some of them have to do with the Raptors' own failings, especially on the defensive end, as they plummeted from the top of the East to a dispiri…

Share Tweet

ESPN.com

Apr 27

After sweep, Paul Pierce roasts Raptors, Drake on social media

Share Tweet

yahoo.com

Apr 24

We've got a trio of Game 3s on tap for Friday night, with two series teetering on the brink of the point of no return and one that could absolutely still go either way. Here's a look ahead at what to keep an eye on during this evening's three-game playo…

Share Tweet

yahoo.com

Apr 22

A look around the league and the Web that covers it. It's also important to note that the rotation order and starting nods aren't always listed in order of importance. That's for you, dear reader, to figure out. C: Raptors Republic. Blake Murphy grits h…

Share Tweet

deadspin.com ESPN.com

Apr 22

Over the first two games of the Raptors-Wizards series, both played in Toronto, Kyle Lowry has played 60 minutes, scored 13 total points, hit five of 20 shots, and committed ten personal fouls. Those numbers—they are bad! Not at all coincidentally, the …

Share Tweet

yahoo.com

Apr 21

Paul Pierce announced himself as a major factor in the Washington Wizards' first-round playoff series by antagonizing the Toronto Raptors before and during an overtime Game 1 win at the Air Canada Centre. Pierce is still an unpopular figure, but Toronto…

Share Tweet

ESPN.com

Apr 21

GM Masai Ujiri has been fined by the NBA for cursing at Raptors events. But that's the type of attitude the team wants on and off the court.

Share Tweet

Toronto Raptors guard Lou Williams is your 2014-15 NBA Sixth Man of the Year, the league announced Monday, earning recognition as the NBA's top reserve after helping propel the Raptors to a franchise-record 49 wins and their second straight Atlantic Div…

Share Tweet

Bulls Charge Past Raptors

Mar 20

Nikola Mirotic came off the bench to score a game-high 29 points in the Bulls' 108-92 win over the Raptors.

Raptors Hold Off Wolves

Mar 18

Despite Kevin Martin scoring 37 points, the Timberwolves fell to the Raptors 105-100.

Rubio's Difficult Pass Through Triangle Defense

Mar 18

Minnesota Timberwolves guard Ricky Rubio lobbed a seemingly impossible but successful pass to forward Chase Budinger, who finished with deuces.

Lowry Leads Raptors To Win

Mar 16

Kyle Lowry recorded a triple-double of 20 points, 11 rebounds and 10 assists in the Raptors' 117-98 win over the Pacers.