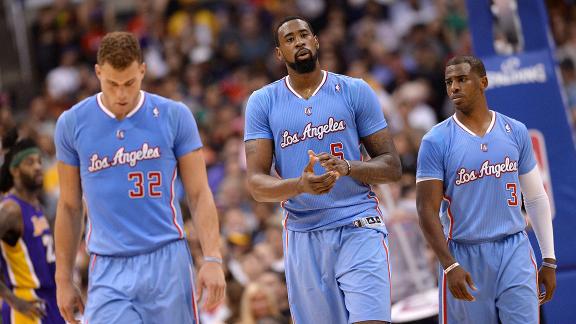 ESPN.com
Updated 4 hours ago
J.A. Adande and Israel Gutierrez discuss the opening round of the NBA playoffs.
Upvote
Share
Tweet
Even as an outsider, even if you've just looked on from afar as an unholy confluence of unknowing sportswriter disses, unfortunate injury timing, and downright terrible executive work from a series of general managers takes the Toronto Raptors and their…

Upvote Share Tweet

SI Now: Playoff implications for NBA's season finale

CNNSI.com

Apr 16 (yesterday)

Seven games have playoff implications tonight, including the Grizzlies-Mavs clash for the No. 7 seed.

Upvote Share Tweet

Greivis Vasquez scored 25 points, Kyle Lowry had 24 and the Toronto Raptors set a franchise record with their 48th win, beating the Milwaukee Bucks 110-100 on Monday night.

Upvote Share Tweet

Buzzer-Beaters, Dunks & The NBA Season's Top 25 Plays

dimemag.com

Apr 14 (3 days ago)

Finally, at long last, the real season begins. But that doesn't mean we can't stop, look back, and appreciate the highlights and events that captivated us and stole our attention during the 2013-14 season. We've been treated to some great games, as rece…

Upvote Share Tweet

5 Important Races Entering The 2014 NBA Playoffs

dimemag.com

Apr 14 (3 days ago)

We're still recovering from a fever dream we had after peeking at a hypothetical Conference-free playoff structure for the playoffs this year. But even with the Conference separation in place, there are plenty of questions as we come up on the final thr…

Upvote Share Tweet

DeMar DeRozan YouTube's Kyle Singler

dimemag.com

Apr 13 (4 days ago)

The Raptors clinched the Atlantic Division on Sunday after going into Detroit to defeat the Pistons, 116-107. They're in a contest with the Bulls for the 3-seed, but for the moment they should savor their rapid turnaround this year under choach Dwane Ca…

Upvote Share Tweet

yahoo.com

Apr 11 (7 days ago)

There are plenty of reasons why Toronto Raptors fans love power forward Amir Johnson. There's the on-court stuff, to be sure — the relentless two-way work, the stiff screens, the dogged pursuit of rebounds and loose balls, the non-stop hustle that leads…

Upvote Share Tweet

Examining the results of college basketball's One-And-Done Era

CNNSI.com

Apr 11 (7 days ago)

After eight years of one-and-dones, it's no easier to call which freshman phenoms will thrive as pros.

Upvote Share Tweet

yahoo.com

Apr 10

A look around the league and the Web that covers it. It's also important to note that the rotation order and starting nods aren't always listed in order of importance. That's for you, dear reader, to figure out. C: National Post, The Toronto Star and Ra…

Upvote Share Tweet

Valanciunas, sorry for arrest, shines in win

ESPN.com

Apr 10

Jonas Valanciunas had 26 points and 12 rebounds to lift the Toronto Raptors to a 125-114 victory over the Philadelphia 76ers on Wednesday, less than three days after he was charged with drunken driving.

Upvote Share Tweet

Toronto Raptors center Jonas Valanciunas will play in Wednesday's game against the Philadelphia 76ers, two days after being charged with drunk driving.

Upvote Share Tweet

The 10 Best Game-Winners In The NBA In 2014

dimemag.com

Apr 7

There is nothing more beautiful or thrilling than a game-winning shot. When 48 minutes of blood, sweat and tears all comes down to one single moment, the art of basketball shines brightest. The feeling of your heart pounding when the game is on the line…

Upvote Share Tweet

GIF: Brandon Knight Hammers On Jonas Valanciunas

dimemag.com

Apr 6

After a big block on Birdman, and a game-winner against the Knicks, Brandon Knight continues his slow recovery from last season's cataclysmic stuff by DeAndre Jordan. Saturday night, he did his own rendition. Even though the Bucks lost gameNo. 63, 102-9…

Upvote Share Tweet

nba.com

Apr 5

Kyle Lowry and Amir Johnson of the Toronto Raptors both missed Saturday night's game with the Milwaukee Bucks due to injuries.

Upvote Share Tweet

Toronto turns back Indiana despite injuries

ESPN.com

Apr 4

Terrence Ross scored 24 points to lead the short-handed Toronto Raptors 102-94 over the Indiana Pacers on Friday.

Upvote Share Tweet

Heat hold off Raptors, move into 1st in East

ESPN.com

Mar 31

LeBron James scored 32 points, Chris Bosh added 18 and the Miami Heat moved into the top spot in the Eastern Conference with a 93-83 win over the Toronto Raptors on Monday night.

Upvote Share Tweet

10 NBA Stars Who Made "The Leap" This Season

dimemag.com

Mar 31

Can anyone believe the NBA season is almost at an end? The playoffs are almost upon us, which means some teams will be reaching for NBA championships while other teams will be at home reaching for the remote. Every season that passes by there are player…

Upvote Share Tweet

NBA Playoffs: Most Intriguing Matchups

Apr 17

J.A. Adande and Israel Gutierrez break down the playoffs' most intriguing matchups.

Playoff Preview: Nets vs. Raptors

Apr 17

The Nets were built for the playoffs, but will the Raptors get in the way of their ultimate goal?

Calculated Move By Jason Kidd?

Apr 17

Bruce Bowen discusses whether Nets coach Jason Kidd sat his starters in the season finale so Brooklyn would be the No. 6 seed, setting up a potential showdown with the Heat in the second round.

Eastern Conference Playoffs First Round

Apr 17

Bruce Bowen discusses the most intriguing first-round matchup in the Eastern Conference, the higher seed he is most concerned about and which team outside of the Heat has the best chance to reach the NBA Finals.