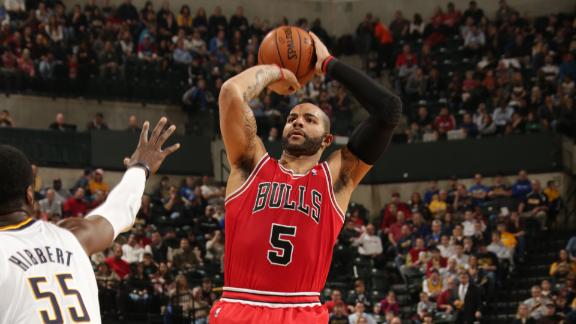 ESPN.com
Updated Feb 7, 2013
The Chicago Bulls and Toronto Raptors have engaged in exploratory trade discussions on a deal that would swap the Bulls' Carlos Boozer for the Raptors' Andrea Bargnani, according to sources familiar with the discussions.
Share
Tweet
Ed Davis Could Be The New Secret Weapon For The Memphis Grizzlies

dimemag.com

Feb 7, 2013

In the drama-filled aftermath of the Rudy Gay trade, something to keep an eye on is the development and usage of Ed Davis in Memphis. Should the ongoing discord between Grizzlies head coach Lionel Hollins and the front office continue, Davis may become …

Share Tweet

dimemag.com

Feb 7, 2013

In last June's Finals, James Harden and LeBron James spent long portions of the action guarding each other. It probably was a big part of why the Beard struggled so badly, and was definitey fuel for his haters to use against his status as a potential fr

Share Tweet

Sources: Boozer-Bargnani Deal Being Explored

Feb 7

Kurt Rambis doesn't believe trading Carlos Boozer for Andrea Bargnani would be a good decision for the Bulls.

Rapid Fire with Dwane Casey

Feb 7

Raptors head coach Dwane Casey on who will win the NBA title, who the league's best point guard is, and whether the Celtics and Lakers can contend with their current rosters.

The New Bad Boys?

Feb 7

Are the Pacers the new Bad Boys? And why they may be uniquely suited for beating the Heat in the playoffs. David Thorpe and Henry Abbott discuss.