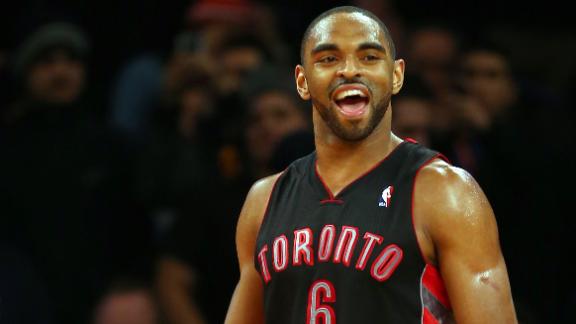 ESPN.com
Updated Feb 13, 2013
Alan Anderson scored 26 points in one of the few good offensive performances for either team, and the Toronto Raptors beat the New York Knicks 92-88 on Wednesday night for their fourth straight victory.
Share
Tweet
Anthony Randolph's missed dunk face is the best missed dunk face

yahoo.com

Feb 13, 2013

Early in the second quarter of the Denver Nuggets' 109-108 loss to the Toronto Raptors on Tuesday night - a game decided in the closing seconds by Rudy Gay's second game-winning basket in the last three games for the Canucks - Nuggets forward/longtime

Share Tweet

yahoo.com dimemag.com

Feb 13, 2013

Last Friday night, things broke a little differently. Rudy Gay was red-hot down the stretch, scoring 17 points in the fourth quarter and overtime to erase what had been an 11-point Indiana Pacers lead; it seemed only fitting that he'd raise up and drain…

Share Tweet

DeMar DeRozan Dunks on Timofey Mozgov's Face

dimemag.com

Feb 13, 2013

Timofey Mozgov, the man whose very name is synonymous with getting obliterated with highlight reel dunks, caught a real beauty last night from the Raptors' DeMar DeRozan. As we said in Smack, "from now on, whenever Mozgov gets dunked on like this, sin

Share Tweet

Raptors Shut Down Knicks, Carmelo

Feb 13

Raptors hold Carmelo Anthony to 5-of-24 shooting and pick up their fourth straight win.