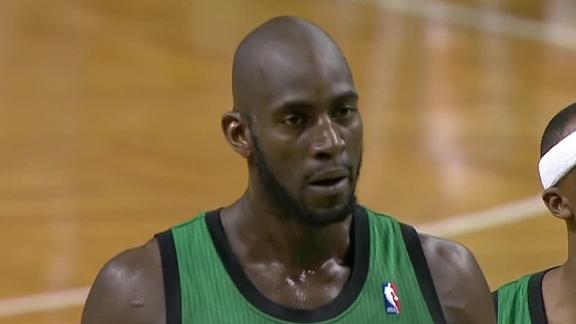 Garnett, Pierce climb scoring list as Celts cruise
ESPN.com
Updated Mar 13, 2013
Kevin Garnett scored 12 points, passing Jerry West for 15th on the NBA's career scoring list, and Paul Pierce joined him among the top 20 scorers in league history with 15 points as the Boston Celtics beat the Toronto Raptors 112-88 on Wednesday night.
Share
Tweet
Toronto Raptors forward Andrea Bargnani is expected to miss the rest of the season with an elbow injury.

Share Tweet
Kevin Garnett, Celtics Bounce Back

Mar 13

Kevin Garnett passes Jerry West for 15th place on the NBA's all-time scoring list as Celtics bounce back from the loss to the Bobcats with the 112-88 win over the Raptors.