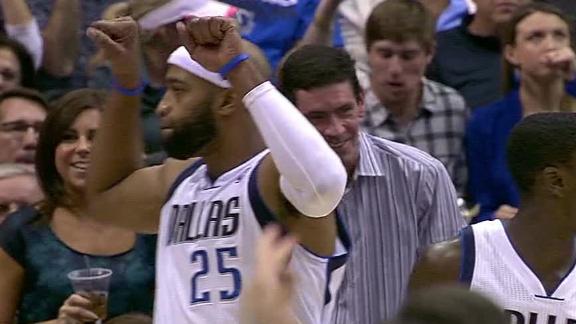 Raptors' Lowry inactive; Brand not with Mavs

Updated Nov 7, 2012

Share Tweet

Toronto point guard Kyle Lowry is not active for Wednesday night's game against the Dallas Mavericks after leaving the Raptors' last game with a sprained right ankle.

Source:

nba.com

Report: Vince Carter Is Open To Playing With The Raptors Again

Updated Nov 7, 2012

Share Tweet

When Toronto plays Dallas tonight, the Raptors will face an opponent who has more to do with Toronto's franchise than any of the current members. Vince Carter scored the first bucket at the Air Canada Center, led the team on its deepest playoff run in t

Source:

dimemag.com

Kevin Durant baptizes Raptors rookie Jonas Valanciunas in big Thunder win (VIDEO)

Updated Nov 7, 2012

Share Tweet

Here's what Toronto Raptors head coach Dwane Casey had to say about his first-year starting center, 20-year-old Lithuanian prospect Jonas Valanciunas, to Mike Ganter of the Toronto Sun earlier this week: Get yours while you can against Jonas Valanciunas…

Source:

yahoo.com

The NBA's Most Surprising Team Finally Loses; Toronto Suffers A Major Injury Scare

Updated Nov 7, 2012

Share Tweet

On the day that Chicago's most famous face took center stage in the presidential election, the Bulls beat down the undefeated Magic, 99-93. Over the final five minutes, the Bulls closed the door with some ferocious interior defense, forcing guys like Bi

Source:

dimemag.com

Mavs Cruise Past Raptors

Nov 7

Vince Carter scores 17 off the bench as the Mavericks improve to 4-1 with 109-104 win.