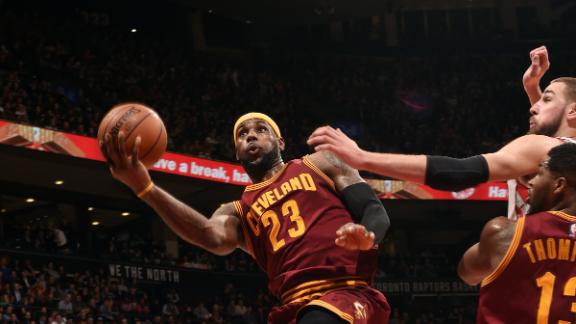 LeBron's big 4th leads Cavs over Raptors
ESPN.com
Updated 11 hours ago
LeBron James scored 29 points and matched a season high with 14 assists, Kevin Love had 22 points and 10 rebounds and the Cleveland Cavaliers held on late to beat the Toronto Raptors 120-112 on Wednesday night.
Upvote
Share
Tweet
LeBron answers Valanciunas flagrant with huge 4th, pushes Cavs past Raptors

yahoo.com

32 minutes ago

With just less than 20 seconds left in the third quarter of a very entertaining Wednesday night matchup between the Cleveland Cavaliers and Toronto Raptors, two of the best teams in the Eastern Conference, Raptors center Jonas Valanciunas managed to do …

Upvote Share Tweet

NHL.com ESPN.com yahoo.com thehockeynews.com deadspin.com

17 hours ago

TORONTO - TSN says it will no longer air public tweets during live coverage after the all-sports network accidentally carried an inflammatory post from a viewer about Toronto Maple Leafs forward Joffrey Lupul and team captain Dion Phaneuf's wife...

Upvote Share Tweet

thehockeynews.com

17 hours ago

Only three games into his career as a member of the Columbus Blue Jackets, hard-luck left winger David Clarkson was sidelined 4-to-6 weeks – in other words, more than likely the rest of the regular season – with a torn oblique muscle. Acquired Feb. 26 f…

Upvote Share Tweet

New Bucs battery makes most of first pairing

MLB.com

18 hours ago

The Bucs plugged in a new battery on Wednesday. Gerrit Cole and his spring ERA both liked the connection. In the start against the Blue Jays, a 4-1 Pirates loss, Cole was paired in game conditions for the first time with Francisco Cervelli, and the two …

Upvote Share Tweet

Pillar's RBI Double Leads Blue Jays Past Pirates 4-1

nytimes.com

19 hours ago

Marcus Stroman looked sharp in his first spring training outing and Kevin Pillar hit an RBI double Wednesday as the Toronto Blue Jays beat the Pittsburgh Pirates 4-1.

Upvote Share Tweet

NHL.com

19 hours ago

Florida Panthers goalies Roberto Luongo (upper body) and Al Montoya (lower body) are each considered day-to-day after sustaining injuries Tuesday in a 3-2 loss to the Toronto Maple Leafs, coach Gerard Gallant said Wednesday. Montoya is likely o...

Upvote Share Tweet

Blue Jays keeping open mind about closer situation

MLB.com

22 hours ago

The Blue Jays are still at least a couple of weeks away from making a decision on their closer situation, but there's a scenario where both Brett Cecil and Aaron Sanchez could share the role.

Upvote Share Tweet

Rumor Roundup: Maple Leafs future tied to trading stars

thehockeynews.com

23 hours ago

The NHL trade deadline day came and went with none of the Toronto Maple Leafs' big stars getting dealt. Despite anticipation by some pundits suggesting Dion Phaneuf, Phil Kessel, Tyler Bozak or Joffrey Lupul would be traded, the four will finish this se…

Upvote Share Tweet

In the midst of a seething Leafs Nation – and team – Brendan Shanahan is a crucial calming force

thehockeynews.com

Mar 4 (yesterday)

It feels like just about every citizen of, landed immigrant to, and legislative and judicial branch of Leafs Nation is angry these days. Some of Toronto's players are incensed with the media; some Leafs fans are fed up with decades of frustration, poor …

Upvote Share Tweet

NHL.com thehockeynews.com yahoo.com ESPN.com

Mar 4 (yesterday)

SUNRISE, Fla. - It took goalie chaos on the Florida Panthers bench for the Toronto Maple Leafs to earn their first road win in 2015. Peter Holland scored the go-ahead goal 5:28 into the third period against injured goalie Al Montoya, and the ...

Upvote Share Tweet

NHL.com

Mar 3 (yesterday)

SUNRISE, Fla. - Peter Holland and the Toronto Maple Leafs took advantage after both Panthers goalies were injured Tuesday night and beat Florida 3-2 to snap a franchise-worst 16-game, road-losing streak. Holland netted the winning goal 5:28 i...

Upvote Share Tweet

Wells excited to work with up-and-coming Pompey

MLB.com

Mar 3 (yesterday)

If there's anyone who knows what Dalton Pompey must be going through in his first full Spring Training with the Blue Jays, it's Vernon Wells, who was brought in by the team to work with their top prospect.

Upvote Share Tweet

MLB.com

Mar 3 (yesterday)

Jung Ho Kang wasted no time demonstrating the power stroke that led the Pirates to bring him in, connecting on a solo home run in the third inning of their game against the Blue Jays.

Upvote Share Tweet

nytimes.com

Mar 3 (yesterday)

Pedro Alvarez hit a three-run shot and Korean rookie Jung Ho Kang connected for his first major league homer, leading the Pittsburgh Pirates to an 8-7 win over the Toronto Blue Jays on Tuesday in the exhibition opener for both teams.

Upvote Share Tweet

NHL.com thehockeynews.com ESPN.com deadspin.com

Mar 3 (yesterday)

SUNRISE, Fla. -- Toronto Maple Leafs center Phil Kessel came to the defense of captain Dion Phaneuf on Tuesday, saying Phaneuf has been unfairly criticized by the media. In a scrum after the morning skate, Kessel was asked whether the uncertain...

Upvote Share Tweet

LeBron's Big Fourth Propels Cavs

Mar 4

LeBron James scored 15 of his 29 points in the fourth quarter of the Cavs' 120-112 win over the Raptors.

Both Panthers' Goalies Injured In Loss

Mar 3

Panthers starting goalie Roberto Luongo was injured in the first period, so Florida turned to backup Al Montoya, who was then injured in the third period. Luongo had to return to the net in the third period, and the Panthers lost to the Maple Leafs 3

DeRozan's Big Night Capped Off With Powerful Slam

Mar 3

Raptors guard DeMar DeRozan throws down a huge one-handed slam in the final minutes of his season-high 35-point game against the 76ers.

Raptors Run Past 76ers

Mar 2

The Raptors topped the 76ers 114-103 to snap their five-game losing streak.