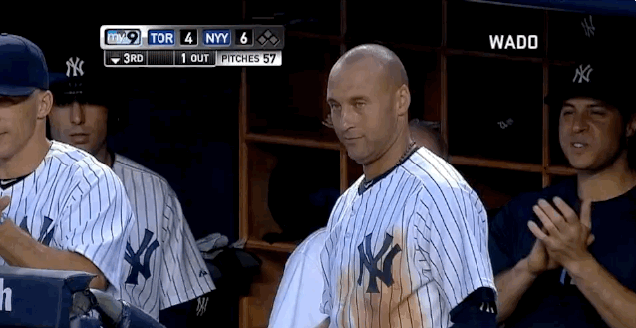 Ichiro Hits First Home Run Of The Season, Jeter Gives Him The Business
deadspin.com
Updated 3 hours ago
Ichiro Suzuki hit his first home run of the season last night, a three-run homer that put the Yankees on top of the Blue Jays 6-4. It was Ichiro's first home run in almost a full calendar year, and as he approached the dugout, Jeter gave him the who are…
Upvote
Share
Tweet
nytimes.com ESPN.com MLB.com

13 hours ago

Fresh faces and a hot streak have the Yankees in the playoff race after their 17th straight victory over the Blue Jays in the Bronx.

Upvote Share Tweet

thehockeynews.com NHL.com ESPN.com

17 hours ago

The ink is still drying on James Reimer's new two-year contract with Toronto, but the betting is Reimer won't be a Maple Leaf in two years. The two sides avoided an arbitration hearing Friday by agreeing to a two-year deal that will pay Reimer $2.3 mill…

Upvote Share Tweet

NHL.com

20 hours ago

Goaltender James Reimer and the Toronto Maple Leafs agreed to a two-year contract, the team said Friday. No financial terms were disclosed, but Elliotte Friedman of "Hockey Night in Canada" reported the contract has an average annual value of $2.3...

Upvote Share Tweet

yahoo.com nytimes.com MLB.com

Jul 25 (yesterday)

John Gibbons, the manager of the Toronto Blue Jays, had a strange and unfortunate way of complimenting two of his rookie pitchers, Marcus Stroman and Aaron Sanchez, on Thursday afternoon. Stroman had just combined with two relievers on a one-hit shutout…

Upvote Share Tweet

ESPN.com

Jul 24 (yesterday)

Boston Red Sox designated hitter David Ortiz left in the ninth inning of Thursday's 8-0 loss to the Toronto Blue Jays with what he believes was a back spasm.

Upvote Share Tweet

The five most evil hockey photoshops we could come up with

thehockeynews.com

Jul 24 (2 days ago)

Summer is a time for fun in the hockey world. But sometimes that fun can be a little dark. One of my favorite THN issues every year comes before the trade deadline, when we often take a player likely on the move and photoshop him into another team's uni…

Upvote Share Tweet

We Reminisce: "Skip 2 My Lou" Turns 38 Today

dimemag.com

Jul 24 (2 days ago)

Rafer Alston turns 38 today. While he never reached superstar status in the NBA, the streetball legend went from the playground to a starting point guard playing in the NBA Finals. Today, we remember the man they call Skip 2 My Lou. From a young age, Al…

Upvote Share Tweet

In debut, Sanchez retires heart of Boston's order

MLB.com

Jul 23 (3 days ago)

It turns out Blue Jays manager John Gibbons wasn't joking when he said earlier this week that Aaron Sanchez was going to be tossed into the fire. Making his debut in Wednesday's 6-4 win, Toronto's top prospect responded by retiring Boston's Dustin Pedro…

Upvote Share Tweet

MLB.com nytimes.com

Jul 23 (3 days ago)

R.A. Dickey finally got some run support as Ryan Goins hit a key RBI triple and Jose Bautista homered in the Blue Jays' 6-4 victory over the Red Sox on Wednesday night at Rogers Centre.

Upvote Share Tweet

Rumor Roundup: Could Marc Staal join his brothers with the Hurricanes?

thehockeynews.com

Jul 23 (3 days ago)

The New York Post's Larry Brooks believes the Rangers should get busy re-signing defenseman Marc Staal. The 27-year-old blueliner is eligible for unrestricted free agency next summer. His cap hit for this season is $3.98 million. Barring another concuss…

Upvote Share Tweet

thehockeynews.com

Jul 23 (3 days ago)

The Maple Leafs' hiring of Kyle Dubas as their new assistant GM Tuesday, and the ensuing debate and discussion about the advanced statistics revolution Dubas is a part of, has intriguing parallels to a similar hiring in Toronto 37 years ago. Back then, …

Upvote Share Tweet

Yankees Win Fourth Straight

Jul 25

Carlos Beltran and Ichiro Suzuki both homered in the third inning of the Yankees' 6-4 win over the Blue Jays.

MLB Daily Download: Thursday

Jul 24

Antonietta Collins recaps Wednesday night's action from around the league, including Yoenis Cespedes hitting the long ball twice, Orioles pitchers having location issues, and an injury at PNC Park that lands someone on the 15-day DL.

Blue Jays Trounce Red Sox

Jul 24

Juan Francisco drove in four runs to lead the Blue Jays past the Red Sox 8-0.

Blue Jays Rally Past Red Sox

Jul 23

The Blue Jays came back to beat the Red Sox 6-4 for their second straight win against Boston.