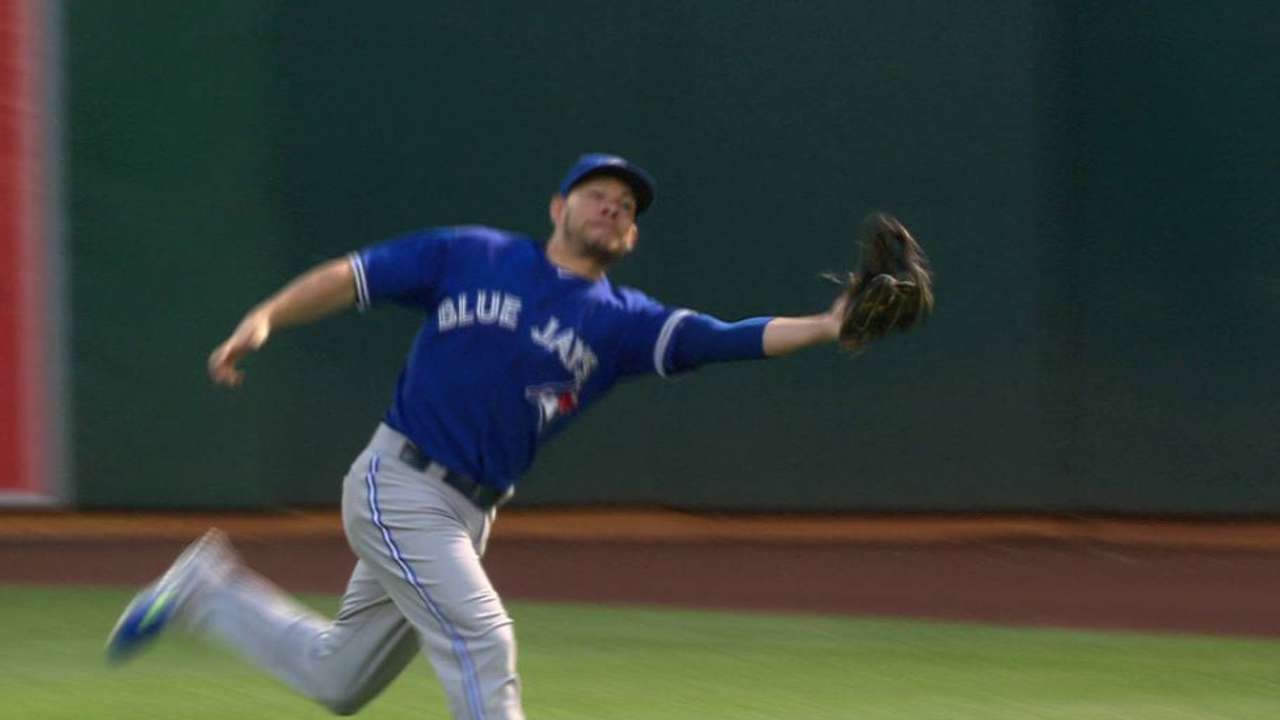 MLB.com
nytimes.com
yahoo.com
Updated 11 hours ago
The Blue Jays made a flurry of roster moves on Saturday morning, as they optioned right-hander Ryan Tepera to Triple-A Buffalo and designated Danny Valencia and outfielder Ezequiel Carrera for assignment. The moves came as Toronto created space on its 2…
Share
Tweet
Wade Davis allows first homer since 2013, a streak covering 125 2/3 innings

yahoo.com

1 hour ago

We do our best to remain unbiased around the Big League Stew offices, but if you'd don't mind us saying we would not be opposed to a Royals-Blue Jays postseason series this October. The defending American League champions from Kansas City and quickly em…

Share Tweet

Zobrist Hits 2 HRs, Royals Beat Jays 7-6

nytimes.com

8 hours ago

After a big win over the Blue Jays, it was slow jam time in the Kansas City Royals clubhouse. Seated around a table in the middle of the room, Kendrys Morales and Danny Duffy gave a spirited sing-along to Whitney Houston's 'I Will Always Love You."

Share Tweet

MLB.com nytimes.com

Jul 31 (yesterday)

Josh Donaldson hit a walk-off single in the 11th inning to send the Blue Jays to a 7-6 victory over the Royals on Friday night at Rogers Centre.

Share Tweet

MLB.com

Jul 31 (yesterday)

Ben Zobrist notched his first base hit with the Royals, and Kendrys Morales scored the second run on the play with an agile slide to beat Blue Jays catcher Russell Martin.

Share Tweet

NHL.com

Jul 31 (yesterday)

GLENDALE, Ariz. - The Arizona Coyotes added Claude Loiselle on Friday as a hockey operations consultant. The 52-year-old Loiselle was the Toronto Maple Leafs' vice-president and assistant general manager from 2010-14. He also served seven yea...

Share Tweet

A Toronto-Philadelphia rivalry primer for Drake and Meek Mill

thehockeynews.com

Jul 31 (yesterday)

One of the biggest pop culture stories going around right now involves rappers Drake and Meek Mill, former friends turned enemies. The beef between the pair began over hurt feelings and escalated into several freestyle diss tracks…you don't care about t…

Share Tweet

nytimes.com yahoo.com MLB.com

Jul 31 (yesterday)

Here are the latest developments as Major League Baseball approaches its 4 p.m. EDT deadline Friday for trades where players do not first have to pass through waivers (all times Eastern):

Share Tweet

yahoo.com

Jul 31 (yesterday)

Jonathan Bernier and the Toronto Maple Leafs aren't just apart on their arbitration ask price. They're way far apart, as in Toronto has completely lowballed Bernier, asking for a one-year $2.89 million award per TSN. That's the lowest the Leafs could go…

Share Tweet

Bulls Charge Past Raptors

Mar 20

Nikola Mirotic came off the bench to score a game-high 29 points in the Bulls' 108-92 win over the Raptors.

Sharks Skate Past Maple Leafs

Mar 19

The Sharks beat the Maple Leafs 4-1 to snap their two-game losing streak.

Rubio's Difficult Pass Through Triangle Defense

Mar 18

Minnesota Timberwolves guard Ricky Rubio lobbed a seemingly impossible but successful pass to forward Chase Budinger, who finished with deuces.

Raptors Hold Off Wolves

Mar 18

Despite Kevin Martin scoring 37 points, the Timberwolves fell to the Raptors 105-100.