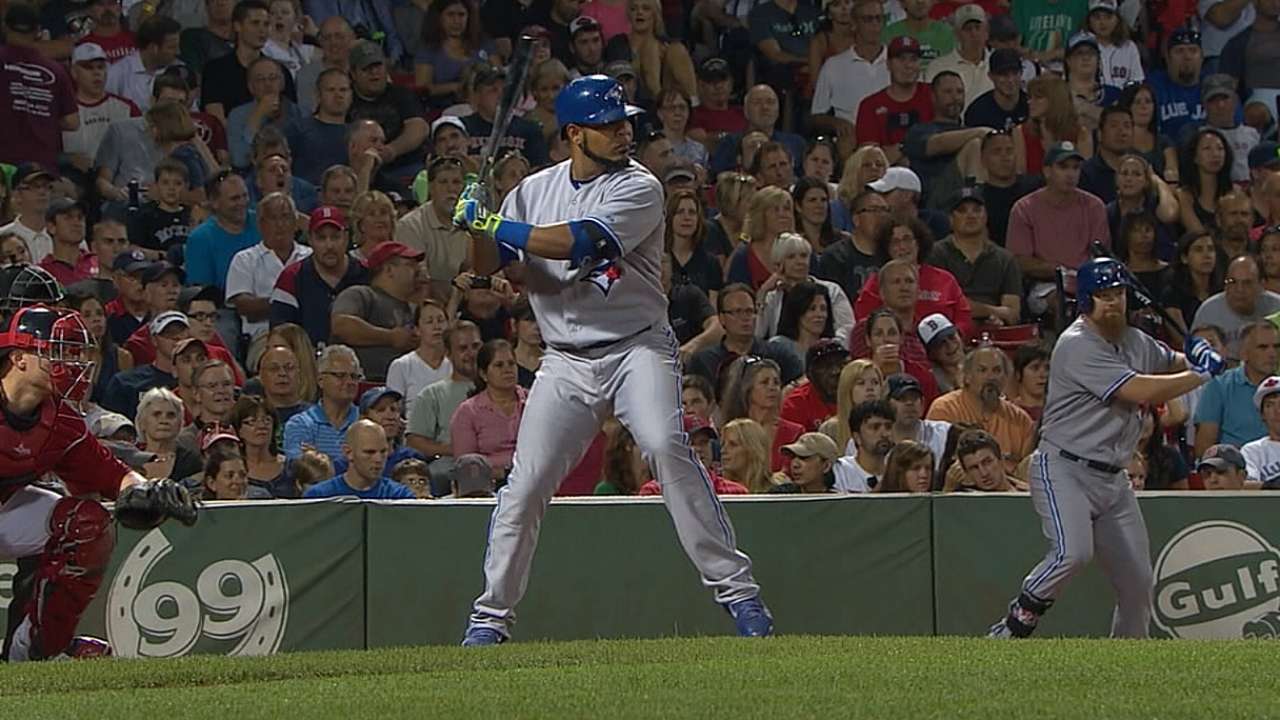 Oliver, Giles struggle in loss to Blue Jays

MLB.com

15 hours ago

Phillies left-hander Andy Oliver remains a favorite to win a bullpen job, but the Rule 5 Draft pick has struggled in his last two Grapefruit League appearances. Phillies setup man Ken Giles allowed two hits, four runs, two walks and struck out one in 2/…

Share Tweet

MLB.com nytimes.com

16 hours ago

Cole Hamels didn't allow a run and surrendered only two hits, but he did walk three batters while striking out four. It was Hamels' fifth outing of the spring with his innings total now sitting at 15 2/3 innings to go along with nine earned runs.

Share Tweet

Delabar optioned by Blue Jays; move shocks reliever

MLB.com

20 hours ago

In a surprising move, the Blue Jays optioned right-hander Steve Delabar to Minor League camp on Thursday morning. Delabar admitted he was shocked by the news and had been expecting to be with the club on Opening Day. Instead, he'll likely begin the year…

Share Tweet

Mark your calendars – the date has been set for the NHL's most anticipated draft lottery in years

thehockeynews.com

Mar 25 (yesterday)

For months now, hockey fans have slowly built their anticipation for one of the most highly-consequential NHL draft lotteries since the process was introduced in 1995. And now it appears the league has settled on a date people can circle on their calend…

Share Tweet

Butler, Bulls make it 5 straight over Raptors

ESPN.com

Mar 25 (yesterday)

Jimmy Butler scored 23 points, Pau Gasol had 18 and the Chicago Bulls beat Toronto 116-103 on Wednesday night for their fifth consecutive victory against the Raptors.

Share Tweet

nytimes.com MLB.com

Mar 25 (yesterday)

Looking to cement a spot in the Toronto rotation, Daniel Norris allowed one run in six impressive innings as the Blue Jays beat the Baltimore Orioles 5-2 on Wednesday.

Share Tweet

yahoo.com

Mar 25 (yesterday)

With opening day approaching, the Big League Stew crew is here to get you up to speed on the season ahead. We're examining each division over the next two weeks, looking at the big questions, the important players and making our predictions. Our series …

Share Tweet

Blue Jays option relievers Jenkins, Schultz to Minors

MLB.com

Mar 25 (yesterday)

Projections for the Blue Jays' bullpen received some additional clarity on Wednesday when the club optioned right-handers Chad Jenkins and Bo Schultz to the Minor Leagues.

Share Tweet

Rumor Roundup: Toronto could keep Kessel if they land McDavid

thehockeynews.com

Mar 25 (yesterday)

Though there's over two weeks remaining in the NHL regular-season schedule, it can't end soon enough for the moribund Toronto Maple Leafs and their disappointed fans. The Leafs have slid to 27th overall, entering Thursday's game against the Florida Pant…

Share Tweet

Raptors' Lowry (back) leaves vs. Pistons

nba.com

Mar 24 (3 days ago)

Toronto Raptors guard Kyle Lowry left Tuesday's game against the Detroit Pistons with back spasms and did not return.

Share Tweet

Hunter's 1st Homer Helps Twins Beat Blue Jays 6-5

nytimes.com

Mar 24 (3 days ago)

After Torii Hunter hit his first home run in a Twins uniform since 2007, manager Paul Molitor greeted him in the dugout with a sly message.

Share Tweet

Encarnacion could return to lineup this week

MLB.com

Mar 24 (3 days ago)

Blue Jays slugger Edwin Encarnacion is nearing a return to Grapefruit League action.

Share Tweet

Among flurry of moves, Twins option Achter to Triple-A

MLB.com

Mar 24 (3 days ago)

The Twins continued to trim their roster toward a final 25 on Tuesday morning, before their Grapefruit League game against the Blue Jays. Right-hander A.J. Achter was optioned to Triple-A Rochester, while five players were reassigned to Minor League cam…

Share Tweet

Abysmal Leafs draw smallest crowd in Air Canada Centre's history; will we see more non-sellouts?

thehockeynews.com

Mar 24 (3 days ago)

As evidenced by the Maple Leafs' 2-1 loss to Minnesota Monday – their 11th defeat in the past 13 games – they're staggering to the conclusion of the 2014-15 season. And with news the team failed to sell out the Air Canada Centre for the Wild's visit wit…

Share Tweet

Stewart: Catcher Navarro too expensive for D-backs

MLB.com

Mar 23 (4 days ago)

Rumors of the D-backs' interest in Blue Jays catcher Dioner Navarro persist, but general manager Dave Stewart said once again that it was not going to happen. Navarro is in the final year of a contract that pays him $5 million in 2015.

Share Tweet

Maple Leafs honour veteran defenceman Eric Brewer for 1,000-game milestone

NHL.com

Mar 23 (4 days ago)

TORONTO - In a season with little to celebrate, the Toronto Maple Leafs honoured veteran defenceman Eric Brewer on Monday for reaching the 1,000-game milestone in the NHL. The Leafs and NHL presented the 35-year-old Brewer with a silver stick...

Share Tweet

yahoo.com

Mar 23 (4 days ago)

Former Philadelphia Phillies and Toronto Blue Jays pitcher Roy Halladay seems to be enjoying his retirement. Whether it's taking pictures with unsuspecting fans or learning how to fly, Halladay appears to be pretty active these days. That was the case r…

Share Tweet

NCAA Frozen Four: Players to watch from every team in the tournament

thehockeynews.com

Mar 23 (4 days ago)

College hockey's Frozen Four kicks off this week with 16 teams gunning for a spot in Boston, where the semifinal and final will be held in April. Regionals spread the squads across four cities and there is a lot of firepower at this year's installment. …

Share Tweet

Martin Homers, Blue Jays Blank Rays

nytimes.com

Mar 22 (5 days ago)

At the start of spring training, Blue Jays pitcher Roberto Osuna didn't think he'd have a lengthy stay in the big-league camp.

Share Tweet

Get married during the season? Not when Conn Smythe ruled the Maple Leafs

thehockeynews.com

Mar 22 (5 days ago)

If you were a smart player when Conn Smythe ruled Toronto hockey – and he paid your salary – you didn't mess with the 'Little Major' of Maple Leaf Gardens. Smythe had his rules, and woe to those who chose to break them. One of Conn's canons had to do wi…

Share Tweet

Bulls Charge Past Raptors

Mar 20

Nikola Mirotic came off the bench to score a game-high 29 points in the Bulls' 108-92 win over the Raptors.

Sharks Skate Past Maple Leafs

Mar 19

The Sharks beat the Maple Leafs 4-1 to snap their two-game losing streak.

Rubio's Difficult Pass Through Triangle Defense

Mar 18

Minnesota Timberwolves guard Ricky Rubio lobbed a seemingly impossible but successful pass to forward Chase Budinger, who finished with deuces.

Raptors Hold Off Wolves

Mar 18

Despite Kevin Martin scoring 37 points, the Timberwolves fell to the Raptors 105-100.