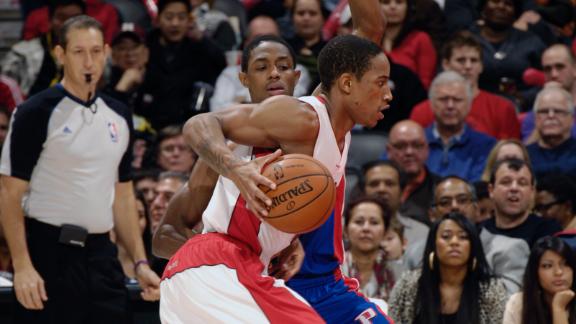 Why The Toronto Raptors Should Retire Vince Carter's Number

dimemag.com

Dec 19, 2012

Whenever Vince Carter returns to Toronto, as he did last Friday, talk inevitably turns to Carter's legacy with the Toronto Raptors. Carter was the brightest star on the best team in franchise history, but the manner in which he exited still burns Raptor

Share Tweet

Mariners remain patient, but for how long?

We know how the Blue Jays, with money and prospects to burn, responded to the daunting divisional challenge placed in front of them. They approached it in an alarmingly aggressive way. In the coming weeks, we'll see if the Mariners take a similar path. …

Share Tweet

Gregg Zaun Is Tired Of Seeing All These Fat Chicks In Toronto

deadspin.com

Dec 19, 2012

What's up, ladies? You see that handsome mug up there? That belongs to Gregg Zaun, former catcher for the Toronto Blue Jays and various other MLB teams. Pretty goddamn sexy, isn't he? Pump the brakes, though, sister. Don't think that you can just walk r…

Share Tweet

Blue Jays claim Storey off waivers from Astros

The Blue Jays claimed right-hander Mickey Storey off waivers from the Astros on Wednesday.

Share Tweet

Blue Jays should pack knockout punch in AL East

Just like that, the Toronto has gone from looking bad to looking big and bad. It bodes well for the organization and for the American League East. Here come the Blue Jays, and they are coming in a hurry.

Share Tweet

LeBron James Throws Up An Insane Stat Line; Brooklyn Blows A Chance To Steal A Win

dimemag.com

Dec 19, 2012

Sometimes we wish the NBA was more like the NFL. In football, you must bring your best effort or you'll be left looking like Mark Sanchez on Monday Night Football, getting your skills compared to Uncle Rico from Napoleon Dynamite. But in basketball, the

Share Tweet

DeRozan, Calderon Spark Raptors

Dec 19

DeMar DeRozan scored 23 points and Jose Calderon had 17 assists to lead the Raptors to their fourth straight win.