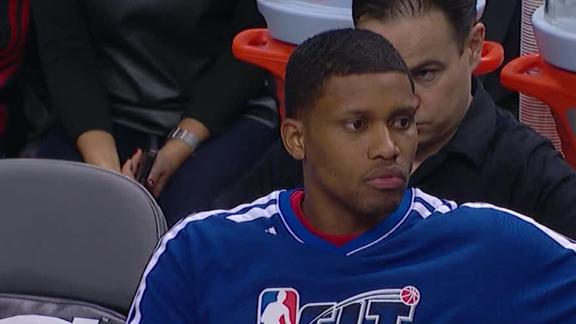 Rudy Gay wowed a sellout crowd by scoring 20 points in his Toronto debut, leading the Raptors to a 98-73 rout of the short-handed Los Angeles Clippers on Friday night.
Share
Tweet
yahoo.com

Feb 1, 2013

When the Los Angeles Clippers take on the Toronto Raptors at the Air Canada Centre on Friday night, they'll do so without key reserve Matt Barnes, whom the NBA has suspended without pay for one game for perpetrating this aggressive bit of throat violenc…

Share Tweet

CNNSI.com

Feb 1, 2013

BOSTON (AP) -- An official with knowledge of the deal says the Boston Red Sox have signed first baseman Lyle Overbay to a minor league contract.

Share Tweet

nytimes.com

Feb 1, 2013

Much was said about Memphis trading away its talented star Rudy Gay, but getting Tayshaun Prince from Detroit may pay more dividends than people expect.

Share Tweet

Santos eager to retake role of closer

MLB.com

Feb 1, 2013

Casey Janssen performed well last season in place of an injured Sergio Santos. With the two healthy, the role of Blue Jays closer is up for grabs.

Share Tweet

AL East is a stacked five-card deck

MLB.com

Feb 1, 2013

The Blue Jays' winter of high-profile acquisitions made them a trendy favorite to win the American League East, but arguments can be made for the Yankees, Red Sox, Rays and Orioles as well. Only one thing is certain: The competition in the division will…

Share Tweet

yahoo.com

Feb 1, 2013

Over his career, veteran Dallas Mavericks shooting guard Vince Carter has developed a reputation as a player who doesn't much enjoy playing through injury. At times, particularly during his darkest days with the Toronto Raptors, it was even suggested th…

Share Tweet

Raptors Win In Rudy Gay's Debut

Feb 1

Rudy gay scores 20 points in team debut and Raptors hold Clippers to 34 percent shooting in 98-73 win.

Two Sides Of Gay Trade

Feb 1

In the latest Weekend Stein Edition of TrueHoop TV, Henry Abbott and Marc Stein dig into all sides of the Rudy Gay trade.