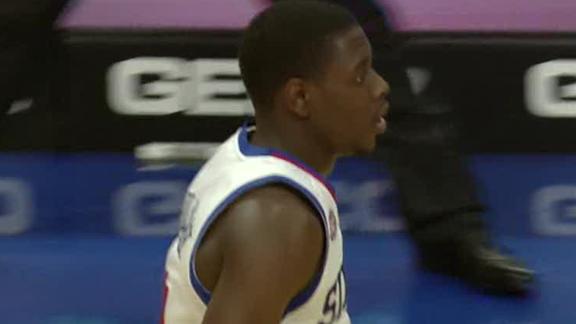 76ers erase 19-point deficit, top Raptors in OT
Updated Jan 18
Share
Tweet
Jrue Holiday had a career-high tying 33 points and 14 assists, including all 12 of Philadelphia's points in overtime, and the 76ers overcame a 19-point second-half deficit to defeat the Toronto Raptors 108-101 on Friday night.
Source:
ESPN.com
NBA admits botched call in Raptors' loss to Bulls (VIDEO)

Updated Jan 18

Share Tweet

Basketball fans don't particularly like the NBA's officiating, at various times calling it "rigged," "a conspiracy," or "really bad and it makes me want to vomit." For the most part, the league tries to ignore these complai…

Source:

yahoo.com

Updated Jan 18

Share Tweet

CHICAGO (AP) -- The Chicago White Sox have agreed to one-year contracts with second baseman Gordon Beckham and outfielder Alejandro De Aza to avoid arbitration.

Source:

CNNSI.com

Updated Jan 18

Share Tweet

Left-hander J.A. Happ has agreed to a $3.7 million, one-year contract with the Toronto Blue Jays, who also reached a $2.6 million, one-year deal with infielder Emilio Bonifacio.

76ers Come Back To Top Raptors In OT

Jan 18

76ers erase 19-point deficit to beat Raptors in OT.