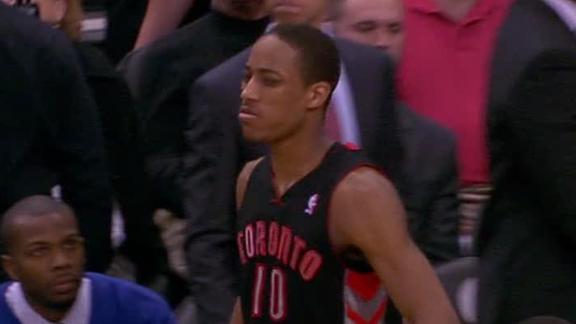 Updated Jan 24
Share
Tweet
DeMar DeRozan swished a fadeaway jumper at the buzzer as the Toronto Raptors fought off a late-game charge by the Orlando Magic to earn a 97-95 victory on Thursday night.
Source:
ESPN.com
Updated Jan 24

Share Tweet

By acquiring Justin Upton to pair with his recently-signed older brother B.J., the Braves might have both the game's best outfield and the best team, writes Joe Lemire.

Source:

CNNSI.com

Dwyane Wade gets fouled, takes courtside seat during Heat OT win over Raptors (VIDEO)

Updated Jan 24

Share Tweet

As if the simple action of playing basketball at the speed of the NBA game wasn't exhausting enough, sometimes you have to play 20 second-half minutes at a super-high level to erase a seven-point halftime deficit, and then play another five minutes of e…

Source:

yahoo.com

LeBron Unleashes the Beast on the Raptors; The Lakers Lose Dwight Howard

Updated Jan 24

Share Tweet

You know you have a good team when you can withstand five three-pointers from Jose Calderon, 36 combined points off the bench from a journeyman (Alan Anderson) and a rookie (Terrence Ross), and a turnover and missed shot from LeBron in the final minute.…

Source:

dimemag.com

DeRozan, Raptors Top Magic At Buzzer

Jan 24

DeMar Derozan's fadeaway jumper at the buzzer lifts Raptors to 97-95 win over Magic.