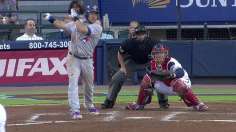 ESPN.com

May 29, 2013

Atlanta Braves starter Kris Medlen has left the game against the Toronto Blue Jays after taking a liner off his left leg.

Share Tweet

ESPN.com

May 29, 2013

The Toronto Raptors have offered Denver Nuggets general manager Masai Ujiri a five-year deal worth nearly $3 million annually, league sources told ESPN The Magazine's Chris Broussard.

Share Tweet

The Toronto Blue Jays have placed third baseman Brett Lawrie on the 15-day disabled list with a left ankle sprain.

Share Tweet

Blue Jays Blank Braves 3-0

May 29

Four Toronto pitchers complete the Blue Jays' shutout of the Braves.