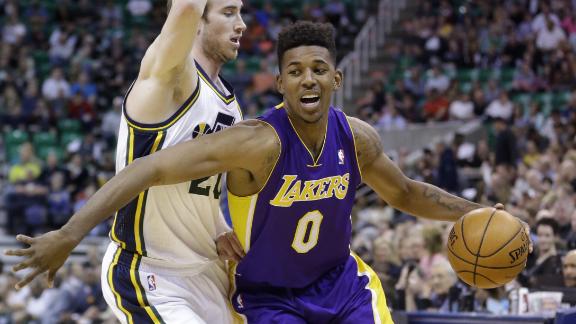 sltrib.com
saltcityhoops.com
ESPN.com
Updated 3 hours ago
With time ticking down until tipoff Monday night, Tyrone Corbin stood in a corner of EnergySolutions Arena reading over the handwritten notes in a card delivered by a group of Jazz fans. It was a card of thanks. Could it also have been a goodbye? After …
Upvote
Share
Tweet
Utah Jazz: New lineup can score, but defending a struggle

sltrib.com

5 hours ago

It took most of a season, but the Jazz have finally given their youth movement significant minutes together over the last three games. The lineup of Trey Burke, Alec Burks, Gordon Hayward, Derrick Favors and Enes Kanter had only played 74 minutes togeth…

Upvote Share Tweet

Glimpses for Next Season

saltcityhoops.com

8 hours ago

AP Photo – Rick Bowmer Last night's Lakers game was depressing, encouraging, exhilarating, frustrating, demoralizing, and a host of many other conflicting emotions, and somehow all at the same time. The first 20 minutes of the game were fun and exciting…

Upvote Share Tweet

Crowd helps Hayward feelat home as free-agency looms

sltrib.com

23 hours ago

The lights inside EnergySolutions Arena dimmed and a cheer went up as Gordon Hayward's name was called over the speakers Monday night. For the 24-year-old, there's a chance it was the last time as a Jazzman. Because the Utah front office was unable to r…

Upvote Share Tweet

sltrib.com

Apr 14 (yesterday)

When the game had ended, players stayed out on the court at EnergySolutions Arena and threw out autographed miniature basketballs to the fans who had not made early exits amid another blowout loss. But in Monday's defeat, the Utah Jazz had already given…

Upvote Share Tweet

Kragthorpe: Jazz-Lakers game will have weird aura

sltrib.com

Apr 14 (yesterday)

The only thing that could make this any weirder is if Derek Fisher still played for the Los Angeles Lakers. A sizable segment of Jazz fans actually would be cheering for him tonight. The aura at EnergySolutions Arena promises to be rather bizarre, as th…

Upvote Share Tweet

sltrib.com ESPN.com

Apr 13 (3 days ago)

Denver • The Jazz know all about Randy Foye's 3-point abilities. The veteran guard hit 178 of them last year in Utah, setting the franchise record for triples in a single season. Saturday night, Foye took his old team down memory lane. The Nuggets sharp…

Upvote Share Tweet

sltrib.com saltcityhoops.com

Apr 12 (3 days ago)

There's one forceful fact we learned about the Jazz this season and it could be viewed as devastating by pessimists, but as useful by happy people who hope for better things in this year's draft and beyond. Here it is: The Jazz's young core players can …

Upvote Share Tweet

Utah Jazz: Damian Lillard torches Jazz with big fourth quarter

sltrib.com

Apr 12 (4 days ago)

The first 3-pointer that stuck a dagger through the Utah Jazz felt good the moment it left his hands. So Damian Lillard decided to hoist another on the next possession. It hit all net, much to the chagrin of 19,248 at EnergySolutions Arena. Why stop the…

Upvote Share Tweet

sltrib.com

Apr 12 (4 days ago)

Their super-sized images have been together all season, standing outside the entrances to the arena. But in what's been dubbed a season of discovery, it took until Friday night — 78 games in — before the Jazz's young core finally heard their names all c…

Upvote Share Tweet

Young's Big Night Lifts Lakers

Apr 14

Nick Young scored 41 points to lead the Lakers past the Jazz 119-104.

NBA's Worst Dressed Coaches

Apr 13

Amin Elhassan breaks down the the worst dressed coaches in the league.

Fournier Sinks Miraculous Shot Lying On The Hardwood

Apr 12

The Nuggets' Evan Fournier made a great shot while falling to the ground during the fourth quarter of Denver's 101-94 win over the Utah Jazz.

NBA Sophs Better Than Class of 2014?

Apr 11

It was once known as a "one-player draft." But now that we're seeing Anthony Davis, Damian Lillard, Andre Drummond and company are in the NBA, David Thorpe says this class is likely better than the celebrated class of 2014.