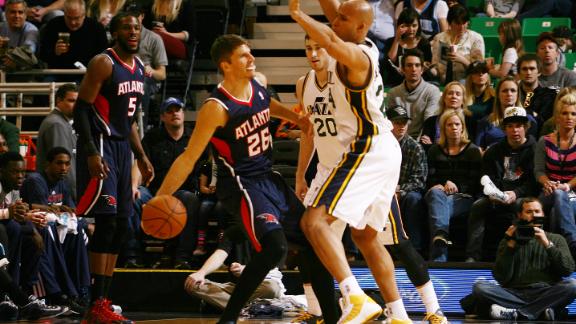 saltcityhoops.com
sltrib.com
ESPN.com
Updated 5 hours ago
AP Photo – Rick Bowmer Last night marked Paul Millsap's first game in Utah since signing with the Atlanta Hawks in the offseason. Millsap was my favorite Jazz man for years, and I'm still not used to seeing him in the Atlanta jersey (seeing him in a red…
Upvote
Share
Tweet
Utah Jazz: Gordon Hayward rebounds after struggling in February

sltrib.com

Updated 27 minutes ago

It's no secret what a quick first step and the threat of blowing past a defender to get to the basket can do for a shooter, though it's hard to say it has helped Gordon Hayward too much of late. "If they're worried about the drive, then they stay back a…

Upvote Share Tweet

Karl Malone defends his use of a flip phone, calls it a 'masterpiece' (Video)

yahoo.com

Updated 11 hours ago

Back in January, during a luncheon prior to a ceremony honoring Jerry Sloan's work with the Utah Jazz, Karl Malone's daughter Kylee Malone was kind enough to share a photo of Malone and longtime Jazz teammate John Stockton proudly showing off their Geor…

Upvote Share Tweet

nba.com

Updated Mar 10 (yesterday)

? Eric Bledsoe is close to returning for the Suns -- but not tonight against the Clippers in Los Angeles. Bledsoe hasn't played since a Dec. 30 game against the Clippers at Staples Center, when he began feeling discomfort in his right knee and underwent…

Upvote Share Tweet

Reebok Classic Unveils The Rail In Black/White/Gold Colorway

dimemag.com

Updated Mar 10 (yesterday)

Reebok Classic unveiled a new colorway of the classic "Rail" sneaker today. Featuring a black/white/gold makeup, this version will release on Friday, March 21, at key retailers Finish Line, Foot Locker, Jimmy Jazz, Eastbay, City Gear, Karmaloop.com and …

Upvote Share Tweet

Jazz notes: Williams looking to pull himself out of rut

Philadelphia • The East Coast had not been kind to Marvin Williams. The Utah Jazz's starting forward's play was integral to what success the Jazz have seen this year. But over the six games on the team's Eastern Conference road swing, Williams' producti…

Upvote Share Tweet

Philadelphia • As with any game, Saturday's matchup between the Jazz and 76ers had myriad motivating factors in play. For the rebuilding Sixers, coach Brett Brown has been candid with his players about the team being "ruthless" in its assessment of who …

Upvote Share Tweet

Jazz and Sixers both looking to end losing streaks tonight

Philadelphia • Ty Corbin believes the last game of a long road trip is one of the toughest to win in the NBA. That's where the Utah Jazz find themselves tonight, having lost the first five games of an East Coast swing with one more game to go. But right…

Upvote Share Tweet

Jazz notes: Utah to take a look at youngsters Malcolm Thomas and Ian Clark

New York • Utah Jazz center Andris Biedrins hadn't seen playing time in a while. His last minutes came in mid-December against the Miami Heat. But for the past two games, the veteran center has been moved to the inactive list for the first time this sea…

Upvote Share Tweet

76ers Lose 16th Straight

Mar 8

Gordon Hayward had 22 points and eight assists to lead the Jazz past the 76ers 104-92.

Writing to a Different Beat

Mar 7

Chris Herring of the Wall Street Journal discusses the challenges of covering the Knicks as an "Analytics" beat writer and being one of the few black voices in the Analytics community.

Wizards Run Past Jazz

Mar 5

The Wizards beat the Jazz 104-91 to hand Utah its fourth straight loss.

TrueHoop TV With Grantland's Zach Lowe

Mar 5

Zach Lowe discusses what he's excited about this season, the travails of Twitter, and whether Andre Iguodala can be considered a better player than Carmelo Anthony.