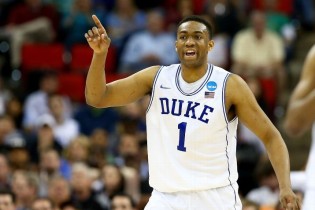 5 Things You May Not Know About Each Of The Top NBA Draft Prospects
saltcityhoops.com
Updated 15 hours ago
The greatest tournament in American sport has concluded, a champion has been crowned, and now life turns toward the culmination of the college basketball year, at least in the minds of Jazz fans this season: the NBA Lottery and Draft. Between now and Ju…
Upvote
Share
Tweet
sltrib.com saltcityhoops.com ESPN.com nba.com yahoo.com

16 hours ago

There only are 30 of these jobs in the world, so that's a draw. But when the Utah Jazz try to sell themselves to a potential coaching candidate, chances are they'll try a different pitch. The Jazz are searching for a new coach after they decided against…

Upvote Share Tweet

The Utah Jazz are hiring. With the announcement Monday that Tyrone Corbin would not be coming back next season, the team is in its first full-fledged coaching search since moving to Utah in the late 1970s. At the moment, the franchise is in the first st…

Upvote Share Tweet

A look at how Utah's most prominent coaches fared in first year

The Utah Jazz are looking for a new coach after they decided against bringing back Tyrone Corbin on Monday. The man (unless the Jazz really get creative) who becomes the next coach will have some company when it comes to first-year coaches in Utah. The …

Upvote Share Tweet

Monson: Jim Boylen to kill — err, coach — the Jazz?

Ball didn't go in the hoop. Ball didn't go in the hoop. It would be almost cool if Dennis Lindsey actually hired Jim Boylen as the Jazz's next head coach, just in an up-yours kind of way. It would be unbelievable, but cool. Bizarre, but cool. Risky and …

Upvote Share Tweet

sltrib.com

Apr 19 (5 days ago)

The Utah Jazz said their goodbyes and parted ways for the summer this past week. They'll spread out in every direction, leaving Salt Lake City for the likes of California and France, Texas and Turkey. As for the franchise itself, the direction it will t…

Upvote Share Tweet

Corbin Out As Jazz Head Coach

Apr 21

Amin Elhassan discusses why the Utah Jazz decided not to offer Tyrone Corbin a new contract.

'SportsCenter' Not Top Plays

Apr 18

"SportsCenter" takes a look back at some of the worst plays of the week.

Brewer: 'Higher Expectations'

Apr 16

Forward Corey Brewer said the Timberwolves, who finished 40-42, need to have higher expectations next season.

Farmar's Crazy Crossover Breaks Burke

Apr 15

Lakers point guard Jordan Farmar drops Jazz point guard Trey Burke with a sick crossover move.