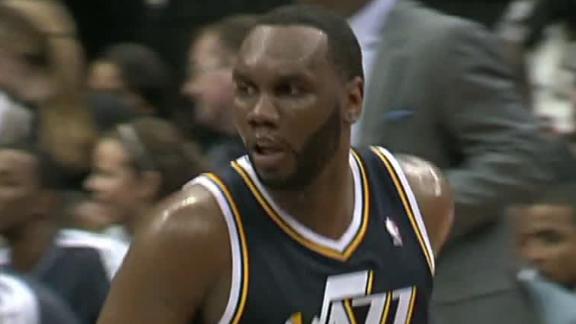 ESPN.com
sltrib.com
Updated Apr 15, 2013
Al Jefferson had 22 points and eight rebounds to help Utah keep its playoff hopes alive with a 96-80 victory over the Minnesota Timberwolves on Monday night.
Share
Tweet
sltrib.com

Apr 15, 2013

Kragthorpe: Jazz shouldn't have needed help from Lakers' opponents by Kurt Kragthorpe Tribune Columnist Published Apr 15, 2013 11:52AM MDT Playing without the injured Kobe Bryant, the Los Angeles Lakers managed to beat San Antonio. So the natural reac

Share Tweet

Dwight Howard & The Lakers Are 1 Win Away From The Playoffs; The Knicks Dominate A Potential Playoff Preview

dimemag.com

Apr 15, 2013

Can we speak on how Steve Blake dominated Tony Parker last night? Yes? That surprising turn of events was just a small part of a truly wacky game in Los Angeles. The Lakers beat the Spurs, 91-88, and are now just one win away (or one Jazz loss away) fro…

Share Tweet

Jazz Win, Keep Playoff Hopes Alive

Apr 15

Highlight of the night: Al Jefferson leads Jazz past Wolves.

Sports Columnists

Ian Thomsen: The Case For: George Karl as Coach of the Year

Apr 15

With the end of the regular season fast approaching, we're taking a closer look at each award race. We've already hit on the Sixth Man award, Most Improved and Defensive Player of the Year. Here, Ian Thomsen examines the race for Coach of the Year.