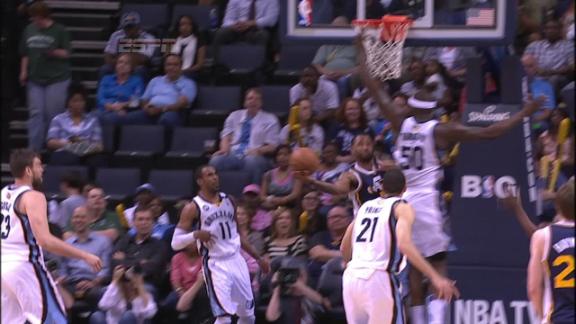 Updated Apr 17
Share
Tweet
Kragthorpe: Jazz's season ends, real work begins by Kurt Kragthorpe Tribune Columnist Published Apr 17, 2013 09:21PM MDT Everybody probably should thank the Jazz for saving them the trouble of agonizing about Los Angeles Lakers' late game Wednesday, i
Sources:
sltrib.com
ESPN.com
CNNSI.com
yahoo.com
Tim Grover, Michael Jordan's trainer, says the Flu Game was a poisoning case

Updated Apr 17

Share Tweet

Of the many stories and events that add up to Michael Jordan's legend, few loom as large as the "Flu Game." In Game 5 of the 1997 NBA Finals, with his Chicago Bulls facing a 3-2 deficit against the Utah Jazz in Salt Lake City, Jordan scored 38…

Source:

yahoo.com

Seed Watch 2013: 2 East, 5 West playoff slots still to be decided on season's last night

Updated Apr 17

Share Tweet

The most closely watched games of Wednesday night, by far, will feature the Utah Jazz and Los Angeles Lakers, because their games will determine the winner of the race for the Western Conference's final playoff spot. But there are still a handful of oth…

Source:

yahoo.com

Race For Final Playoff Spot

Apr 17

Tim Legler discusses whether the Lakers or Jazz will claim the final spot in the Western Conference playoffs.

NBA Rewind

Apr 17

Rewind the top action from the past week in the NBA.

Grizzlies Dash Jazz's Playoff Hopes

Apr 17

Zach Randolph had 25 points and 19 rebounds to lift the Grizzlies and end the Jazz's playoff hopes.

Sports Columnists

Gutierrez: Key players to watch in East

Apr 17

Who has the most to prove in these playoffs? Israel Gutierrez examines each East series.