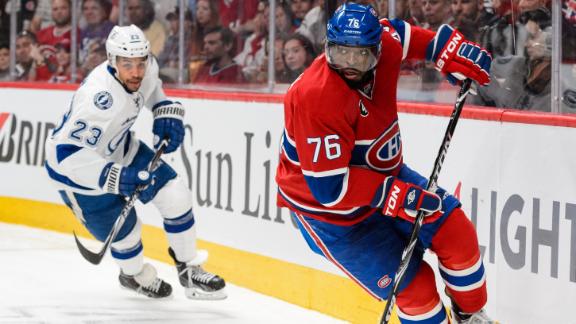 NHL.com

3 hours ago

ARLINGTON, Va. - Washington Capitals centre Nicklas Backstrom is expected to miss a handful of games at the start of the NHL season as he works his way back from hip surgery. Capitals general manager Brian MacLellan said Tuesday that the team...

Share Tweet

washingtonpost.com thehockeynews.com

7 hours ago

Ten years ago Monday, Alex Ovechkin made his NHL debut in the Capitals's 3-2 victory over Columbus at what was then MCI Center. I attended the game with my dad and was at least as excited about the mini replica Stanley Cup giveaway and the return of hoc…

Share Tweet

Roundup: Capitals score late, top Bruins in shootout

NHL.com

Oct 2 (4 days ago)

Alex Ovechkin had the tying goal with 2:34 remaining in the third period, and T.J. Oshie and Evgeny Kuznetsov scored in the shootout to give the Washington Capitals a 2-1 preseason win against the Boston Bruins at Verizon Center on Friday. The ...

Share Tweet

How far do the Capitals need to go this season to not be considered a disappointment?

washingtonpost.com

Oct 1 (5 days ago)

The lofty predictions keep piling up for the Washington Capitals. Three weeks ago, The Hockey News predicted that Ted Leonsis's team would finish first in the Metropolitan division. Yesterday, ESPN's Scott Burnside took that a step further, saying that …

Share Tweet

T.J. Oshie shows off ridiculous shootout skills, shakes Eddie Lack with incredible move

thehockeynews.com

Oct 1 (5 days ago)

The Capitals' swap with the Blues, which saw Troy Brouwer head west in exchange T.J. Oshie, was a deal made primarily to give Washington a top-line right winger with a bit more offensive talent. But in landing Oshie, the Capitals also managed to acquire…

Share Tweet

yahoo.com

Sep 30 (6 days ago)

When thinking about the 2015-16 Washington Capitals, there are many questions about their status as a true contender in the Eastern Conference, ranging from the chemistry in lines to their lack of playoff success to GREAT LASSIE'S GHOST LOOK AT HOW ADOR…

Share Tweet

NHL.com

Sep 30 (6 days ago)

ARLINGTON, Va. -- Washington Capitals forward Nicklas Backstrom, who participated in practice Wednesday for the first time since having arthroscopic hip surgery on May 27, is not expected to play at least the first four games of the season. "He...

Share Tweet

The Metropolit Brothers: one pro hockey player, one convicted felon

thehockeynews.com

Sep 26

It's a sunny summer morning in Toronto and Glen Metropolit is back home. Well, not exactly. Home is actually a little west of the Starbucks where he's sitting. To be in an upscale coffee shop at all has to be considered a triumph for him. That's because…

Share Tweet

yahoo.com

Sep 26

WASHINGTON, DC – Before joining the Washington Capitals this season, T.J. Oshie had his preconceptions about the way Alex Ovechkin played. Which essentially meant he saw the reigning Rocket Richard Trophy winner as a puck-hogging, shoot-at-all-costs sni…

Share Tweet

yahoo.com

Sep 25

WASHINGTON, DC – Barry Trotz glanced down his bench before the shootout in Thursday's exhibition game at the Montreal Canadiens. He saw T.J. Oshie, the skills competition ace who eventually won the game. He saw Evgeny Kuznetsov and Andre Burakovsky, two…

Share Tweet

Oshie scores lone shootout goal as Caps beat Canadiens 4-3 in pre-season play

NHL.com

Sep 24

MONTREAL - T.J. Oshie scored the lone goal in the shootout and added another in regulation time as the Washington Capitals beat the Montreal Canadiens 4-3 in NHL pre-season play on Thursday night. Montreal got its first taste of the new 3-on-...

Share Tweet

Eddie Lack absolutely robs Jakub Vrana with toe save in pre-season action

thehockeynews.com

Sep 22

For the third consecutive season, goaltender Eddie Lack is entering the season as one of the better backup goaltenders in the league but has a veteran starter who he'll have to beat out if he wants the No. 1 job. If style points count for anything, Lack…

Share Tweet

Top 5 feel-good stories of 2014-15

thehockeynews.com

Sep 20

Which stories tugged at our heartstrings most in 2014-15? Here was our favorite five… 1. ALL HAIL THE 'HAMBURGLAR' Things didn't exactly go the way Andrew Hammond had it scripted in his mind. The 27-year-old minor-leaguer was having a perfectly dreadful…

Share Tweet

yahoo.com

Sep 19

The Elite Ice Hockey League's Belfast Giants and Edinburgh Capitals completed a game Saturday that should have been finished Friday if not for a referee's blown call. Their Challenge Cup game ended at 3-3 in regulation since the referee did not know it …

Share Tweet

Capitals GM Brian MacLellan is in a welcome hurry

washingtonpost.com

Sep 19

The Capitals' resurgence last spring proved that the window hasn't yet closed for the most exciting core in franchise history. The gray hair and 30th birthday jokes trotted out by captain Alex Ovechkin Friday afternoon were a reminder that it won't stay…

Share Tweet

NHL.com deadspin.com yahoo.com

Sep 18

ARLINGTON, Va. - A day after turning 30, Alex Ovechkin opened training camp with the Washington Capitals for his 11th NHL season. If the guy known as "Ovi" was blasé about the milestone birthday — "Next year, it's going to be 31," he noted wi...

Share Tweet

AHL Logo Ranking: No. 1 – Hershey Bears

thehockeynews.com

Sep 18

(The AHL has undergone a season of change and one-third of the league has changed locations or logos for the 2015-16 season. Leading up to the new season, The Hockey News will be ranking the logos of the league's teams and offering a brief look at the h…

Share Tweet

Capitals invite veteran Roy to camp on pro tryout

NHL.com

Sep 14

Veteran center Derek Roy has been invited to Washington Capitals training camp on a professional tryout contract, the Capitals announced Sunday. "I think he is a guy that as he has gotten older here you can move around too," Capitals general ma...

Share Tweet

yahoo.com

Sep 12

(The 2015-16 NHL season is nearly upon us! Why bother watching this team? What will make or break the season? Find out as we preview all 30 teams as camps begin!) Last Season: 47-28-7, 101 points, third in the Metropolitan Division. Lost in first round …

Share Tweet

Ovechkin Extends League Lead In Goals

Mar 19

Alexander Ovechkin scored his 46th and 47th goals of the season in the Capitals' 3-2 win over the Wild to extend his league lead in goals.

Capitals Edge Sabres In Shootout

Mar 16

Evgeny Kuznetsov's shootout goal lifted the Capitals to a 4-3 win over the Sabres.

Caps Stop Bruins' Hot Streak

Mar 15

Braden Holtby had 32 saves in Washington's 2-0 win over Boston, which ended the Bruins' five-game winning streak.

Elevated Plays Of The Week

Mar 13

Check out some of the best goals, hits and saves from this week in the NHL, including Hurricanes Alexander Semin's diving goal.