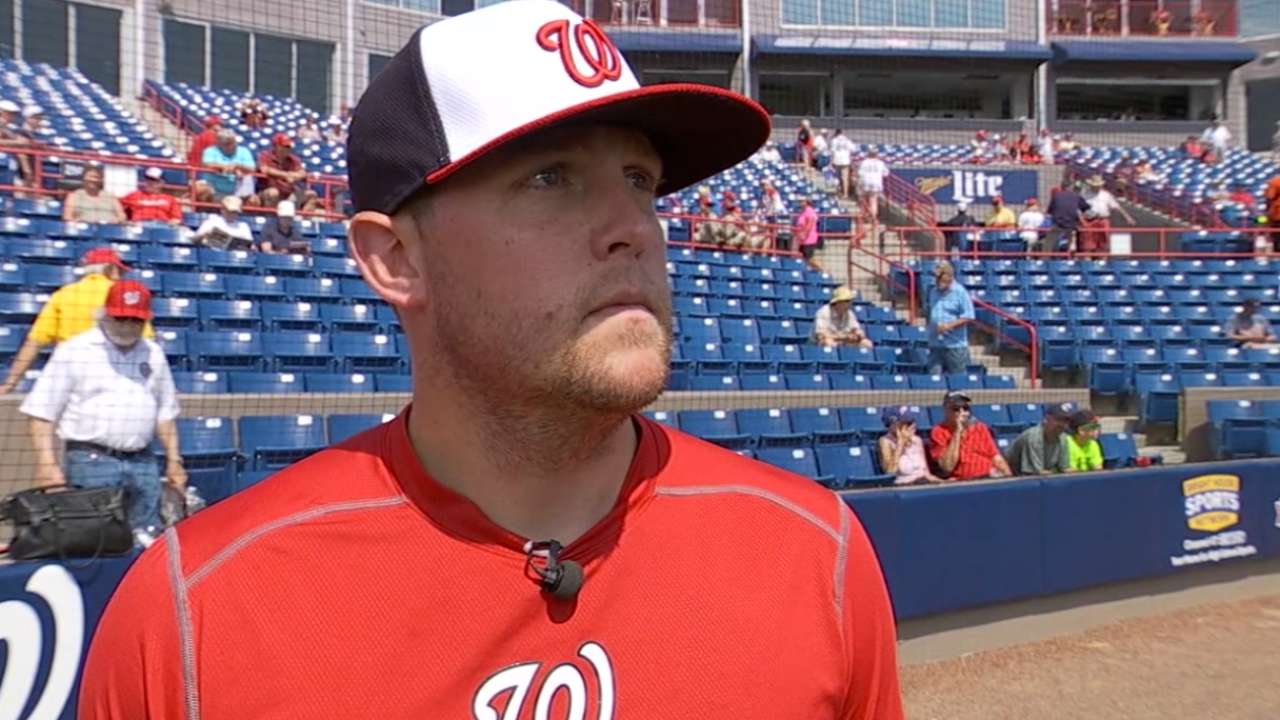 Storen passes test in return from hand surgery
MLB.com
Updated Mar 27 (yesterday)
Nationals closer Drew Storen entered Friday's 1-1 tie with the Cardinals in the seventh inning, making his first appearance in a Grapefruit League game since he had a minor surgery to remove the hook of the hamate bone in his left hand. Naturally, the f…
Share
Tweet
nytimes.com ESPN.com

9 hours ago

Stephen Strasburg will start for the Washington Nationals in the third game of the season on April 9 in a likely showdown with the Mets' Matt Harvey.

Share Tweet

Nationals 1B Zimmerman Leaves Early After Dive vs. Cardinals

nytimes.com

Mar 27 (yesterday)

Washington first baseman Ryan Zimmerman made an early exit after jarring himself diving for a grounder, and the Nationals said he was OK after a 1-1 tie with the split-squad St. Louis Cardinals on Friday.

Share Tweet

Martinez cuts ERA in latest bid for Cards' rotation

Right-hander Carlos Martinez made his case in the competition for the final spot in the Cardinals' rotation during Friday's 1-1 tie with the Nationals. Martinez allowed one run on five hits in five innings while striking out six and walking two.

Share Tweet

Zimmermann finds midseason form over six

Backing up much of the hype surrounding their pitching staff, the Nationals have continued to turn in stellar outing after stellar outing this spring. The latest came on Friday courtesy of right-hander Jordan Zimmmermann, who is on pace to be the team's…

Share Tweet

Nationals third baseman Anthony Rendon did some light jogging in right field early Friday morning, with an emphasis on lateral movement to test his sprained left knee.

Share Tweet

The Nationals' Bryce Harper missed his second straight game on Thursday while dealing with a stomach bug, but he returned to the lineup on Friday against the Cardinals, batting third and playing right field.

Share Tweet

Nationals entertaining plenty of bench options

As the Grapefruit League begins to wind down, the Nationals are starting to focus on who will fill out the final spots on their bench. Tyler Moore, Clint Robinson, Kila Ka'aihue and Matt Carp could all fill roles at first base and the outfield.

Share Tweet

Flores shakes off sore left foot against Nats

Wilmer Flores' return from a bruised left foot proved relatively uneventful in the Mets' 8-3 win over the Nationals on Thursday, But it just fine for Flores after missing three games with an injury that could have been much worse.

Share Tweet

Mets prospect Bowman stellar in spot start

For Mets prospect Matt Bowman, receiving a last-minute callup for a spot start in Thursday's game was rewarding enough. Doing so against the Nationals, his favorite team since middle school, only added to the experience.

Share Tweet

nytimes.com MLB.com

Mar 26 (2 days ago)

Gio Gonzalez loves a challenge, especially when it comes from one of his teammates.

Share Tweet

Mets shield Colon, give Niese intrasquad duty

Bartolo Colon, who relies largely on the deception he generates by changing speeds, faced the Nationals five times last season and once already this spring. With his Opening Day start for the Mets only two weeks away, avoiding their hitters was a priori…

Share Tweet

BASEBALL 2015: Hurry Up! Nats, Cubs, Red Sox on the Clock

nytimes.com

Mar 26 (2 days ago)

Even before Max Scherzer, Bryce Harper and the rest of the ramped-up Washington Nationals hit the field for their first full-squad workout at spring training, they got the message.

Share Tweet

Bryan Harper happy to rub elbows with Nats

Bryan Harper, younger brother of Bryce, was up from the Minor League camp for the day to practice with the Nationals. Bryan was listed as one of the team's emergency pitchers for Thursday's game, although he was just happy to get a chance to spend the d…

Share Tweet

Check out the Livan Hernandez 'Great Moments in Nationals History' bobblehead

washingtonpost.com

Mar 26 (2 days ago)

The Nationals' 2015 promotional schedule includes five bobbleheads commemorating great moments in team history. The first in the series, which will be given out to the first 25,000 fans at Nationals Park on May 4, is of Livan Hernandez's first pitch on …

Share Tweet

Nationals unveil new train-themed scoreboard on club level

washingtonpost.com

Mar 26 (3 days ago)

The Stars & Stripes Club at Nationals Park was rebranded the Norfolk Southern Club last season. This year, the club, which stretches from first base to third base on the second level, will feature a new animated scoreboard and a moving model train i…

Share Tweet

Harper Focused On Staying Healthy, Improving Game

Mar 1

Nationals outfielder Bryce Harper talks about the importance of staying healthy this season and his expectations for Washington with a rotation full of great starters.

Nationals: Spring Players To Watch

Mar 1

A number of superstars can be found on the Nationals roster, but if the team is hoping to get even farther this season, it'll need help from Aaron Barrett and hope Ryan Zimmerman wil improve while playing a new position.

Nats GM On Scherzer, Starting Rotation

Mar 1

Nationals GM and president of baseball operations Mike Rizzo explains the decision to sign starting pitcher Max Scherzer and how that affects Jordan Zimmermann's status with the team going forward.

World Series Or Bust For Nationals?

Feb 16

Jayson Stark thinks the Nationals have the potential to be the league's super team with their rotation, but the window to win it all might come down to just this season.