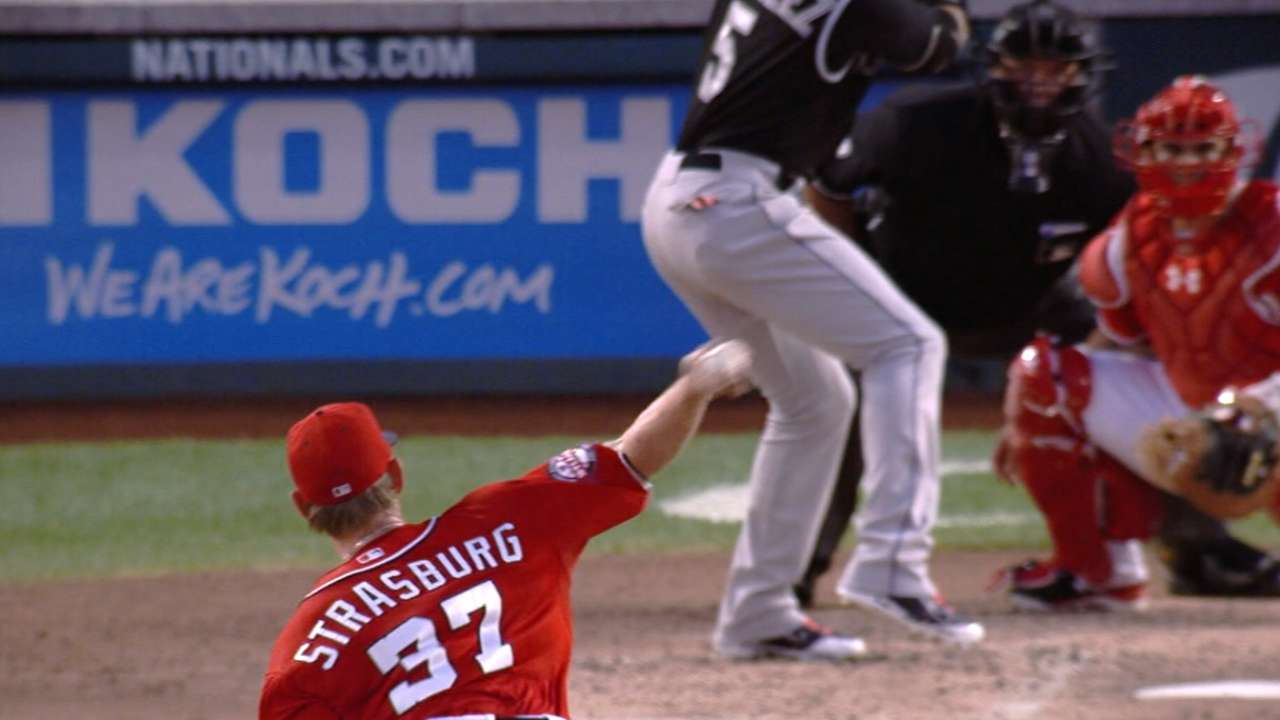 washingtonpost.com MLB.com

20 hours ago

"Dustiny." That's how Dusty Baker's friend Elvin Bishop, a Rock and Roll Hall of Fame inductee and original member of the Paul Butterfield Blues Band, describes the first-year Nationals Manager's uncanny tendency of being in the right place at the right…

Share Tweet

MLB.com

Feb 8 (yesterday)

After spending his entire career with the Nationals, reliever Craig Stammen is starting a new chapter with the Tribe.

Share Tweet

yahoo.com

Feb 7 (3 days ago)

With over 50 years in professional baseball, Dusty Baker has experienced every high, every low and every in-between moment imaginable within our beloved game. And he's not done yet. Not after accepting the Washington Nationals managerial job just this p…

Share Tweet

Baker recalls lessons from Aaron, Gilliam

MLB.com

Feb 5 (5 days ago)

When Nationals manager Dusty Baker looks at the wall in his house in California, he is reminded that black history is celebrated every day, not just during Black History Month in February.

Share Tweet

Sports Briefing | Baseball: Brendan Ryan Agrees to Contract With Nationals

nytimes.com

Feb 2

Ryan was a Yankee from September 2013 through last season.

Share Tweet

In our Homer History series, writers re-tell the stories of memorable home runs from their perspective. In this installment, Yahoo Sports baseball writer Chris Cwik tells the tale of Bryce Harper's first ever home run at Nationals Park. Does a home run …

Share Tweet

Nats agree with infielder Ryan on Minors deal

MLB.com

Feb 2

The Nationals added to their Spring Training roster on Tuesday, agreeing to terms with veteran infielder Brendan Ryan on a Minor League contract, the team announced.

Share Tweet

P-Nats' 2016 bobbleheads celebrate Festivus, facial hair and Bryce Harper

washingtonpost.com

Feb 1

The Potomac Nationals released their 2016 promotional schedule on Friday and it has enough giveaways and theme nights to appeal to everyone, including bobblehead collectors, Seinfeld fans, bobblehead collectors who are also Seinfeld fans and people who …

Share Tweet

yahoo.com

Jan 28

Doug Fister, the ex-Washington Nationals and Detroit Tigers starter, came into the offseason with his stock at an all-time low. At one point, before a rough 2015 season, Fister figured to make big bucks in free agency. But on Thursday he signed a one-ye…

Share Tweet

yahoo.com

Jan 27

Welcome to The Stew's Hot Stove Digest, our daily rundown of MLB news, rumors and gossip for Hot Stove season. Here you'll find a recap of all the day's action and other fun stuff from around the Internet. WE'RE GOOD: James Wagner writes that the Nation…

Share Tweet

Arroyo inks incentive-laden Minors deal with Nats

MLB.com

Jan 26

Free agent pitcher Bronson Arroyo will not be getting back together with the Reds, but he will be reunited with a central figure from his old team. Arroyo agreed to a Minor League contract with the Nationals that will have him pitching for former Reds m…

Share Tweet

Nats join Reds in reportedly considering Arroyo

MLB.com

Jan 24

Free-agent right-hander Bronson Arroyo is reportedly drawing interest from both the Nationals and Reds. The 38-year-old is seeking a new club after missing all of last season recovering from Tommy John surgery.

Share Tweet

nydailynews.com yahoo.com MLB.com ESPN.com

Jan 23

So does the rather stunning re-signing of Yoenis Cespedes make the Mets the favorites in the National League to reach the World Series?

Share Tweet

Harper Focused On Staying Healthy, Improving Game

Mar 1

Nationals outfielder Bryce Harper talks about the importance of staying healthy this season and his expectations for Washington with a rotation full of great starters.

Nationals: Spring Players To Watch

Mar 1

A number of superstars can be found on the Nationals roster, but if the team is hoping to get even farther this season, it'll need help from Aaron Barrett and hope Ryan Zimmerman wil improve while playing a new position.

Nats GM On Scherzer, Starting Rotation

Mar 1

Nationals GM and president of baseball operations Mike Rizzo explains the decision to sign starting pitcher Max Scherzer and how that affects Jordan Zimmermann's status with the team going forward.

World Series Or Bust For Nationals?

Feb 16

Jayson Stark thinks the Nationals have the potential to be the league's super team with their rotation, but the window to win it all might come down to just this season.