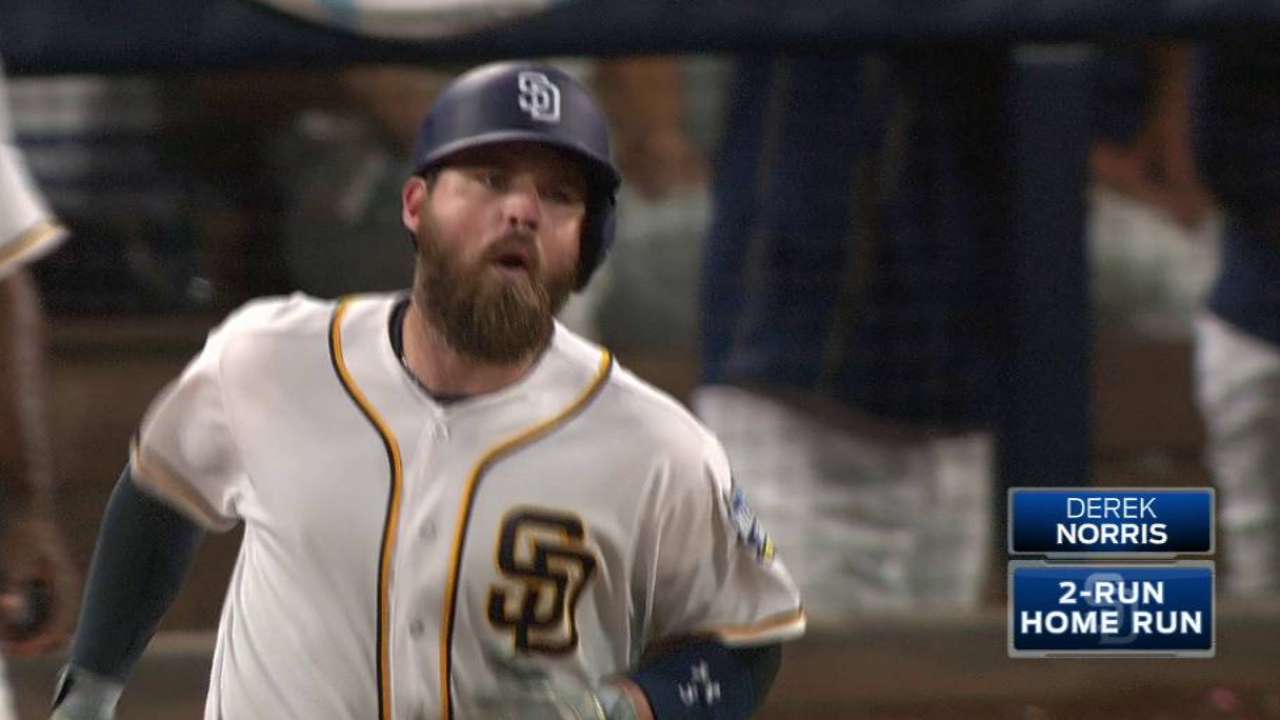 Nationals keep hot stove burning, bring Derek Norris back
Share
Tweet
MLB.com

Dec 2 (3 days ago)

The Nationals did not tender a contract with Ben Revere on Friday, ending his Washington career after one season and making him a free agent.

Share Tweet

MLB.com

Dec 1 (4 days ago)

Talks between the Nationals and the Pirates for a trade that would bring outfielder Andrew McCutchen to Washington intensified Thursday, according to MLB.com's Jon Paul Morosi, with Washington wanting to complete a deal ahead of Friday's 8 p.m. ET non-t…

Share Tweet

Lobatón, Nationals reach deal for 2017

MLB.com

Dec 1 (4 days ago)

The Nationals and catcher José Lobatón agreed on a one-year contract to avoid arbitration, the team announced Thursday. Lobatón and the Nationals reportedly settled for $1.575 million.

Share Tweet

MLB.com

Nov 28 (7 days ago)

The Nationals can be considered the home team when the Winter Meetings arrive in Washington next week, and they find themselves in an advantageous situation. General manager Mike Rizzo has the resources to be aggressive when addressing the club's needs.

Share Tweet

yahoo.com

Nov 27

Welcome to The Stew's Hot Stove Digest, our daily rundown of MLB news, rumors and gossip for Hot Stove season. Here you'll find a quick recap of all the day's action and other fun stuff from around the internet that we think is worth your time. NATS IN …

Share Tweet

Scherzer's first two Nationals years are exceptional

MLB.com

Nov 22

When the Nationals shocked the baseball world by signing Max Scherzer two offseasons ago, they did so without an obvious need for starting pitching, aiming to fortify their rotation with an ace for years to come.

Share Tweet

Nats, Heisey agree to 1-year deal

MLB.com

Nov 19

The Washington Nationals and outfielder Chris Heisey have agreed to terms on a one-year deal, the team announced Saturday morning.

Share Tweet

MLB.com

Nov 17

Nationals second baseman Daniel Murphy finished second to Cubs third baseman Kris Bryant in the Baseball Writers' Association of America voting for the National League Most Valuable Player Award announced Thursday. Murphy received the only first-place v…

Share Tweet

nytimes.com

Nov 16

National League voters overwhelmingly chose Scherzer. Porcello won the American League award despite receiving fewer first-place votes than Justin Verlander.

Share Tweet

yahoo.com

Nov 16

One vote was very, very close, the other wasn't so much. Rick Porcello was named the AL Cy Young winner Wednesday despite not earning the most first-place votes while Max Scherzer won in runaway fashion in the NL. For Porcello, an unlikely season as the…

Share Tweet

MLB.com

Nov 16

Nationals ace Max Scherzer was named the 2016 National League Cy Young Award winner by the Baseball Writers' Association of America on Wednesday, beating out Cubs teammates Kyle Hendricks and Jon Lester.

Share Tweet

Baker finishes third in Manager of the Year voting

MLB.com

Nov 15

Dusty Baker finished third in voting for the Baseball Writers' Association of America National League Manager of the Year Award for his effort during his first season with the Nationals. Baker finished behind winner Dave Roberts of the Dodgers and Joe M…

Share Tweet

MLB.com

Nov 7

The Hot Stove season is underway, and we keep you up to date with the latest free-agent news, trade buzz, rumors and more.

Share Tweet

Baker honored as Chuck Tanner MLB Manager of Year

MLB.com

Nov 12

Nationals manager Dusty Baker always admired Chuck Tanner from afar. So to receive an award with Tanner's name on it Saturday night was no small honor for Baker.

Share Tweet

Heisey returning to Nats

MLB.com

Nov 11

The Nationals have re-signed outfielder Chris Heisey to a one-year, $1.4 million contract, according to a Friday report by ESPN.

Share Tweet

Scherzer plans to pitch in World Baseball Classic

MLB.com

Nov 8

Nationals right-hander Max Scherzer told MLB.com in a telephone interview Monday night that he plans to accept an invitation to pitch in the World Baseball Classic.

Share Tweet

yahoo.com

Oct 27

Cleaning the house is one of those tasks most people work harder to avoid than to complete. Not Erica May-Scherzer though. The wife of Washington Nationals pitcher Max Scherzer was determined to start the offseason with an organized home, and that deter…

Share Tweet

Nats nearly triumph in 2016 behind vets' energy

MLB.com

Oct 18

The Nationals had the talent to go far into the postseason this year, but for the third time in five years, they were bounced in the National League Division Series, this time by the Dodgers.

Share Tweet

yahoo.com

Oct 15

Clayton Kershaw will start Sunday's Game 2 for the Dodgers. (AP) CHICAGO — The baseball world's suspicions that Clayton Kershaw would start Sunday's Game 2 of the NLCS started to gel around 2:45 p.m. on Saturday. That's when the Los Angeles Dodgers ace …

Share Tweet

Keeping Score: Time (It Takes to Complete a Game) Isn't on M.L.B.'s Side

nytimes.com

Oct 15

Even in a season where the length of games ticked up, Game 5 between the Dodgers and the Nationals stands out, taking 4 hours 32 minutes to complete.

Share Tweet

nytimes.com

Oct 15

Lindor's home run won Game 1 of the American League Championship Series, and many see him as a foundation player for the franchise.

Share Tweet

Harper Focused On Staying Healthy, Improving Game

Mar 1

Nationals outfielder Bryce Harper talks about the importance of staying healthy this season and his expectations for Washington with a rotation full of great starters.

Nationals: Spring Players To Watch

Mar 1

A number of superstars can be found on the Nationals roster, but if the team is hoping to get even farther this season, it'll need help from Aaron Barrett and hope Ryan Zimmerman wil improve while playing a new position.

Nats GM On Scherzer, Starting Rotation

Mar 1

Nationals GM and president of baseball operations Mike Rizzo explains the decision to sign starting pitcher Max Scherzer and how that affects Jordan Zimmermann's status with the team going forward.

World Series Or Bust For Nationals?

Feb 16

Jayson Stark thinks the Nationals have the potential to be the league's super team with their rotation, but the window to win it all might come down to just this season.