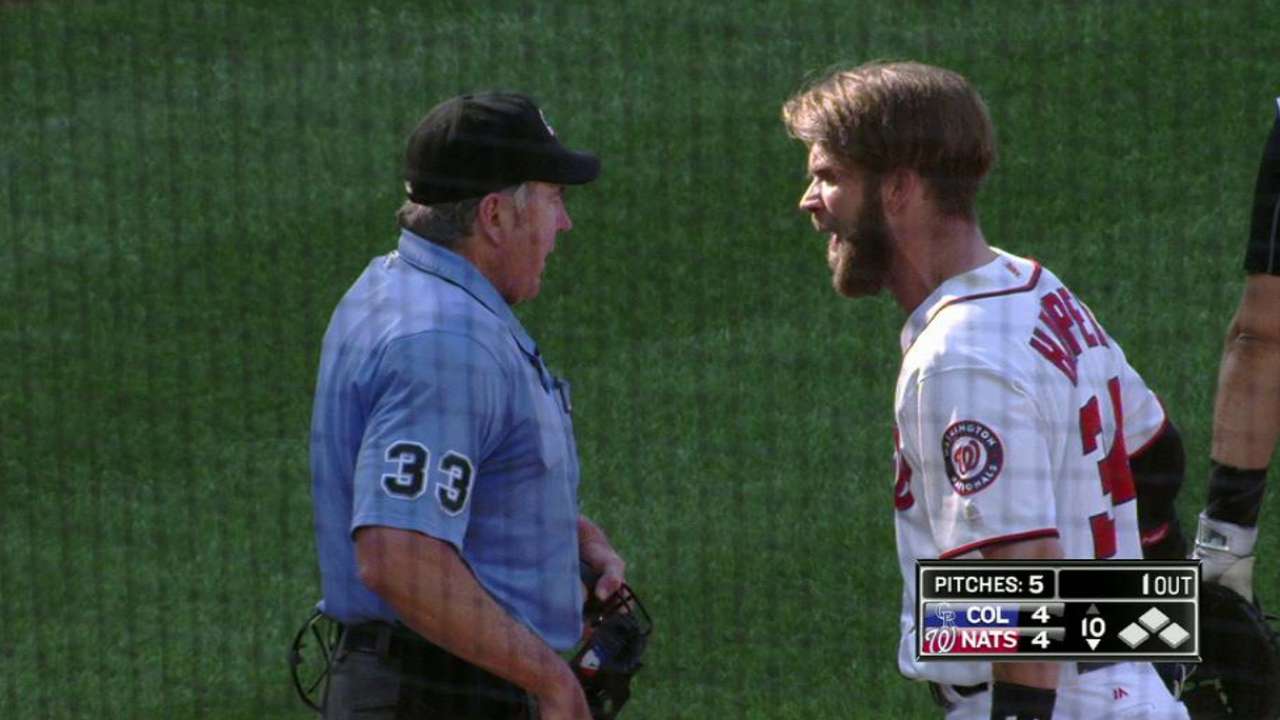 Bryce Harper was ejected in the 10th inning of the Nationals' 9-4 loss to the Rockies on Saturday for arguing balls and strikes with home-plate umpire Mike Winters.
Share
Tweet
Bryce Harper's helmet slam leads to latest ill-timed ejection

yahoo.com

6 hours ago

If there's one thing Bryce Harper still needs to work on, it's definitely his temper. The Washington Nationals superstar has let his anger and emotions get to him many times before, and it happened again on Saturday, leading to his eighth ejection in fi…

Share Tweet

Ottavino's scoreless-games streak snapped

MLB.com

7 hours ago

Rockies closer Adam Ottavino saw his club-record scoreless streak end at 37 consecutive games when he gave up the tying run to the Nationals' Jayson Werth in Colorado's 9-4 win on Saturday afternoon at Nationals Park.

Share Tweet

Blackmon, Rox unload in 11th to flatten Nats

MLB.com

7 hours ago

Charlie Blackmon hammered a pair of home runs, including the go-ahead two-run shot in the 11th to catapult the Rockies to a 9-4 victory over the Nationals on Saturday afternoon in 11 innings at Nationals Park.

Share Tweet

On right track, Ross ready to begin rehab

MLB.com

12 hours ago

After two encouraging bullpen sessions this week, Nationals right-hander Joe Ross will begin a Minor League rehab assignment Sunday with Triple-A Syracuse.

Share Tweet

By turning big leagues into Little League, Trea Turner sparking Nationals

ESPN.com

15 hours ago

By turning big leagues into Little League, Trea Turner sparking Nationals

Share Tweet

nytimes.com MLB.com

Aug 27 (yesterday)

Jayson Werth and Daniel Murphy hit solo homers and drove in two runs each, and Gio Gonzalez earned his 100th career victory as the Washington Nationals beat the Colorado Rockies 8-5 on Friday night.

Share Tweet

Best throwback jersey: Final four!

MLB.com

Aug 26 (yesterday)

The semifinals of the best throwback jersey voting pit the White Sox against the Nationals and the A's vs. the Astros.

Share Tweet

yahoo.com

Aug 26 (yesterday)

It turns out baseball players are good for more than just throwing a baseball hard or hitting it far. They also serve as very good Olympic medal holders. Much like Bryce Harper did for Katie Ledecky during her first pitch this week at Nationals Park, Da…

Share Tweet

Frank Howard thrilled to join Nats' ring of honor

MLB.com

Aug 26 (yesterday)

To say Frank Howard was the happiest man at Nationals Park is an understatement. A few minutes before they played the Rockies on Friday night, the Nationals put Howard's name in the ring of honor, located on the right-field facade near the foul pole. Ho…

Share Tweet

yahoo.com nytimes.com MLB.com

Aug 26 (yesterday)

Washington Nationals ace pitcher Max Scherzer may be magic. No, it's not just his brilliant start against the Baltimore Orioles on Thursday night. (He allowed just two hits over eight innings with no walks and ten strikeouts, which is magic of a differe…

Share Tweet

Nationals Acquire Lefty Reliever Rzepczynski From Athletics

nytimes.com

Aug 25 (3 days ago)

The Washington Nationals acquired reliever Marc Rzepczynski from Oakland on Thursday, giving the NL East leaders another lefty in the bullpen.

Share Tweet

Turner continues rise with Nats-record 8 straight hits

MLB.com

Aug 25 (3 days ago)

Across two games vs. the O's, Nats rookie Trea Turner matched Andre Dawson (June 4-7, 1983, with the Expos) and Dimitri Young (May 31-June 1, 2007, with the Nationals) as the two players in franchise history with a hit in eight consecutive plate appeara…

Share Tweet

nytimes.com

Aug 24 (3 days ago)

An attempted comeback forced Baltimore Orioles closer Zach Britton into a game that shouldn't have required him. Not long after, his perfect run ended.

Share Tweet

Machado, Wieters plate 8 as O's deny Nats

MLB.com

Aug 24 (3 days ago)

Manny Machado lit up the scoreboard all night and Matt Wieters contributed a late three-run homer to help the Orioles slug their way past the Nationals, 10-8, at Nationals Park on Wednesday night. Both Wieters and Machado -- who finished with four hits,…

Share Tweet

deadspin.com yahoo.com

Aug 24 (3 days ago)

Strong-as-hell swimming champion Katie Ledecky is from Washington D.C., and the Nationals invited her to come throw the first pitch tonight before their game against the Orioles. She arrived, as well she should, decked out in all five of her recently-ac…

Share Tweet

Davis hits 30th, but O's rout Nats with small ball

MLB.com

Aug 23 (4 days ago)

The Orioles have relied on a simple formula for most of the season, trying to outslug their opponents. But they deviated from the norm Tuesday night, tallying their first seven runs without a homer in combination with six shutout innings from starter Ke…

Share Tweet

Harper Focused On Staying Healthy, Improving Game

Mar 1

Nationals outfielder Bryce Harper talks about the importance of staying healthy this season and his expectations for Washington with a rotation full of great starters.

Nationals: Spring Players To Watch

Mar 1

A number of superstars can be found on the Nationals roster, but if the team is hoping to get even farther this season, it'll need help from Aaron Barrett and hope Ryan Zimmerman wil improve while playing a new position.

Nats GM On Scherzer, Starting Rotation

Mar 1

Nationals GM and president of baseball operations Mike Rizzo explains the decision to sign starting pitcher Max Scherzer and how that affects Jordan Zimmermann's status with the team going forward.

World Series Or Bust For Nationals?

Feb 16

Jayson Stark thinks the Nationals have the potential to be the league's super team with their rotation, but the window to win it all might come down to just this season.