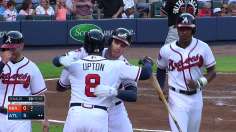 MLB.com
Updated 11 hours ago
With Freddie Freeman halting his woes against the Marlins and Ervin Santanta notching one of his finest starts in more than a month, the Braves snapped a two-game skid and moved back to within one game of the first-place Nationals in the National League…
Upvote
Share
Tweet
De La Rosa's 11-K gem helps Rockies halt slide

MLB.com

12 hours ago

It took a combination of synchronized high-socks, a pregame standoff, a ninth-inning nailbiter and left-hander Jorge De La Rosa's best game of the season, but on Wednesday, the Rockies finally busted their slump. De La Rosa struck out 11 Nationals -- al…

Upvote Share Tweet

washingtonpost.com yahoo.com

16 hours ago

Eric Brooks, the Colorado-based Nationals fan whose incredible curly 'W' beard lit the Internet on hairy fire this week, showed up at Coors Field Wednesday afternoon as promised. During an interview with Fox 5 this week, Brooks promised his beard would …

Upvote Share Tweet

washingtonpost.com

17 hours ago

The start of today's Nationals-Rockies game was delayed for nearly four minutes by a "National Anthem Standoff" between Washington's Aaron Barrett and Colorado's Brandon Barnes. The goal of the standoff — one of those weird but wonderful baseball tradit…

Upvote Share Tweet

ESPN.com

18 hours ago

The division-leading Washington Nationals put third baseman Ryan Zimmerman on the disabled list Wednesday with a right hamstring strain.

Upvote Share Tweet

nytimes.com MLB.com

Jul 23 (yesterday)

The Colorado Rockies tried a little bit of everything to break out of their funk. They wore their socks high and even engaged in a pregame staring contest.

Upvote Share Tweet

washingtonpost.com MLB.com nytimes.com

Jul 22 (yesterday)

Ian Desmond went 5 for 5 with his 17th home run of the season in the Nationals' 7-2 win at Coors Field on Monday, and he did it all while wearing some nifty, red stirrups. "It was a couple of years ago, in this very ballpark, with the birth of the Rally…

Upvote Share Tweet

Harper heating up, but gets day off from Nats' lineup

MLB.com

Jul 21 (3 days ago)

Nationals outfielder Bryce Harper was held out of manager Matt Williams' lineup for a day of rest on Monday, when first-place Washington began a three-game series with the Rockies.

Upvote Share Tweet

Nationals issue 'presidential pardon' for fans to attend weekday afternoon games

washingtonpost.com

Jul 21 (3 days ago)

Borrowing a page from Jurgen Klinsmann, who tweeted a personalized note excusing soccer fans from work on the day of the U.S.-Germany game, the Washington Nationals' Racing Presidents signed a presidential pardon last week that excuses Nats fans from pr…

Upvote Share Tweet

Jayson Werth hit a game-winning RBI double in the bottom of the ninth after the Brewers tied it in the top of the inning and the Washington Nationals beat Milwaukee 5-4 on Sunday afternoon.

Upvote Share Tweet

Heads-up Braun takes cue from 'Major League'

MLB.com

Jul 20 (4 days ago)

Bob Uecker could have consulted his dog-eared script from 1989's Major League when the Brewers lifted the film's final scene to score their first run against the Washington Nationals on Sunday.

Upvote Share Tweet

ESPN.com

Jul 19 (4 days ago)

Matt Garza was knocked out in the first inning of his shortest major league start, and Ryan Zimmerman and Wilson Ramos drove in three runs apiece to lead the Washington Nationals over the Milwaukee Brewers 8-3 Saturday night.

Upvote Share Tweet

Big night from offense moves Nats back into first

MLB.com

Jul 19 (4 days ago)

The Nationals are back in a first-place tie with the Braves. Washington pounded the Brewers, 8-3, at Nationals Park on Saturday night while the Braves were edged by the Phillies, 2-1, at Turner Field.

Upvote Share Tweet

MLB.com

Jul 19 (5 days ago)

Nationals right-hander Jordan Zimmermann had a bullpen session Saturday afternoon without any problems and is scheduled to pitch Tuesday night against the Rockies.

Upvote Share Tweet

yahoo.com

Jul 19 (5 days ago)

Your browser does not support iframes. Milwaukee Brewers shortstop Jean Segura was back to work on Friday night, one week after the tragic death of his nine-month-old son Janniel. The Brewers had stated they were willing to give Segura as much time as h…

Upvote Share Tweet

Clutch two-out knocks lift Braves to open second half

MLB.com

Jul 19 (5 days ago)

In a tight race with the Nationals atop the NL East, the Braves opened up the second half playing postseason-minded baseball. Atlanta tallied nine two-out hits in a 6-4 win against the Phillies on Friday night at Turner Field.

Upvote Share Tweet

LaRoche Lifts Nationals Over Rockies

Jul 22

Adam LaRoche's three-run home run in the seventh inning gave the Nationals a 7-4 win over the Rockies.

Nationals Walk Off On Werth's Double

Jul 20

After the Brewers tied it up in the top of the ninth, Nationals right fielder Jayson Werth hit a double to defeat Milwaukee 5-4.

Nationals Walk-Off Against Brewers

Jul 20

Jayson Werth doubled to score Anthony Rendon, giving the Nationals a 5-4 win over the Brewers.

Brewers Double Up Nationals

Jul 18

Scooter Gennett and Khris Davis both homered in the Brewers' 4-2 win over the Nationals.