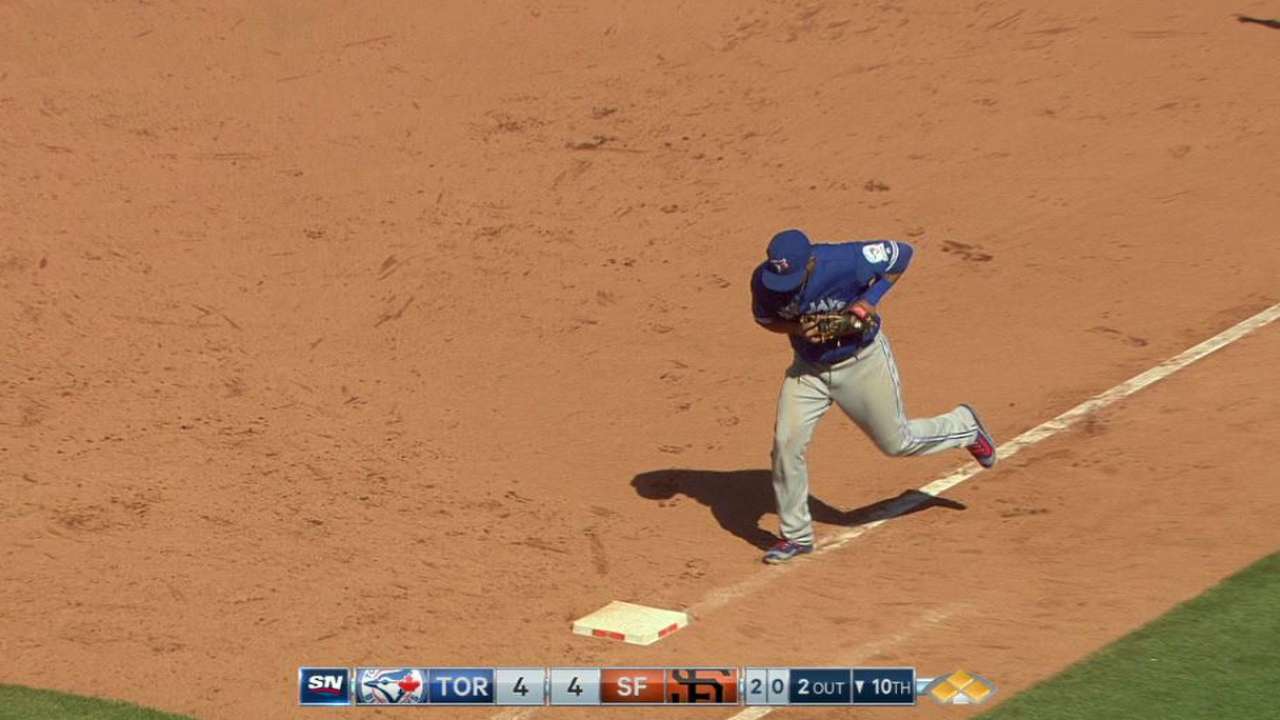 MLB.com
Updated 5 hours ago
Drew Storen arrived in time to meet his new Mariners teammates, shake some hands and take part in pregame work prior to Seattle's series finale with the Pirates at PNC Park on Wednesday, but it'll take a little longer to see how the former Nationals clo…
Share
Tweet
Strasburg Wins 14th as Nationals Down Indians 4-1

nytimes.com

9 hours ago

Stephen Strasburg shut down Cleveland for seven innings and bounced back from his only loss this season, leading the Washington Nationals to a 4-1 win over the Indians on Wednesday.

Share Tweet

MLB.com

Jul 26 (yesterday)

A fan struck by a line drive off the bat of Nationals second baseman Daniel Murphy during the first inning of Tuesday night's 7-6 Indians win at Progressive Field was taken to a local hospital for further treatment.

Share Tweet

Indians Rally for 3 in 9th to Stun Nationals 7-6

nytimes.com

Jul 26 (yesterday)

Francisco Lindor pushed an RBI single through Washington's drawn-in infield with one out in the ninth inning, and the Cleveland Indians rallied for three runs in their final at-bat to stun the Washington Nationals 7-6 on Tuesday night in a matchup of tw…

Share Tweet

Nationals give rookie Turner chance in center

MLB.com

Jul 26 (yesterday)

Nationals manager Dusty Baker had been initially reluctant to start Trea Turner in center field. After all, Turner's experience there was limited after spending much of the season in the Minors playing shortstop and second base.

Share Tweet

yahoo.com

Jul 25 (3 days ago)

On Sunday, Washington Nationals left fielder Jayson Werth was thrown a pitch he had no idea what to do with. In the bottom of the fifth inning of the Nationals' game against the San Diego Padres, Padres reliever Carlos Villanueva was pitching to Werth i…

Share Tweet

Lopez among top prospect performers Sunday

MLB.com

Jul 24 (3 days ago)

Nationals No. 5 prospect Reynaldo Lopez is among the top prospect performers in the Minors on Sunday.

Share Tweet

Padres storm past Nationals late in slugfest

MLB.com

Jul 24 (3 days ago)

The Nationals and Padres found themselves in a slugfest on Sunday afternoon at Nationals Park. When it was over, the Padres outslugged the Nationals, 10-6.

Share Tweet

Schimpf's moonshot sends SD's HR streak to 21 games

MLB.com

Jul 24 (4 days ago)

The Padres' franchise-record home run streak is still alive. Ryan Schimpf's thunderous long-ball in the second inning of San Diego's 3-2 loss to the Nationals on Saturday gave the Padres their 21st consecutive game with a homer.

Share Tweet

nytimes.com MLB.com

Jul 22 (5 days ago)

Matt Kemp homered twice and drove in four runs, rookie Luis Perdomo pitched seven solid innings and the San Diego Padres beat the Washington Nationals 5-3 on Friday night to snap a four-game losing streak.

Share Tweet

Chapman Nats' top target before Trade Deadline

MLB.com

Jul 22 (5 days ago)

The Nationals continue to have Yankees left-hander Aroldis Chapman as their top target before the Aug. 1 non-waiver Trade Deadline.

Share Tweet

The Marlins are bringing plenty of confidence into a big series this weekend at home against the Mets. They beat the Phillies on Thursday night at Citizens Bank Park, 9-3, to win three games in the four-game series. Miami has moved within 4 1/2 games of…

Share Tweet

End of streak just a blip on Stras' masterful run

Even though Stephen Strasburg had built an unbeaten record through his first 17 starts this season and had not suffered a loss since last September, outings like the one Thursday afternoon that have left the Nationals so encouraged by what the pitcher h…

Share Tweet

nytimes.com MLB.com

Jul 21 (6 days ago)

A hot streak and a home run earlier in the afternoon earned Justin Turner the green light on Stephen Strasburg. He made the most of it.

Share Tweet

Puig exits Nats finale with right hamstring tightness

Dodgers outfielder Yasiel Puig exited Thursday's game against the Nationals with an apparent injury.

Share Tweet

High School Wrestler Delivers An Attitude Adjustment To His Opponent

deadspin.com

Jul 21 (7 days ago)

Pro wrestling collided with freestyle wrestling when Tyler Curd of Oak Grove High School (Mo.) delivered an Attitude Adjustment to his opponent during a 220-pound match Wednesday at the USA Wrestling Cadet/Junior Nationals in Fargo. Read more...

Share Tweet

Nats power up, speed up to down Dodgers

MLB.com

Jul 21 (7 days ago)

Bryce Harper led the hitting barrage on Wednesday night, and the Nationals pounded the Dodgers, 8-1, at Nationals Park.

Share Tweet

Harper Hits 451-Foot Home Run as Nationals Beat Dodgers 8-1

nytimes.com

Jul 20

Bryce Harper led an offensive outburst with a towering home run into the third deck in right field as the Washington Nationals beat the Los Angeles Dodgers 8-1 on Wednesday night.

Share Tweet

Fun for kids and Nats at the PLAY event

MLB.com

Jul 20

Nationals Park played host to the Nationals PLAY event on Wednesday, with about 75 children participating in activities designed to promote an active and healthy lifestyle.

Share Tweet

yahoo.com

Jul 20

Welcome to The Walk Off, the nightly MLB recap from Big League Stew. Here we'll look the top performers of the night, show you a must-see highlight and rundown the scoreboard. First, we start with the interesting debut of one of the top pitching prospec…

Share Tweet

MLB.com nytimes.com

Jul 20

There was good news and not-so-good news when it came to Reynaldo Lopez's Major League debut on Tuesday night. He struck nine batters, which was five short of the Nationals rookie record set by Stephen Strasburg in 2010. The not-so-good news was that Lo…

Share Tweet

Kazmir defeats Nats, cramps with special remedy

MLB.com

Jul 20

When Scott Kazmir suffered cramps in both legs in the fifth inning of Tuesday's 8-4 win over the Nationals, it looked like his outing could be over early. So the pitcher turned to a secret antidote: spicy mustard and pickle juice.

Share Tweet

The Marlins are applying a little pressure to the Nationals in the National League East.

Share Tweet

J-Hay saves day: Walk-off erases blown save

Two days ago, closer Mark Melancon blew a save with two outs and two strikes in the ninth inning, and the Pirates went on to play 18 innings against the Nationals. Shortly after seeing a second straight save opportunity slip away Tuesday night at PNC Pa…

Share Tweet

Harper makes a dream come true as a part of Make-A-Wish

Earlier this month, Bryce Harper spent an entire day granting the wish of Kaylan, a 16-year-old resident of Gaithersburg, Md, who wanted to meet Harper. The Nats slugger gave Kaylan a tour of Nationals Park and the team's facilities, and they played cat…

Share Tweet

Harper Focused On Staying Healthy, Improving Game

Mar 1

Nationals outfielder Bryce Harper talks about the importance of staying healthy this season and his expectations for Washington with a rotation full of great starters.

Nationals: Spring Players To Watch

Mar 1

A number of superstars can be found on the Nationals roster, but if the team is hoping to get even farther this season, it'll need help from Aaron Barrett and hope Ryan Zimmerman wil improve while playing a new position.

Nats GM On Scherzer, Starting Rotation

Mar 1

Nationals GM and president of baseball operations Mike Rizzo explains the decision to sign starting pitcher Max Scherzer and how that affects Jordan Zimmermann's status with the team going forward.

World Series Or Bust For Nationals?

Feb 16

Jayson Stark thinks the Nationals have the potential to be the league's super team with their rotation, but the window to win it all might come down to just this season.