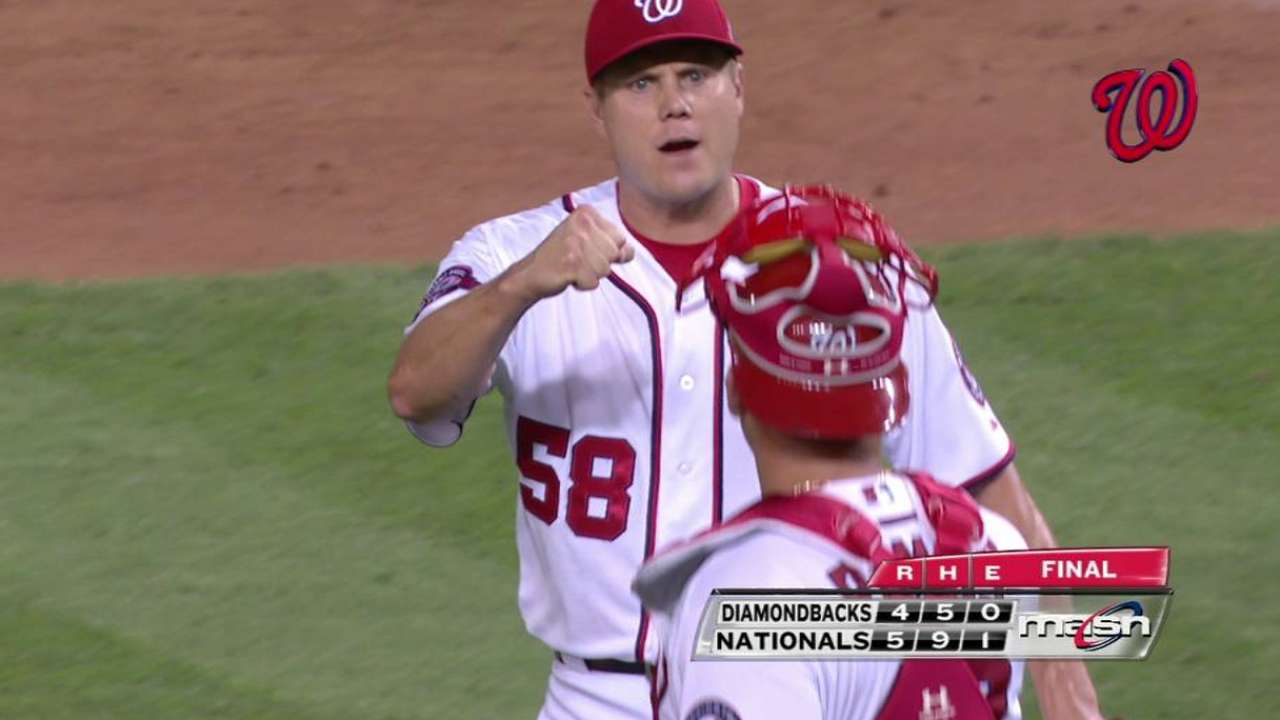 MLB.com
Updated 1 hour ago
The Nationals showed they are going give the Mets a battle in the National League East on Tuesday night. After blowing an early three-run lead, Washington fought back to defeat the D-backs, 5-4, thanks to an eighth-inning single by Wilson Ramos.
Share
Tweet
Ramos' 2-Run Single Gives Nationals 5-4 Win Over D-Backs

nytimes.com

1 hour ago

Wilson Ramos blooped a two-run single to right with one out in the bottom of the eighth that helped the Washington Nationals to a 5-4 victory over the Arizona Diamondbacks on Tuesday night.

Share Tweet

Post Sports Live: Nationals struggle, Redskins sign Galette

washingtonpost.com

11 hours ago

The Washington Post's Scott Allen, Chelsea Janes and Keith McMillan join host Gene Wang to discuss the Nationals' acquisition of closer Jonathan Papelbon and how it affects the clubhouse chemistry. The panel also debates the Redskins' controversial sign…

Share Tweet

You may be worried about the Nats, but Ray Knight isn't

washingtonpost.com

14 hours ago

"Is it time to freak out about the Nats yet?" a friend asked this morning. "No," I replied. "TOO LATE," she answered, reflecting a sentiment shared by at least part of the fanbase. The Nationals fell out of first place for the first time since June 19 a…

Share Tweet

MLB.com

Aug 3 (yesterday)

Stephen Strasburg made his second rehab start Monday night, bringing the Nationals one step closer to having their entire core back together.

Share Tweet

MLB.com nytimes.com

Aug 3 (yesterday)

The D-backs smacked four home runs and got another outstanding performance from right-hander Zack Godley as they beat the Nationals, 6-4, on Monday night at Nationals Park.

Share Tweet

How Baseball Players Use Walk-Up Music Like a Performance Enhancing Drug

deadspin.com

Aug 3 (yesterday)

Angels' Mike Trout likes Drake. The Nationals' Bryce Harper opts for Sinatra. Some go with a feel-good ballad from an 80s band called The Outfield. At least a half-dozen players use "Turn Down for What." This is the world of baseball "walk-up" music, th…

Share Tweet

Stats of the Day: HR parade gives Mets sweep

MLB.com

Aug 3 (yesterday)

On Friday, Wilmer Flores delivered a game-ending solo home run in the 12th inning to give the Mets a 2-1 win over the Nationals. On Saturday, Lucas Duda homered twice as the Mets defeated the Nationals, 3-2. On Sunday, Curtis Granderson, Daniel Murphy a…

Share Tweet

MLB.com nytimes.com yahoo.com

Aug 3 (yesterday)

The Mets completed a three-game sweep of the Nationals on Sunday with a 5-2 victory at Citi Field. And in doing so they got within a whisker of the Nats in a National League East that few thought would play out this way.

Share Tweet

nytimes.com

Aug 2 (2 days ago)

As the clock ticked past 11 p.m. and "Moondance" by Van Morrison practically wafted through the ballpark, young children ran around the bases as part of a family-friendly promotion normally reserved for Sunday afternoons.

Share Tweet

The tying game: Mets deliver Citi's slickest sweep

MLB.com

Aug 2 (2 days ago)

The Mets' first three-homer inning since 2007 sent Citi Field into possibly the biggest ruckus in its history, shooting New York into a virtual tie for first place with a 5-2 win over the Nationals on Sunday night to complete a three-game sweep.

Share Tweet

Red-hot Duda caps Mets' three-HR inning

MLB.com

Aug 2 (2 days ago)

Replenished, rejuvenated and apparently revived, the Mets' once stagnant offense once again set Citi Field aflame by clobbering three third-inning home runs to open up a 5-1 lead on the National League East-rival Nationals in Sunday's series finale.

Share Tweet

MLB.com

Aug 2 (3 days ago)

A billboard greeted fans coming off the Grand Central Parkway on Saturday, trumpeting Yoenis Cespedes' arrival in Queens. But it was an old face, Lucas Duda, who almost single-handedly lifted the Mets to a come-from-behind 3-2 win over the Nationals, mo…

Share Tweet

nytimes.com

Aug 1 (3 days ago)

Lucas Duda homered twice and hit a tiebreaking double in the eighth inning after newcomer Yoenis Cespedes was walked intentionally, leading the New York Mets to a come-from-behind 3-2 victory over the Washington Nationals on Saturday night in front of t…

Share Tweet

yahoo.com

Aug 1 (3 days ago)

Washington Nationals star Bryce Harper plays baseball with a passion that constantly drives him to be the best player on the field. But there's also a growing concern that Harper's passion too often manifests itself into rage, which has proven detriment…

Share Tweet

Harvey gaining steam with improved command

MLB.com

Aug 1 (4 days ago)

The Mets lined up their rotation after the All-Star break to make sure that their top three starters -- including Matt Harvey, who has said he relishes taking the mound in big games -- would get the opportunity to pitch in two crucial series against the…

Share Tweet

nytimes.com yahoo.com

Aug 1 (4 days ago)

Flores, who on Wednesday cried on the field because he thought he had been traded during the Mets' game against the Padres, hit his first career walk-off home run to help the Mets beat Washington on Friday.

Share Tweet

nytimes.com

Jul 31 (4 days ago)

Wilmer Flores gave Mets fans one more reason to fall for him — this time with his bat as well as his heart.

Share Tweet

washingtonpost.com

Jul 31 (4 days ago)

Fresh off a 1-2-3 ninth inning for his first save with his new team Thursday, Nationals closer Jonathan Papelbon joined Grant Paulsen and Danny Rouhier on 106.7 The Fan on Friday to discuss his move down I-95. The former Phillie said coming to D.C. was …

Share Tweet

Newseum celebrates Nats fandom with new exhibit as much as it celebrates the Nats

washingtonpost.com

Jul 31 (5 days ago)

It was as much about friends as it was about the baseball. Thursday night at the Newseum, about a thousand people waited in a line wrapped around Pennsylvania Avenue and 6th Street NW to get a look at "Nationals at 10: Baseball Makes News" the museum's …

Share Tweet

Harper Focused On Staying Healthy, Improving Game

Mar 1

Nationals outfielder Bryce Harper talks about the importance of staying healthy this season and his expectations for Washington with a rotation full of great starters.

Nationals: Spring Players To Watch

Mar 1

A number of superstars can be found on the Nationals roster, but if the team is hoping to get even farther this season, it'll need help from Aaron Barrett and hope Ryan Zimmerman wil improve while playing a new position.

Nats GM On Scherzer, Starting Rotation

Mar 1

Nationals GM and president of baseball operations Mike Rizzo explains the decision to sign starting pitcher Max Scherzer and how that affects Jordan Zimmermann's status with the team going forward.

World Series Or Bust For Nationals?

Feb 16

Jayson Stark thinks the Nationals have the potential to be the league's super team with their rotation, but the window to win it all might come down to just this season.