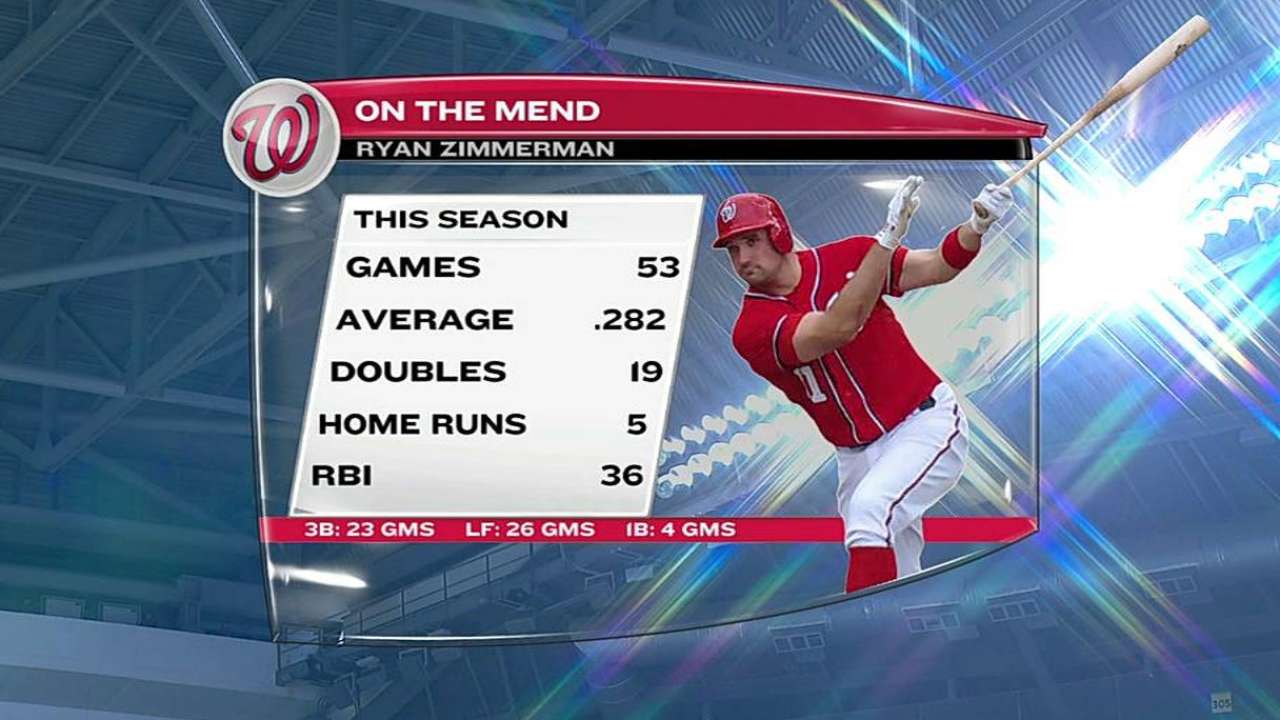 LaRoche Hits 2-Run Homer, Nats Beat Marlins 3-2

nytimes.com

23 hours ago

Adam LaRoche hit an early two-run homer to support Doug Fister and lead the NL-leading Washington Nationals to a 3-2 victory over the Miami Marlins on Friday night.

Upvote Share Tweet

Reason to Cheer in Washington: Prospect of a 'Beltway Series'

nytimes.com

Sep 19 (yesterday)

A season of regional baseball bliss has given Washington and Baltimore, both with their own Beltways, dreams of a World Series clash.

Upvote Share Tweet

MLB.com

Sep 18 (yesterday)

The Nationals have been moving steadily in the right direction, especially since Mike Rizzo took over the entire baseball operation in 2009. He was given his current title -- president of baseball operations and general manager -- last year.

Upvote Share Tweet

Gonzalez, Harper Lead Nationals Past Marlins, 6-2

nytimes.com

Sep 18 (yesterday)

Gio Gonzalez allowed two runs in seven innings, Bryce Harper had three hits, and the Washington Nationals kept up their push for home-field advantage in the NL playoffs by beating the Miami Marlins 6-2 on Thursday night.

Upvote Share Tweet

Pair of D.C. sports fans documenting history one T-shirt at a time

washingtonpost.com

Sep 18 (2 days ago)

As they watched the champagne and beer flow inside a raucous clubhouse and Bryce Harper celebrate the Nationals' division title in ski goggles and a custom No. 34 D.C. Fire Department fire fighter helmet on Tuesday, a pair of local entrepreneurs were te…

Upvote Share Tweet

Kevin Durant takes Natitude to a new level with his custom jersey

washingtonpost.com

Sep 18 (2 days ago)

Oklahoma City star and D.C. native Kevin Durant wore a Robert Griffin III jersey and watched Sunday's Redskins game with Wizards star John Wall at FedEx Field. Perhaps we'll see him at Nationals Park in October. Durant posted a photo of himself in a cus…

Upvote Share Tweet

MLB.com

Sep 18 (3 days ago)

Another day, another division. The Angels beat the Mariners on Wednesday night, the A's lost in excruciating late fashion to Texas, and Mike Scioscia's team was officially able to put a bow on its long-expected AL West title, joining the Nationals (NL E…

Upvote Share Tweet

MLB.com

Sep 18 (3 days ago)

The Nationals clinched the National League East for the second time in three seasons and are contending for the NL's top record heading into October. Here are five reasons they could go all the way and win their first World Series title in franchise his…

Upvote Share Tweet

Heyward's thumb hit by pitch; Simmons tweaks ankle

MLB.com

Sep 17 (3 days ago)

Jason Heyward received some encouraging news when X-rays revealed that he did not fracture his left thumb when he was hit by a Ross Detwiler pitch in the sixth inning of Wednesday night's 3-1 win over the Nationals. Andrelton Simmons exited after the th…

Upvote Share Tweet

Braves hold steady in WC race after topping Nats

MLB.com

Sep 17 (3 days ago)

Christian Bethancourt's sharp single accounted for each of the three runs Alex Wood received Wednesday night as the lefty extended his mound dominance in a 3-1 win over the Nationals. Atlanta remains 5 1/2 games back of the Pirates for the second NL Wil…

Upvote Share Tweet

Braves Beat Nationals 3-1 to Snap 5-Game Skid

nytimes.com

Sep 17 (3 days ago)

Three runs scored on Christian Bethancourt's single in the sixth inning to help the Atlanta Braves beat the Washington Nationals 3-1 on Wednesday night and preserve their fading playoff hopes.

Upvote Share Tweet

How Bryce Harper acquired a custom firefighter helmet for Nationals' clubhouse celebration

washingtonpost.com

Sep 17 (3 days ago)

One of the most indelible images from the the Nationals' clubhouse celebration Tuesday after Washington clinched its second National League East division title in three years was Bryce Harper in a custom D.C. Fire Department firefighter's helmet. Harper…

Upvote Share Tweet

washingtonpost.com yahoo.com

Sep 17 (3 days ago)

At least one Braves fan didn't get to enjoy the postgame concert or boo the Nationals as they celebrated their National League East title on Tuesday at Turner Field because he was ejected by the home plate umpire for shouting obscenities at Bryce Harper…

Upvote Share Tweet

yahoo.com nytimes.com MLB.com washingtonpost.com

Sep 17 (4 days ago)

The Washington Nationals are back on top in the NL East following a disappointing 2013 that found them on the outside looking in during the postseason. Under rookie manager Matt Williams, the Nationals rebounded and separated themselves from the pack in…

Upvote Share Tweet

Zim has productive first sim game in rehab process

MLB.com

Sep 16 (4 days ago)

Ryan Zimmerman played in his first simulated game Tuesday and was productive at the Nationals' Spring Training complex, according to manager Matt Williams. Zimmerman was able to get five at-bats, had two doubles and ran the bases without any problems.

Upvote Share Tweet

Bryce Harper respects the 'A' in return to Atlanta

Remember the last time the Nationals were in Atlanta, when Bryce Harper dragged his foot through the Braves' 'A' logo in the dirt behind home plate? Remember how mad that made people? Remember how Harper disrespected the 'A'? #RespectTheA — Atlanta Brav…

Upvote Share Tweet

Why the Nats Park mound's Curly W turned red

Five years ago, John Turnour came to Washington as the Nats' head groundskeeper, and introduced something new to the Nationals Park diamond: a Curly W on the back of the pitcher's mound. "Kind of putting your stamp on the mound," Turnour explained. "We …

Upvote Share Tweet

Tyler Clippard talks postseason expectations on MLB Network while rocking Zubaz pants

Tyler Clippard joined MLB Network's "The Rundown" for an interview before the Nationals' 4-2 win over the Braves on Monday and he did so in a pair of red, white and blue Zubaz pants. "It's cold in the locker room, so I was just trying to stay warm," Cli…

Upvote Share Tweet

Nationals Run Past Marlins

Sep 18

The Nationals scored five runs in the top of the fourth and went on to beat the Marlins 6-2.

Web Gems

Sep 18

Does Denard Span's diving catch top Eduardo Nunez making a throw for the out while sitting down.

Souza's First-Career Homer

Sep 17

Nationals left fielder Steven Souza hit his first MLB home run in the Nationals' loss to the Braves.

Nationals Clinch National League East

Sep 16

The Nationals defeated the Braves 3-0 to claim their second National League East title in the past three years.