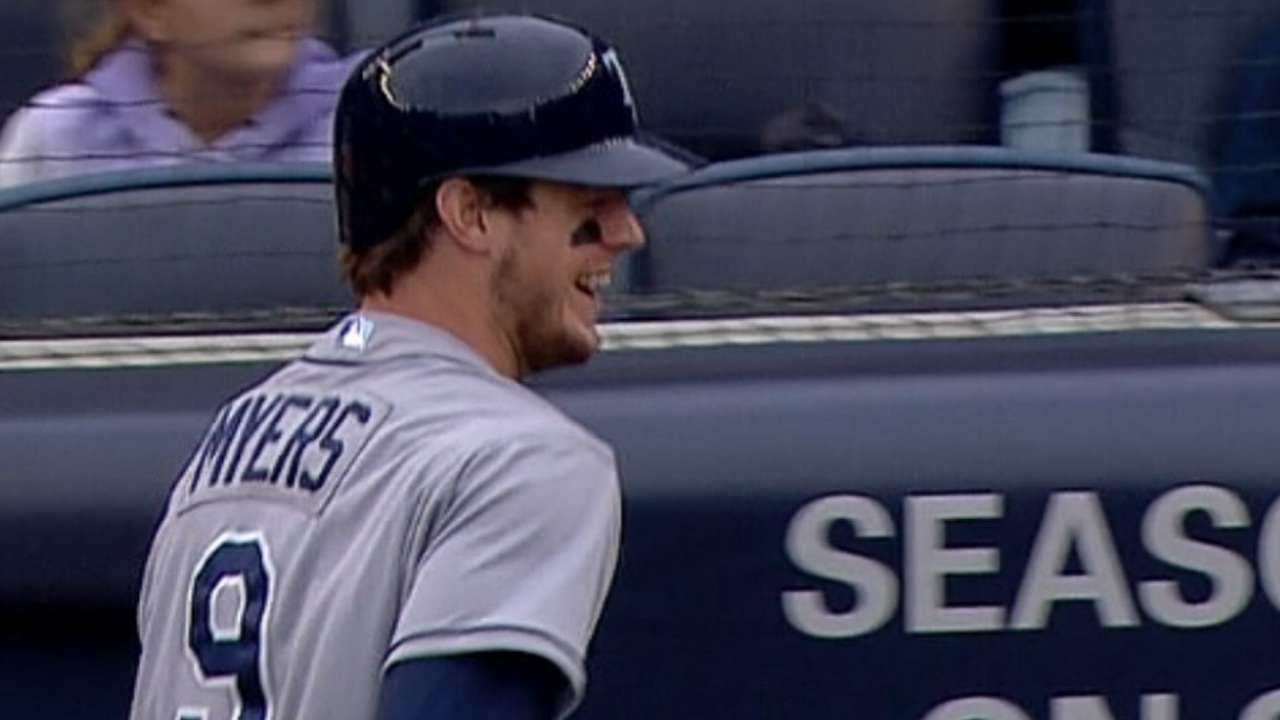 MLB.com
Updated 22 hours ago
The Padres' Opening Day starting lineup is starting to take shape, but make sure you use a pencil and not a pen. On Friday, the Padres officially announced the completion of a three-team, 11-player megadeal with the Rays and Nationals that landed them o…
Upvote
Share
Tweet
Rays, Padres, Nats Complete 11-Player Trade Involving Myers

nytimes.com

21 hours ago

The Rays, Padres and Nationals finalized an 11-player trade Friday that sent 2013 AL Rookie of the Year Wil Myers from Tampa Bay to San Diego and outfielder Steven Souza Jr. from Washington to the Rays.

Upvote Share Tweet

Bidding ends today for Korean slugger Kang

MLB.com

Dec 19 (yesterday)

Major League organizations have until 5 p.m. ET on Friday to put in bids for Korean slugger Jung-Ho Kang, a shortstop who has reportedly drawn interest from the Giants, A's, Padres, Royals, Nationals and D-backs.

Upvote Share Tweet

A Winter Classic alumni game wasn't scuttled because of the field quality at Nats Park

washingtonpost.com

Dec 18 (yesterday)

There will be no alumni game in the run up to the Winter Classic at Nats Park this month. Several explanations have been offered on this topic, the latest coming in an ESPN.com story earlier this week. Part of the reason for this was that the Washington…

Upvote Share Tweet

Mike Rizzo and the Nats 'made out like bandits' in three-way deal

washingtonpost.com

Dec 18 (yesterday)

As word of the 11-player trade involving the Nationals, Rays and Padres trickled out Wednesday evening, the initial reaction from many fans went something like this: How does Nationals General Manager Mike Rizzo do it? Unlike some of Rizzo's other deals…

Upvote Share Tweet

Source: Nats acquire 2 prospects in three-team deal

MLB.com

Dec 18 (2 days ago)

The Nationals involved themselves in a three-team, 11-player trade with the Rays and Padres on Wednesday, acquiring Joe Ross and a player to be named from the Padres -- it is believed that Trea Turner is that player -- and sending Steven Souza Jr. and T…

Upvote Share Tweet

MLB.com

Dec 17 (3 days ago)

Was keeping track of all the moving parts in the massive three-team deal involving the Tampa Bay Rays, San Diego Padres and Washington Nationals a difficult task? To help sort things out, Jonathan Mayo helped break down who went where.

Upvote Share Tweet

Post Sports Live: Can RGIII prove his worth?

washingtonpost.com

Dec 16 (4 days ago)

The Post's Neil Greenberg, Adam Kilgore and Rick Maese join Gene Wang to discuss what the Redskins can accomplish in the season's final two games, debate John Wall's ranking among the NBA's other point guards and look at what other moves the Nationals n…

Upvote Share Tweet

We've avoided a salary war between the Washington Nationals, their young star Bryce Harper and his super-agent Scott Boras. The two sides have agreed to a new two-year contract that will pay Harper a total of $7.5 million for 2015 and 2016, according to…

Upvote Share Tweet

Frandsen aiming for everyday second-base job

MLB.com

Dec 13 (7 days ago)

The Nationals are looking for a starting second baseman, and infielder Kevin Frandsen said Saturday he would like to be considered for the job.

Upvote Share Tweet

Nationals general manager Mike Rizzo said that club was "disappointed" that outfielder Bryce Harper did not show up Saturday at the NatsFest fan festival.

Upvote Share Tweet

During NatsFest, ESPN reported that the Blue Jays are looking for a team president/CEO and have interest in Nationals general manager Mike Rizzo. But a baseball source said the Blue Jays have not contacted Rizzo.

Upvote Share Tweet

Nats' core feels a sense of urgency heading into 2015

MLB.com

Dec 13 (7 days ago)

Friday's trade of pitcher Ross Detwiler to the Rangers could be a small sneak preview of things to come for Nationals players, who have a large contingent of teammates nearing free agency. For the team's core to reach its ultimate goal, a World Series t…

Upvote Share Tweet

Texas has acquired left-handed pitcher Ross Detwiler from the Nationals in exchange for infielder Chris Bostick and right-hander Abel De Los Santos. The Rangers expect the veteran to step into their rotation.

Upvote Share Tweet

Williams focused on 2015 as Nats eye moves

MLB.com

Dec 9

Manager Matt Williams has moved past the National League Division Series loss to the Giants and is thinking about 2015. Williams also understands that general manager Mike Rizzo is looking to improve the Nationals for this coming season and beyond.

Upvote Share Tweet

Nationals working to sign Zimmermann long term

MLB.com

Dec 7

A baseball source said there is nothing imminent as far as the Nationals trying to trade any of their players who are eligible for free agency after the 2015 season, a group which includes right-hander Jordan Zimmermann and shortstop Ian Desmond. The Na…

Upvote Share Tweet

Nats Sign OF Harper To Two-Year Deal

Dec 15

Jerry Crasnick discusses the two-year deal agreed to between outfielder Bryce Harper and the Washington Nationals, and whether the negotiation will affect his desire to stay with the organization beyond the term of this contract.

Matt Williams Optimistic About Future

Dec 9

Nationals manager Matt Williams discusses what he learned in his first year on the job, his team's early playoff exit in 2014 and getting ready for the 2015 season.

Jayson Werth Expected To Appeal Sentence

Dec 5

Washington Post reporter Justin Jouvenal discusses Nationals outfielder Jayson Werth's 10-day jail sentence for reckless driving.

LaRoche, White Sox Agree To Two Years

Nov 21

ESPNChicago.com's Doug Padilla discusses Adam LaRoche and the White Sox agreeing to a two-year, $25 million deal and what the left-handed hitter will do for Chicago.

Sports Columnists

Dallas Mavericks frontrunners for Jermaine O'Neal after Rajon Rondo acquis…

Dec 19

The acquisition of Rajon Rondo has given the Dallas Mavericks an undeniable edge in the race to lure veteran big man Jermaine O'Neal back to the NBA, according to league sources.

A New NFC West Rivalry

Dec 19

RENTON, Wash. — Remember, oh, about three long months ago, when 49ers-Seahawks was the best rivalry in the NFL? The Niners are 7-7, oddly out of the playoff hunt, and are 1-5 against Seattle since late in 2012. So, is it really such a great rivalry now,…

Source: Seahawks extend Avril four years

Dec 19

The Seahawks have signed pass-rusher Cliff Avril to a four-year extension worth $28.5 million, with $16 million guaranteed, a source confirmed to ESPN...