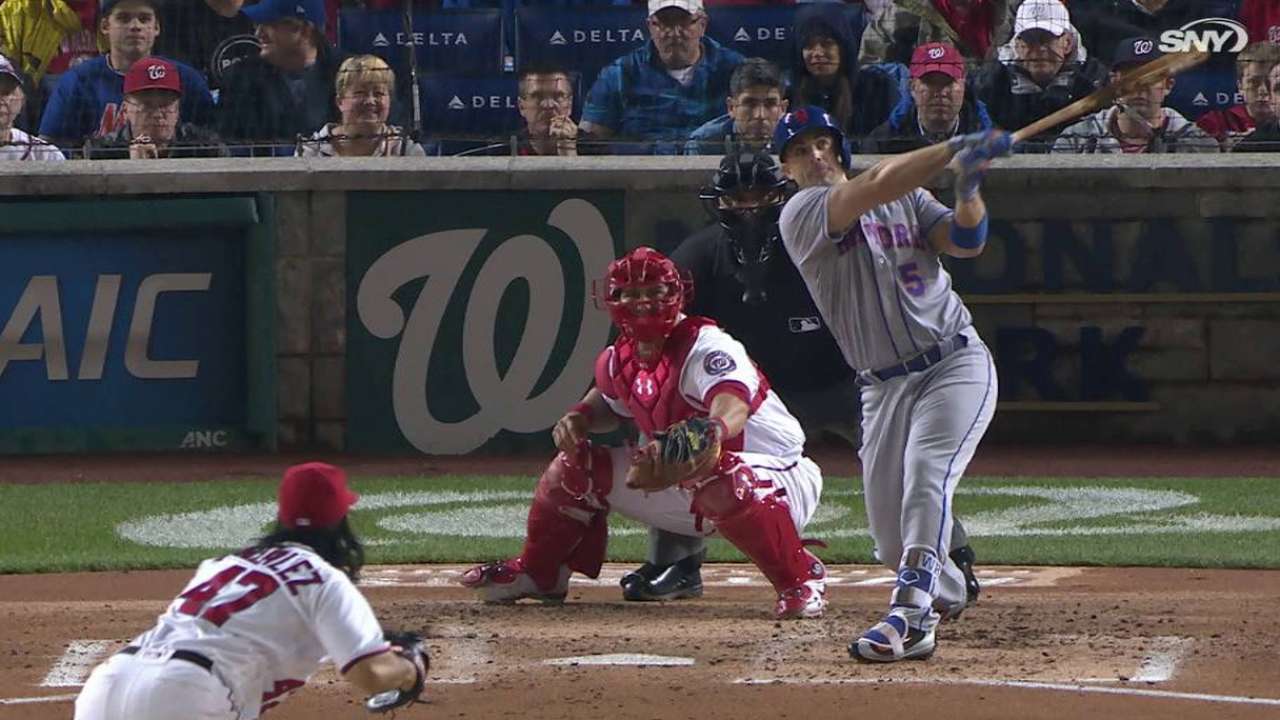 Nationals ugly loss to Mets a reminder that NL East will be dogfight
Share
Tweet
yahoo.com

10 hours ago

The last time New York Mets starter Matt Harvey took the mound against the Washington Nationals, just five days ago, he had the worst start of his career. He gave up nine runs in 2.2 innings, and after doing that some people might want to get a little d…

Share Tweet

nytimes.com

22 hours ago

Duda, whose hitting has been crucial for the Mets, was placed on the 15-day D.L. with a stress fracture in his back before the team routed the Nationals.

Share Tweet

MLB.com nytimes.com

May 22 (2 days ago)

When Max Scherzer is on his game, the Nationals are in capable hands. The ace once again was sharp, striking out eight over eight innings in an 8-2 win over Miami on Sunday afternoon at Marlins Park.

Share Tweet

MLB.com nytimes.com

May 21 (3 days ago)

Facing the the first-place Nationals has brought out the best in Marlins ace Jose Fernandez. The 23-year-old right-hander struck out nine in six innings, and backed by Justin Bour's two-run home run and Ichiro Suzuki's four-hits, Miami held on for a 3-2…

Share Tweet

MLB.com nytimes.com

May 20 (4 days ago)

Six days after facing Justin Nicolino in Washington, the Nationals had a pretty good idea of what to expect on Friday night. So they came out swinging, and behind second-inning home runs from Ryan Zimmerman and Michael Taylor, the Nationals broke out to…

Share Tweet

MLB.com

May 20 (4 days ago)

Needing a victory to shove memories of Matt Harvey and this week's Nationals series firmly into the past, the Mets turned Friday to two of their budding stars. Steven Matz pitched seven sharp innings to win his sixth consecutive start, and Michael Confo…

Share Tweet

yahoo.com

May 20 (4 days ago)

The Washington Nationals may be censoring Danny Espinosa's facial hair at Nationals Park, but the Potomac Nationals are doing their part to keep its memory alive. On Friday, Washington's Class A affiliate announced its six bobblehead promotions for the …

Share Tweet

yahoo.com

May 20 (4 days ago)

Your browser does not support iframes.It was the moment that defined the Washington Nationals disastrous 2015 season. During a late September game against the Philadelphia Phillies, teammates Bryce Harper and Jonathan Papelbon got into an argument in th…

Share Tweet

MLB.com yahoo.com nytimes.com ESPN.com

May 20 (4 days ago)

The Mets hoped Thursday would be the night Matt Harvey began figuring things out. Instead, their one-time ace left a 9-1 loss to the Nationals so shaken that he may not make his next start.

Share Tweet

yahoo.com

May 19 (5 days ago)

Just because the Washington Nationals and New York Mets are expected to be fighting for the National League East title until the bitter end of the season doesn't mean Max Scherzer can't win over at least a couple Mets fans. Scherzer, who lost to Noah Sy…

Share Tweet

On Baseball: Two Opposing Pitchers Travel Along a Similar Path

nytimes.com

May 19 (5 days ago)

The Mets' Matt Harvey and the Nationals' Stephen Strasburg, two hard throwers, have had the same elbow surgery and look to regain their dominance.

Share Tweet

Daniel Murphy Freezes Yoenis Cespedes With The Ole Fake Throw Trick

deadspin.com

May 19 (5 days ago)

NL hitting leader Daniel Murphy and his new buddies on the Washington Nationals are in New York to take on the Mets, for whom Murphy jerked some postseason dongs last year. Washington put a whooping on New York last night, and they're up big tonight tha…

Share Tweet

Nationals Draw 11 Walks to Back Gio, Beat Colon and Mets 7-1

nytimes.com

May 19 (6 days ago)

Limited to two runs over the previous three games, the Washington Nationals used their eyes even more than their bats to break out at the plate.

Share Tweet

MLB.com

May 18 (6 days ago)

For eternity, the box score of the Mets' 7-1 loss to the Nationals on Wednesday will show only that Daniel Murphy drove home the Nats' fourth run with a sacrifice fly in the seventh inning. And that's the problem with box scores.

Share Tweet

nytimes.com

May 18 (6 days ago)

Wright was scratched from Tuesday's series opener against the Nationals because of back discomfort.

Share Tweet

nytimes.com

May 18 (6 days ago)

Colon was set to pitch — and bat — on Wednesday night, his first home game since he hit his first career home run at age 42.

Share Tweet

Harper Focused On Staying Healthy, Improving Game

Mar 1

Nationals outfielder Bryce Harper talks about the importance of staying healthy this season and his expectations for Washington with a rotation full of great starters.

Nationals: Spring Players To Watch

Mar 1

A number of superstars can be found on the Nationals roster, but if the team is hoping to get even farther this season, it'll need help from Aaron Barrett and hope Ryan Zimmerman wil improve while playing a new position.

Nats GM On Scherzer, Starting Rotation

Mar 1

Nationals GM and president of baseball operations Mike Rizzo explains the decision to sign starting pitcher Max Scherzer and how that affects Jordan Zimmermann's status with the team going forward.

World Series Or Bust For Nationals?

Feb 16

Jayson Stark thinks the Nationals have the potential to be the league's super team with their rotation, but the window to win it all might come down to just this season.