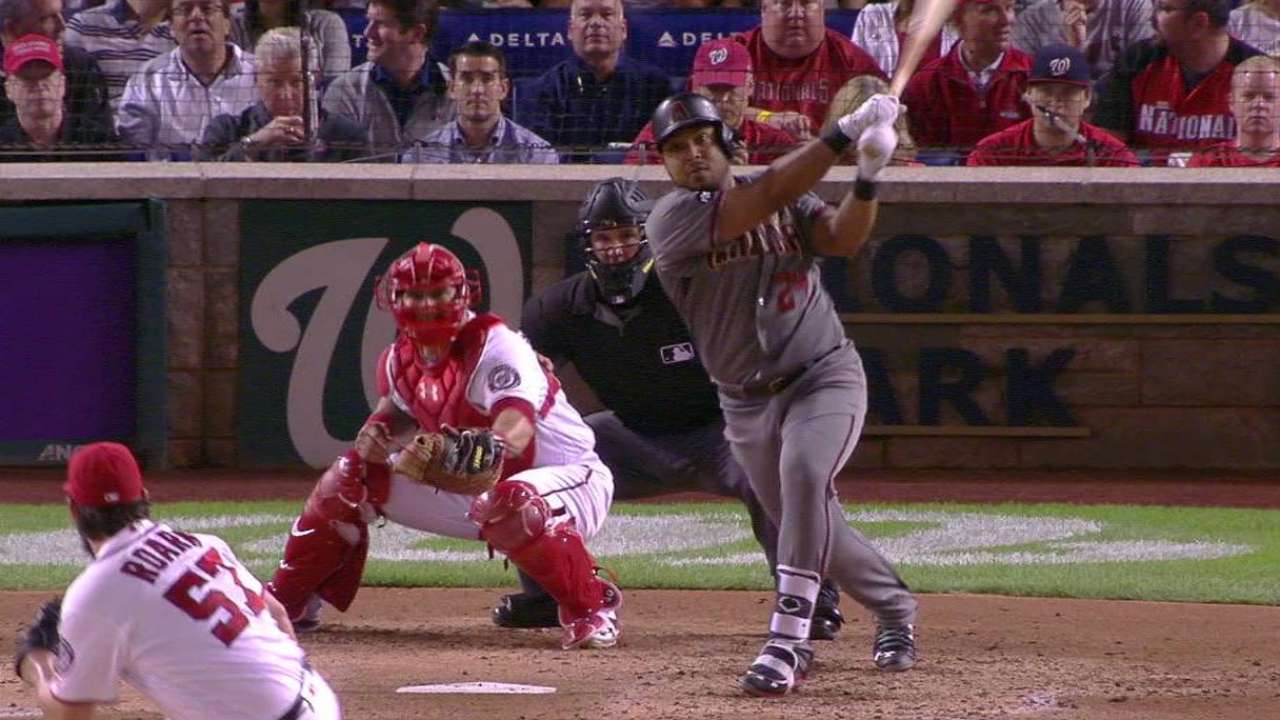 With grieving Marlins taking center stage, Nationals' game rings hollow

ESPN.com

1 hour ago

With grieving Marlins taking center stage, Nationals' game rings hollow

Share Tweet

yahoo.com nytimes.com MLB.com

3 hours ago

If not for the Chicago Cubs, the Washington Nationals' resurgence would have been the biggest story in the National League. Just one year after an embarrassing collapse, which featured the best player on the club getting choked by Jonathan Papelbon and …

Share Tweet

Harper day to day with injured left thumb

MLB.com

8 hours ago

The Nationals said they had not received the X-ray results on Bryce Harper's left thumb prior to Monday night's game against the D-backs, but Harper was not in the starting lineup.

Share Tweet

MLB.com deadspin.com

Sep 25 (yesterday)

There was a lot of pushing and shoving behind home plate in the third inning of the Nationals and Pirates' series finale Sunday afternoon at PNC Park. Plenty of give-and-take on the scoreboard, too. The Pirates pushed, but the Nats pushed back with a fi…

Share Tweet

Bryce Harper left Sunday afternoon's game between his Washington Nationals and the Pittsburgh Pirates with an apparent left hand injury. What led to Harper's hurt hand also led to the benches clearing at PNC Park. Harper legged out a triple in the top o…

Share Tweet

ESPN.com nytimes.com yahoo.com MLB.com

Sep 25 (2 days ago)

Another even year, another NL East title for Nationals

Share Tweet

MLB.com

Sep 24 (2 days ago)

What felt inevitable all spring and summer had to wait a little longer Saturday night. With a magic number of two, the Nationals needed a win and a Mets loss to become National League East champions for the third time in five years. The Nats took care o…

Share Tweet

Maddon thrilled with possibility of 100-win season

MLB.com

Sep 24 (3 days ago)

The Cubs secured home-field advantage through the National League Championship Series after the Pirates' walk-off victory over the Nationals on Friday night. That was one of manager Joe Maddon's goals for the season. The other is to reach 100 wins.

Share Tweet

nytimes.com

Sep 24 (3 days ago)

The Washington Nationals clinched their third National League East title in five years, beating the Pittsburgh Pirates 6-1 Saturday night behind 5 1/3 scoreless innings from rookie reliever Reynaldo Lopez.

Share Tweet

Cards' loss means Nats clinch Game 163

MLB.com

Sep 23 (3 days ago)

The Nationals are one step closer to the postseason, having guaranteed at least a game 163 as a result of the Cardinals' 5-0 loss to the Cubs on Friday afternoon.

Share Tweet

MLB.com

Sep 23 (3 days ago)

Gregory Polanco left the Pirates' game against the Nationals in the first inning on Friday night with a left facial contusion after slamming face-first into the left-field wall, the team announced.

Share Tweet

Nats, Rangers eye division titles on MLB.TV

MLB.com

Sep 23 (4 days ago)

Two division titles can be had today as the Nationals and Rangers enter play with an opportunity to claim the National League East and the American League West.

Share Tweet

Marlins make late power play vs. Scherzer

MLB.com

Sep 22 (5 days ago)

A power boost by Christian Yelich and Derek Dietrich in the seventh provided some hope, but the damage done early was too much to overcome as the Marlins fell to the Nationals, 8-3, on Wednesday night at Marlins Park.

Share Tweet

nytimes.com yahoo.com

Sep 21 (5 days ago)

Max Scherzer pitched 6 2-3 innings to tie for the National League victory lead with 18, helping the Washington Nationals beat the Miami Marlins 8-3 on Wednesday night.

Share Tweet

Harper Focused On Staying Healthy, Improving Game

Mar 1

Nationals outfielder Bryce Harper talks about the importance of staying healthy this season and his expectations for Washington with a rotation full of great starters.

Nationals: Spring Players To Watch

Mar 1

A number of superstars can be found on the Nationals roster, but if the team is hoping to get even farther this season, it'll need help from Aaron Barrett and hope Ryan Zimmerman wil improve while playing a new position.

Nats GM On Scherzer, Starting Rotation

Mar 1

Nationals GM and president of baseball operations Mike Rizzo explains the decision to sign starting pitcher Max Scherzer and how that affects Jordan Zimmermann's status with the team going forward.

World Series Or Bust For Nationals?

Feb 16

Jayson Stark thinks the Nationals have the potential to be the league's super team with their rotation, but the window to win it all might come down to just this season.