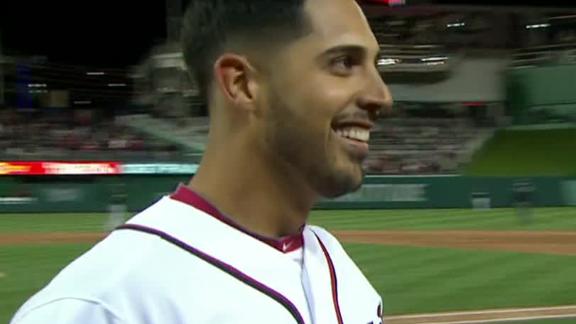 Gio a force with arm, bat in win over Marlins

MLB.com

Apr 3, 2013

Left-hander Gio Gonzalez used his arm and his bat to help the Nationals blank the Marlins, 3-0, at Nationals Park on Wednesday night. Washington has now held Miami scoreless in its last 19 innings, extending back to last season.

Share Tweet

Gonzalez HRs, Pitches Nats To Another Shutout

Apr 3

Nationals win second straight.

Sports Columnists

Nancy Lieberman says there's no downside to Brittney Griner trying to make…

Apr 3

Women's basketball pioneer Nancy Lieberman is encouraging Baylor star Brittney Griner to seize the opportunity to do the same with the Dallas Mavericks, no matter how overwhelmingly remote Griner's chances of sticking actually are.