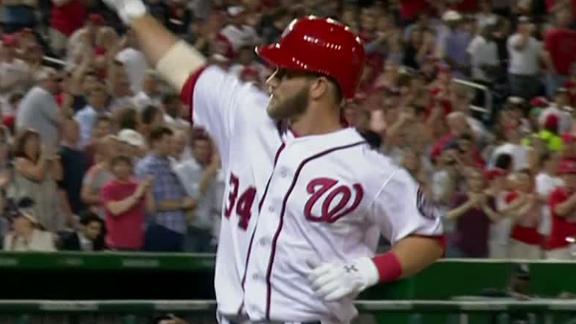 deadspin.com
ESPN.com
yahoo.com
Updated Apr 10, 2013
Umpires got caught in traffic, causing a 16-minute delay to the Nationals-White Sox game in D.C. tonight. Something, something the beltway. Read more...
Share
Tweet
Nats recover from slow start to back Zimmermann

MLB.com

Apr 10, 2013

The Nationals had just one hit in the first three innings Wednesday night, but they picked up nine hits and five runs in the next three. That spree -- fueled by Ian Desmond, Danny Espinosa and Bryce Harper -- gave Washington its second win in as many ni…

Share Tweet

Gordon Beckham, who suffered nerve irritation in his left wrist while swinging at a pitch in the second inning of Tuesday's 8-7 loss, will not play in the remainder of the series against the Nationals and won't even pick up a bat until Friday.

Share Tweet

Some Washington Nationals fans really, really want people to stop doing The Wave

yahoo.com

Apr 10, 2013

In our nation's capital, there are many divisive issues: taxes, health care, war. And, of course, the big one: The Wave. Some Washington National fans have taken a step forward in protesting The Wave. Below is a handbill created by @FakeFP from The Nati…

Share Tweet

Nationals Win, Remain Undefeated At Home

Apr 10

Bryce Harper homers in Nationals' win.