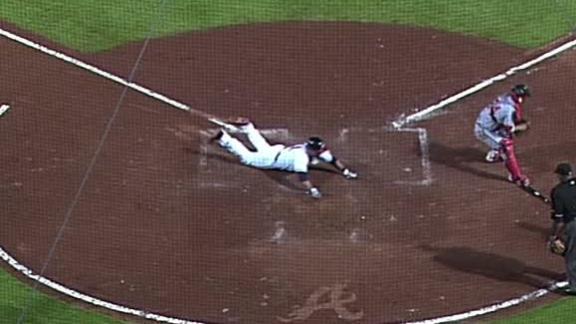 ESPN.com
Updated Apr 29, 2013
Andrelton Simmons hit a tiebreaking sacrifice fly in the seventh inning, then made an eye-popping play to start the ninth as the Atlanta Braves beat the Washington Nationals 3-2 on Monday night and ended their four-game losing streak.
Share
Tweet
Simmons' sac fly pushes Braves past Nats

MLB.com

Apr 29, 2013

Andrelton Simmons' seventh-inning sacrifice fly proved decisive for the Braves as they snapped a four-game losing streak and remained perfect against the Nationals with Monday night's 3-2 win at Turner Field.

Share Tweet

CNNSI.com

Apr 29, 2013

Who's better, Bryce Harper or Mike Trout? One year after they reached the majors for good on the same day it's clear that the answer will change a lot, writes Joe Sheehan.

Share Tweet

Gio Gonzalez with Ed Helms, Psy at WHCD

washingtonpost.com

Apr 29, 2013

While Robert Griffin III turned down his invitation to the White House Correspondents Dinner (though he hit up an afterparty), Nationals players Ryan Zimmerman, Gio Gonzalez and Tyler Clippard suited up on Saturday to rub elbows with the strange … Conti

Share Tweet

Braves Slip Past Nationals 3-2

Apr 29

The Braves beat the Nationals for the eighth straight time, dating back to last season.

Baseball Tonight Spotlight

Apr 29

The Braves beat the Nationals for the eighth straight time, dating back to last season.

Sports Columnists

Toronto Raptors ramp up push to have Phil Jackson as president, sources sa…

Apr 29

The Toronto Raptors, emboldened by the news that the Sacramento Kings apparently won't be moving to Seattle, have ramped up their pursuit of Phil Jackson to be their new team president, according to sources close to the situation.

Nate McMillan to interview for Detroit Pistons coach, sources say

Apr 29

The Detroit Pistons have opened the interview process in their search for a new coach and are scheduled to sit down Tuesday with Nate McMillan, according to NBA coaching sources.