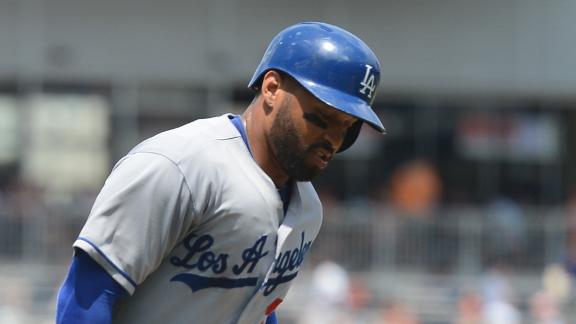 ESPN.com
Updated Jul 21, 2013
Matt Kemp returned to the lineup with a home run and a double in the same inning Sunday, and the Dodgers completed a sweep of the Nationals with a 9-2 win that moved them into a tie for first place -- at least temporarily -- in the NL West.
Share
Tweet
Hollywood Nights: With incredibly hot hitting from Hanley Ramirez, …

CNNSI.com

Jul 21, 2013

With incredibly hot hitting from Hanley Ramirez, strong pitching from Clayton Kershaw, and the return of a Matt Kemp, the Dodgers finished their sweep of the reeling Nationals.

Share Tweet

CNNSI.com

Jul 21, 2013

HOUSTON (AP) -- Houston manager Bo Porter is defending Erik Bedard's decision to remove himself from Saturday night's game against Seattle with a no-hitter in the seventh inning because of a high pitch count and says he wouldn't have let the left-hander…

Share Tweet

Foul ball rips through net behind plate, hits woman at Nationals game

yahoo.com

Jul 21, 2013

Barely a month ago, The Stew posted about a man who spilled beer on himself and others at a Philadelphia Phillies game after he flinched when a ball was fouled back to the screen behind home plate.The post made fun of him. Perhaps he's owed an apology.A…

Share Tweet

Kemp Homers In Return

Jul 21

Matt Kemp drove in three runs and Clayton Kershaw struck out nine batters over seven innings to lead the Dodgers past the Nationals 9-2.