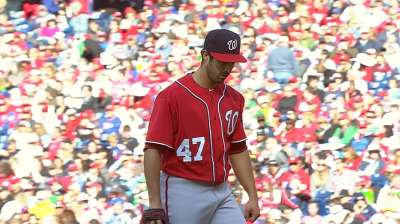 Rollins back in the field playing shortstop vs. Mets

MLB.com

May 9, 2014

Jimmy Rollins started Friday's game at shortstop after playing the previous two games in Toronto as the Phillies' designated hitter. The last time Rollins was on the field was Sunday against the Nationals.

Share Tweet

Nationals unbeaten on Wednesdays this year, at their best on Thursdays historically

washingtonpost.com

May 9, 2014

The Nationals love playing on Hump Day. With their 3-2 win over the Dodgers two days ago, the Nats improved to 6-0 in games played on Wednesday this season. Over the course of a 162-game season, these types of streaks happen. In 2012, the Nationals won …

Share Tweet

A's Shut Out Nationals

May 9

Tommy Milone struck out seven over eight scoreless innings in the Athletics' 8-0 win over the Nationals.