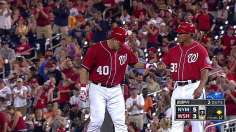 Clutch rally late helps Nats gain in Wild Card race
Updated Sep 1
Share
Tweet
The same resilience that has kept the Nationals' season alive helped them avoid a sweep against the Mets on Sunday night. After the Mets repeatedly pounded Ross Ohlendorf's pitches to the deepest parts of Nationals Park, and after the Nationals stranded…
Source:
MLB.com
Mets cruise behind six-run third, solid Wheeler

Updated Sep 1

Share Tweet

The Mets aren't part of the playoff chase anymore, but they're doing their part to put the Nationals in the same position. New York jumped all over Washington starter Dan Haren on Saturday night at Nationals Park, knocking him out during a six-run third…

Source:

MLB.com
Werth Talks Comeback Win

Sep 1

Jayson Werth comments on his performance in the Nationals' 6-5 comeback victory over the Mets.
Sports Columnists
NFL mailbag -- Roster cuts target middle class

Sep 1

Mailbag: The recent roster cuts targeted the middle class as teams went younger and cheaper, writes John Clayton.