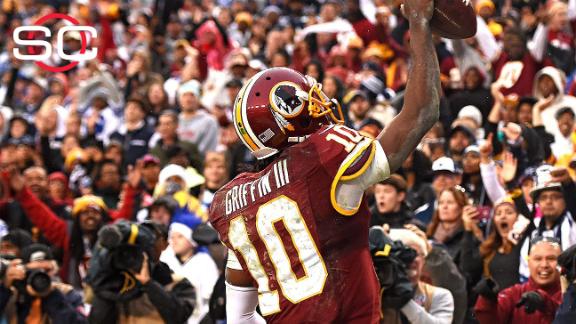 nytimes.com profootballtalk.com ESPN.com

4 hours ago

Despite Robert Griffin III's history of injuries and moves in and out of the lineup, the Washington Redskins plan to exercise the quarterback's fifth-year contract option for the 2016 season.

Share Tweet

Why in the world would Redskins pick up RG3's option? Let's explore

yahoo.com

6 hours ago

We admit we saw this report from NFL Network's Albert Breer on Robert Griffin III and thought ... really? As I said on @NFL_AM, I'm told Redskins are likely to pick up Robert Griffin III's option for 2016. They view as a franchise tag, of sorts.— Albert…

Share Tweet

yahoo.com

Apr 24 (3 days ago)

Washington Redskins fans, you might not want to hear this. University at Buffalo engineers, who have done a study on imbalances in the NFL schedule and presented it at the Sloan Sports Analytics Conference earlier this year, have studied the 2015 NFL sc…

Share Tweet

Larry Michael talks about Redskins trolling Eagles with Kermit the Frog meme

washingtonpost.com

Apr 23 (4 days ago)

The Redskins' official Twitter account posted a photo of Kermit the Frog sipping Lipton tea minutes after the Eagles' official Twitter account posted a photo of Tim Tebow signing his contract with Philadelphia on Monday. It didn't take long for people t…

Share Tweet

Rating the Redskins' 2015 schedule with Larry Michael check marks

washingtonpost.com

Apr 21 (6 days ago)

The NFL schedule was released Tuesday night amid much fanfare, and for the second consecutive season, the Redskins will play three games in prime time. Washington, which opens the season with Sunday afternoon home games against Miami and St. Louis, play…

Share Tweet

Report: Giants home in Weeks 2 and 3, close season in Philly

profootballtalk.com

Apr 21 (6 days ago)

The Giants are going to open the season in Dallas on Sunday night and they'll reportedly have another prime-time game in Week Three. Ralph Vacchiano of the New York Daily News reports that the Giants will host the Redskins at MetLife Stadium in a Thursd…

Share Tweet

Brian Orakpo looking forward to playing for Dick LeBeau

profootballtalk.com

Apr 21 (6 days ago)

Linebacker Brian Orakpo had his first day of work for a team other than the Redskins on Monday, although not everything about life with the Titans will prove to be a new experience. One of the biggest parts of any transition to a new team is learning th…

Share Tweet

washingtonpost.com

Apr 20 (7 days ago)

On Monday afternoon, the Eagles tweeted a photo of quarterback football player Tim Tebow signing his contract with Philadelphia. Welcome to the City of Brotherly Love, @TimTebow! #FlyEaglesFly pic.twitter.com/AgMLhTk7CV — Philadelphia Eagles (@Eagles) A…

Share Tweet

washingtonpost.com

Apr 20 (7 days ago)

By May 3, the Redskins must decide whether to pick up the fifth-year option on quarterback Robert Griffin III's rookie contract. If they do, Griffin's salary in 2016 (between $14 million and $16 million) will be fully guaranteed. If they don't, Griffin …

Share Tweet

Fans pepper Redskins officials with comments during productive forum

washingtonpost.com

Apr 16

Give Redskins fans a chance to vent about their game-day experience, and the comments will easily fill two hours. The fans will raise issues both big (security, parking) and small (more straws, more cup lids). They will ask for better food options, and …

Share Tweet

washingtonpost.com

Apr 16

In a recent gathering with fans and season ticket holders, Redskins President Bruce Allen said the team's future will include "a more intimate stadium" that will be closer to what RFK Stadium was. The team held a fan forum for about 100 committed suppor…

Share Tweet

Wale to announce Redskins' fourth-round draft pick live at FedEx Field on May 2

washingtonpost.com

Apr 15

Wale is branching out in his D.C. sports franchise ambassador role. Today, the Redskins announced that the D.C.-native rapper will be performing at their (free! parking too!) annual Draft Day Party on May 2, as well as announcing their fourth-round pick…

Share Tweet

Redskins safety Duke Ihenacho loves his selfie stick

washingtonpost.com

Apr 15

Redskins safety Duke Ihenacho is into fashion, as evidenced by the fourth-year pro's Instagram page and noted in a recent post on the team's official blog. "I just want people to look at my page and be inspired," Ihenacho wrote last week in an Instagram…

Share Tweet

ESPN.com

Apr 15

Dante Fowler visits with Redskins, Vic Beasley in town next week

Share Tweet

Why Doesn't ESPN Care That A Fake ESPN President Canceled A Show?

deadspin.com

Apr 13

The most influential sports media executive in the world, ESPN president John Skipper, recently had his identity stolen. The imposter used it to sabotage a seven-figure business deal arranged by Washington Redskins owner Dan Snyder, one of the richest b…

Share Tweet

Shed a tear for old D.C. if the Redskins move to Loudoun County

washingtonpost.com

Apr 13

When D.C. finally wins its next title, there's a reason the parade route won't run down Wiehle Avenue. It's always felt a bit unfortunate for the Redskins to practice in the Virginia suburbs and play games in suburban Maryland. Sure, the sports networks…

Share Tweet

A move to Virginia might be best for both Snyder and the city

washingtonpost.com

Apr 13

If you've been following the trends of Daniel Snyder's team, well, since he's owned it, you've seen this possibility coming. The Post's Jonathan O'Connell and John Woodrow Cox report that Virginia is a front runner in the so-called sweepstakes to land t…

Share Tweet

Robert Griffin III discusses his foundation and the Redskins on Fox News Sunday

washingtonpost.com

Apr 12

Robert Griffin III said his Family of 3 Foundation is about forging relationships with the community and seizing every moment in life — and also laughed off the suggestion that Marcus Mariota-Redskins chatter has hurt his feelings — in an interview with…

Share Tweet

ESPN.com

Apr 10

Redskins picking up option on RG III would carry risks

Share Tweet

RGIII responds to talk that the Redskins could draft a quarterback

washingtonpost.com

Apr 9

Earlier this week, Robert Griffin III explained to Larry Michael why he's had a lower profile this offseason than in offseasons past. "It's not about talking about it; it's about being about it," Griffin said. "That's what my goal is this whole offseaso…

Share Tweet

Sean Taylor's father says new book will help people understand his son

washingtonpost.com

Apr 9

The first time Steven Rosenberg met Pedro "Pete" Taylor — on the field before a 2011 Redskins-Dolphins game — he asked whether Taylor knew how much Redskins fans still thought about his son. When Taylor hesitated, Rosenberg brought over a friend. "He st…

Share Tweet

Redskins fan is losing his 'EF DLS' license plates in Virginia

washingtonpost.com

Apr 8

About three years ago, lifelong Redskins fan Marc Misleh got his first sports-themed personalized license plate. The plate — which came with the Commonwealth's Redskins-themed design — read "EF DLS." Now, I don't want to jump to any conclusion about wha…

Share Tweet

washingtonpost.com

Apr 8

Redskins quarterback Robert Griffin III joined Larry Michael on "Redskins Nation" on Tuesday and offered some insight into why he's laid low — especially by his standards — in the months after his rocky third season in Washington ended. "It's not about …

Share Tweet

5 Unmistakable Needs for Redskins as NFL Free Agency Winds Down

redskinsgab.com

Apr 6

The free agency chaos has started to quiet down, as teams are already starting to look ahead to the May NFL Draft which will take place in Chicago, the home of the Bears. Find out what are the football betting odds for this next season at Mybookie.ag. T…

Share Tweet

NFL Nation mock draft: Redskins select LB Dante Fowler

Apr 27

Redskins reporter John Keim breaks down his first-round selection.

Redskins will pick up RG III's $16.2M option for 2016

Apr 27

Chris Mortensen reacts to the news that the Redskins will exercise their fifth-year option on QB Robert Griffin's contract, which will keep him under Washington's contractual control through the 2016 season.

McShay's Mock Draft 5.0

Apr 22

Todd McShay discusses his latest mock draft, including which star running back moved into the top 10.

Active teams to watch on draft day

Apr 19

ESPN NFL draft Insider Mel Kiper Jr. explains why the Oakland Raiders and Washington Redskins may have some serious debates about whom to select during the first round of the NFL draft, and which teams may be the most active on draft day.