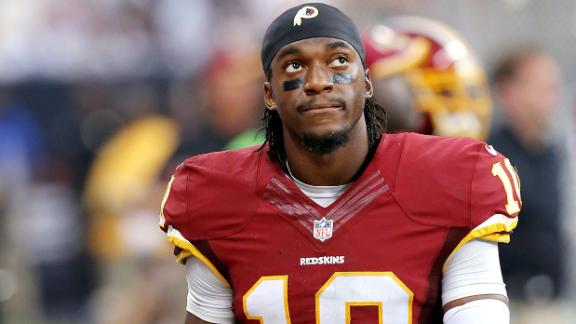 ESPN.com
nytimes.com
Updated 4 hours ago
Washington Redskins quarterback Robert Griffin III turned to a historical figure to summarize his approach since suffering a dislocated ankle: Winston Churchill.
Upvote
Share
Tweet
Vote For Community Project In Redskins Territory

redskins.com

5 hours ago

(AP Image) The Week 8 matchup between the Washington Redskins and Dallas Cowboys will go far beyond the gridiron. For each Monday Night Football game played this season, the two competing markets (in this case Washington, D.C. and Dallas) will also have…

Upvote Share Tweet

profootballtalk.com redskins.com

5 hours ago

Earlier this week, Redskins coach Jay Gruden pointed to Week 11 as a likely date for quarterback Robert Griffin III to make his return from a dislocated ankle when he said that the team would have "a couple weeks to make sure it's ready" thanks to the t…

Upvote Share Tweet

Remembering Sean Taylor's Block Field Goal Return Vs. Dallas

redskins.com

7 hours ago

(AP Image) RELATED LINKS: –An Incredible Sean Taylor Fan Art Piece –Ryan Clark Carries Sean Taylor's Memory With Him On Gameday As had been the case several times before during the Washington Redskins-Dallas Cowboys rivalry, their Week 9 matchup during …

Upvote Share Tweet

Redskins vs. Cowboys preview

ESPN.com

11 hours ago

For the 16th time on "Monday Night Football," the Dallas Cowboys will meet the Washington Redskins. Only the Oakland Raiders and Denver Broncos (17) have met on "Monday Night Football" more. The Cowboys come in with a six-game winning streak, …

Upvote Share Tweet

Looking at other Redskins position questions

ASHBURN, Va. -- Quarterback isn't the only position that's somewhat in limbo for the Washington Redskins. In all honesty, quarterback really isn't a question, as it's quite simple: Colt McCoy will start, barring some major (and unforeseen) turnaround fr…

Upvote Share Tweet

Jason Hatcher: Redskins fans hate the Cowboys more than Cowboys fans hate the Redskins

Some people are saying that Dallas Week is dead in Washington. But from Jason Hatcher's perspective, it remains a bigger thing here than it is there. "I'll tell you what, [Washington fans] hate Dallas more than Dallas hates us over here. They really hat…

Upvote Share Tweet

PHOTO: Grambling State Alums Together At Redskins Park

RELATED LINKS: –Hatcher 'Locked In' As He Makes His Return To Dallas –Player's Turn: Jason Hatcher At The Mic There was a Grambling State University reunion in the hallways of Redskins Park this afternoon with Doug Williams and Jason Hatcher. What makes…

Upvote Share Tweet

Anthony Spencer limited in practice

IRVING, Texas -- Cowboys defensive end Anthony Spencer was limited in practice on Thursday with a sprained foot. Spencer, who has recovered from microfracture surgery, is expected to play in Monday's game against the Washington Redskins. Linebacker Bruc…

Upvote Share Tweet

ASHBURN, Va. -- Jason Hatcher knew the end was coming in Dallas. So when he left, he did so minus any bitterness or regret. It allowed him to shelve certain emotions while making a move to a division rival. "It was an easy transition," Hatcher said. The…

Upvote Share Tweet

Redskins could have three starting QBs for the first time since 2002

The Redskins seem likely to start Colt McCoy on Monday. That would give them three starting quarterbacks this season. And that's not something this franchise has accomplished very often. In fact, it would be Washington's first season with three differen…

Upvote Share Tweet

Kai Forbath Receives Custom No. 2 Wizards Jersey

RELATED LINKS: –Kai Forbath's Boot Nets Redskins Victory –FedEx ONE To Watch: Redskins-Cowboys Add Washington Redskins kicker Kai Forbath to the list of professional athletes in town who wear No. 2 and hit game-winning threes as time expires. After boot…

Upvote Share Tweet

IRVING, Texas -- Dallas Cowboys linebacker Bruce Carter, who has missed the last three games with a thigh injury, returned to practice Thursday. Cowboys officials hope Carter will be healthy enough to play in Monday's game against the Washington Redskin…

Upvote Share Tweet

Morgan Moses Balancing Dallas Week Preparations With The Birth Of His Son

Washington Redskins offensive lineman Morgan Moses on Tuesday welcomed his son, Isiah Kingston Moses, into the world. Moses — who was drafted by the Redskins in third round of this past May's NFL Draft — said there's "nothing like" the feeling of seeing…

Upvote Share Tweet

In the days after Brian Orakpo suffered yet another season-ending injury, many people compared his career to that of LaVar Arrington. The first-round draft pick linebackers and Eastern Motors pitchmen ranked fifth and third, respectively, on Matt Terl's…

Upvote Share Tweet

So we're back in the "parse Redskins head coach interviews for clues about the health of Robert Griffin III" part of the football season. Jay Gruden talked about that issue at some length during his Wednesday news conference, leaving the impression that…

Upvote Share Tweet

Griffin Breaks His Silence

Oct 24

John Clayton discusses the mindset of Robert Griffin III and the multiple quarterback changes the Redskins have seen since his injury.

McCoy To Start Monday Night For Washington

Oct 24

ESPN NFL Insider Adam Schefter discusses the Redskins' plan to start Colt McCoy at quarterback against the Cowboys on Monday night.

NFL Live Prediction: Redskins-Cowboys

Oct 23

The NFL Live crew make their picks for Washington at Dallas.

Has The Cowboys' Defense Improved?

Oct 23

Todd Archer and Jean-Jacques Taylor discuss whether the Cowboys' defense has improved this year and whether their matchup with the Redskins is still considered a rivalry.