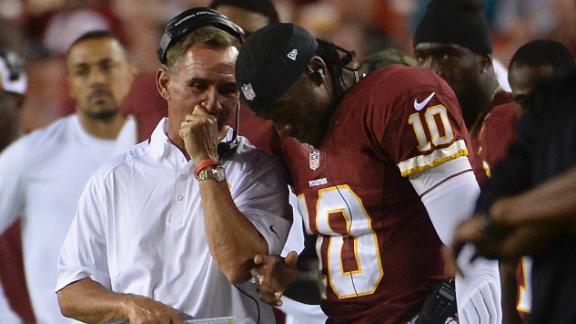 ESPN.com
Updated Aug 29, 2013
Robert Griffin III has been cleared to play in the Washington Redskins' regular-season opener, but coach Mike Shanahan said Thursday night that does not necessarily mean the star quarterback will face the Philadelphia Eagles.
Share
Tweet
(AP Image) Redskins fans—how are you feeling right now knowing that your team is back and better than ever? If you heard it through the grapevine that this was the first time the Redskins completed the preseason undefeated since 1985, your ears are inde…

Share Tweet

(AP Image) Barring an incredible change of fortunes for the Tampa Bay Buccaneers in the last 15 minutes of a game that has been controlled by the defending NFC East champs, the Washington Redskins are well on their way to the first undefeated preseason …

Share Tweet

Three Redskins misidentified in one graphic (updated)

What we have right here is a trifecta, with three misidentified Redskins players in one handy graphic during tonight's preseason game against Tampa Bay. This is rarer than a sweet-potato fry Jesus. See below: Evan Royster? Nope, that's Alfred Morris. … …

Share Tweet

Pregame Pass To Redskins–Bucaneers

(AP Image) With a little less than an hour until kickoff, the Washington Redskins getting the last of their customary pregame warm-ups. On Tuesday, Washington Redskins head coach Mike Shanahan announced that former West Virginia star Pat White would be …

Share Tweet

Nails Always Shorter After 'Skins-Bucs

(AP Image) For the third consecutive season, the Washington Redskins will close their preseason slate with a tilt against the Tampa Bay Buccaneers. The last two have been Redskins victory to include a 24-22 victory in 2011 where the burgundy and gold or…

Share Tweet

Jason Whitlock: RGIII 'wants to be a Kardashian'

In his last column for Fox Sports before heading to ESPN, Jason Whitlock called Robert Griffin III a "mouthy, leverage-having quarterback." In an appearance on PTI yesterday, he had some more tough love for the Redskins quarterback. Tony Kornheiser aske…

Share Tweet

E.J. Biggers: 'Going To Be Fun Going Back'

(AP Images) Tonight's game against the Tampa Bay Buccaneers serves many different purposes for the currently 75-man Washington Redskins squad. For starters like Alfred Morris, London Fletcher and DeAngelo Hall, they may sparingly at most, resting their …

Share Tweet

Antwaan Randle El plays flag football

Remember three years ago when Redskins safety Macho Harris did some moonlighting in a Fairfax County flag football league? Well it happened again. This summer's highest-profile free-agent flag-football acquisition was none other than former Redskins rec…

Share Tweet

PFT Live: Redskins talk with Rich Tandler, Patriots talk with Tom Curran

profootballtalk.com

Aug 29, 2013

The final night of preseason football is upon us, but PFT Live will look past any previews of those slappie-filled contests to the regular season that begins a week from Thursday night. Mike Florio will talk to Rich Tandler of CSN Washington about what …

Share Tweet

Redskins roster battle: Secondary

ESPN.com

Aug 29, 2013

Taking a look at some of the Redskins roster battles as they reach the final cuts. Here's a look at their secondary: How many: The Redskins could keep 11 if they want, though that number could be reduced when end Jarvis Jenkins and linebacker Rob Jackso…

Share Tweet

ESPN.com

Aug 29, 2013

With just about every starter out for Thursday's preseason finale at 7:30 p.m. ET at Tampa Bay, is there much reason to be interested in this game? The biggest part of the night will be an examination of Robert Griffin III's right knee. If they televise…

Share Tweet

are the washington redskins a lock to win the division?

homermcfanboy.com

Aug 29, 2013

In just a few more days, the 2013 season will be underway and the Washington Redskins will have a chance to prove that their magical seven-game winning streak to close the '12 campaign wasn't a fluke. They'll start things off by hosting their division r…

Share Tweet

Washington Redskins running back Evan Royster 1-yard TD run

Aug 29

Washington Redskins running back Evan Royster pounds his way for a 1-yard touchdown in the first quarter.

Washington Redskins quarterback Pat White 7-yard TD run

Aug 29

Washington Redskins quarterback Pat White scrambles and makes a great effort to reach in for a 7-yard touchdown run.

Washington Redskins wide receiver Dezmon Briscoe 66-yard reception

Aug 29

Washington Redskins quarterback Pat White finds wide receiver Dezmon Briscoe who breaks free for a 66-yard reception.

Washington Redskins running back Evan Royster 36-yard run

Aug 29

Washington Redskins running back Evan Royster breaks free for a 36-yard gain.

Sports Columnists

Seattle Seahawks defense too good to ignore

Aug 29

Seattle's talented young defense is finally getting the recognition it rightfully deserves, writes Jeffri Chadiha.

Don Banks: Former players: Devil is in the details with NFL concussion set…

Aug 29

Don't try telling former NFL players union president Kevin Mawae that Thursday's concussion litigation settlement was an even-handed resolution to the most contentious and significant issue facing the sport as the NFL's 2013 regular season looms.