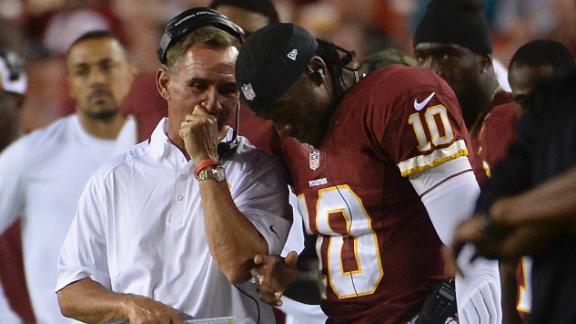 profootballtalk.com
ESPN.com
yahoo.com
Updated Aug 30, 2013
So Redskins quarterback Robert Griffin III has gone from reportedly starting but not cleared to cleared but not yet officially starting due to concerns that coach Mike Shanahan said Dr. James Andrews has even though Dr. Andrews says he has no concerns. …
Share
Tweet
Predicting the Redskins' final 53

This is like picking the NCAA basketball tournament. Most teams are very easy to pick -- going out on a limb and projecting Robert Griffin III on the roster, barring conflicting statements of course. And there are few things I dislike more than picking …

Share Tweet

yahoo.com deadspin.com

Aug 30, 2013

The debate over the use of the name "Redskins" to refer to the professional football concern in Washington took a new turn this week when Robert Klemko, a writer for "Monday Morning Quarterback," a Sports Illustrated website, announc…

Share Tweet

Redskins linebacker Rob Jackson tackles two Buccaneers … at the same time (with video)

yahoo.com

Aug 30, 2013

Washington Redskins linebacker Rob Jackson faced a dilemma against the Tampa Bay Buccaneers on Thursday night. Jackson was close to sacking Bucs quarterback Mike Glennon in the preseason finale, but offensive lineman Mike Remmers was standing in the way…

Share Tweet

Drew Storen totally understands RGIII-mania

washingtonpost.com

Aug 30, 2013

On Wednesday, Bryce Harper expressed his opinion that fans might be jumping ship on the Nats in favor of the Redskins. While chatting with Holden and Danny on 106.7 yesterday, Drew Storen admitted that he didn't quite see it that … Continue reading →

Share Tweet

(AP photo) For his part, Washington Redskins head coach Mike Shanahan is nothing short of one of the greatest talent evaluators in NFL history. Not only have his first round picks (Trent Williams, Ryan Kerrigan and Robert Griffin III) prospered since th…

Share Tweet

profootballtalk.com

Aug 30, 2013

As a rookie with the Redskins in 2010, receiver Anthony Armstrong caught 44 passes for 871 yards — an average of 19.8 yards per catch. Since then, he hasn't done much. The Redskins let him go after 2011, and Armstrong bounced from the Dolphins to the Ja…

Share Tweet

Redskins LB Tackles Two Bucs At The Same Time

deadspin.com

Aug 30, 2013

The Maginot Line provided more protection than tackle Mike Remmers. At least the Germans had to waste time going around it. Remmers merely found himself in in the way of Rob Jackson, and suffered the consequences.Read more...

Share Tweet

profootballtalk.com

Aug 30, 2013

Redskins coach Mike Shanahan isn't quite ready to say that Robert Griffin III will start at quarterback in the season opener, but there's no such hesitation in Tampa when it comes to cornerback Darrelle Revis' return from his own torn ACL. On Friday, co…

Share Tweet

Your Chance To Help The Community

Not only is it back to school season right now, but it's Back to Football time as well! Going on right now, fans can help the Washington Redskins and the local community win a NFL Play 60 United Way refurbishment project. Not only can you help revamp th…

Share Tweet

Dan Snyder: 'I take so much pride in trying to do the right things'

washingtonpost.com

Aug 30, 2013

I can't promise this is a comprehensive list, but here are the Dan Snyder media appearances I've heard about this preseason: An interview with Larry Michael for Redskins.comTV, an interview with Chris Cooley on ESPN 980, an interview with SiriusXM … Con…

Share Tweet

Who Was MV(Redskin) Against Bucs?

(AP Image) Behind the news that star quarterback Robert Griffin III had been cleared to play against the Philadelphia Eagles on Monday Night Football 11 days from now, was the Redskins' team-oriented domination of not only the Tampa Bay Buccaneers on Th…

Share Tweet

Robert Griffin III has been cleared to play in the Washington Redskins' regular-season opener, but coach Mike Shanahan said Thursday night that does not necessarily mean the star quarterback will face the Philadelphia Eagles.

Share Tweet

Highlights from the Washington Redskins 30-12 preseason finale win at Tampa Bay. They ended the preseason 4-0: 1. Robert Griffin III tweeted that he had been cleared to play by Dr. James Andrews, but then coach Mike Shanahan said the doc had a couple co…

Share Tweet

N.F.L. Roundup: Redskins Complete a 4-0 Preseason

nytimes.com

Aug 30, 2013

Andy Dalton led Cincinnati (3-1) to a score in his one drive against the Colts (2-2), who rested most of their starters, including Andrew Luck.

Share Tweet

How Do You Limit Damage To RG III?

Aug 30

NFL Live OT looks at how the Redskins can limit the damage taken by Robert Griffin III.

What to expect from Washington Redskins QB RGIII Week 1

Aug 30

NFL Network's Charley Casserly and Heath Evans break down what to expect from Washington Redskins QB Robert Griffin III in Week 1, including his play-calling and aggressiveness outside the pocket.

Week 1 Concerns For RG III

Aug 30

Herm Edwards discusses his concerns about Robert Griffin III coming back from knee surgery.

No Decision On Robert Griffin III

Aug 30

After Dr. James Andrews cleared Redskins QB Robert Griffin III to play, coach Mike Shanahan declined to name Griffin the starter for Week 1.