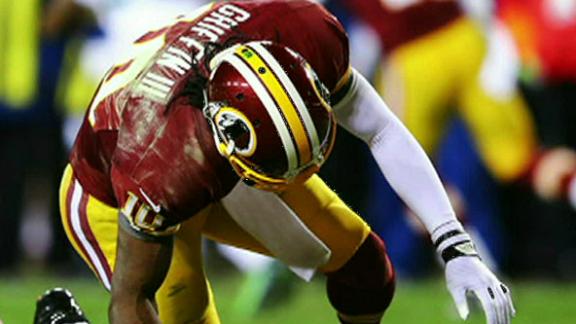 ESPN.com
Updated Feb 22, 2013
Washington Redskins quarterback Robert Griffin III is "way ahead of schedule" in his recovery from surgery to repair a torn ACL and LCL, Dr. James Andrews told NFL Network on Friday.
Share
Tweet
Can't Miss Combine Google+ Hangout

redskins.com

Feb 22, 2013

Redskin's fans! For the first time ever we've teamed with CSNWashington, Pro Football Writers of America (PFWA) and Google to bring you exclusive Redskins news and combine analysis direct from Lucas Oil Stadium at this year's 2013 NFL Combine. Tomor

Share Tweet

Alfred Morris, London Fletcher autograph military service dog

washingtonpost.com

Feb 22, 2013

After Wednesday's event at Walter Reed, attendees got to stick around and get autographs from Alfred Morris and London Fletcher. As usual, there was quite a variety of things that got tagged pictures, footballs, jerseys, and even a few non-Redskins …

Share Tweet

Dr. James Andrews: Washington Redskins QB Robert Griffin III is 'way ahead of schedule'

Feb 22

Will Robert Griffin III be able to return to the field for the first week of the 2013 season? Dr. James Andrews discusses RG3's recovery from a torn ACL.

Sports Columnists

Don Banks: Traditional pocket passers becoming extinct? Don't tell this QB…

Feb 22

INDIANAPOLIS -- Perhaps the irony of the NFL's incoming quarterback class on display here at the scouting combine is that while the read-option trend seems to be the wave of the future within the league, the future clearly isn't now. At least not in ter…

2013 NFL combine -- Friday observations about offseason, Weeden and more

Feb 22

Will the NFL push back the dates on the offseason? Not if the players' union has anything to say about it, writes John Clayton.

Don Banks: Baltimore Ravens 2013 Offseason Preview

Feb 22

SI.com is laying out offseason road maps for all 32 teams as they start their journey for the Lombardi Trophy -- two teams per day, from the teams that need the most work to contend in 2013 to the ones that are in pretty good shape. See them all.