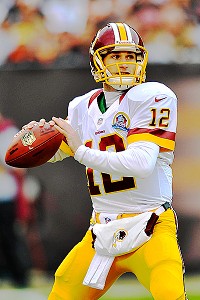 The curious case of Kirk Cousins
ESPN.com
Updated Jan 5, 2013
ASHBURN, Va. -- Kirk Cousins has made his peace with life as the Washington Redskins' backup quarterback. A young man of strong faith, he says he believes two things -- that a divine hand placed him here and that his long-term development will be helped…
Share
Tweet
yahoo.com

Jan 5, 2013

Seattle Seahawks cornerback Richard Sherman doesn't generally need any incentive to be lippy and contentious on the field -- that's just the way the second-year man from Stanford does things. But it's safe to say that when Sherman takes the field agains…

Share Tweet

ESPN.com

Jan 5, 2013

ASHBURN, Va. -- Mike Shanahan could have had Russell Wilson. Before this year's draft, Wilson was on Shanahan's list of potential quarterbacks of the future for the Washington Redskins. He liked him. "Strong arm," Shanahan said. "And he h…

Share Tweet

redskins.com

Jan 5, 2013

The NFC East champion Washington Redskins (10-4) play host to their first playoff game since 1999 on Sunday when they welcome the Seattle Seahawks (11-5) in the NFC Wild Card Round. Kickoff from FedExField on Sunday is set for 4:30 p.m. ET. FedExField i…

Share Tweet

Show The Seahawks Our 12th Man Rules

redskins.com

Jan 5, 2013

You know the drill by now. Participate in the Redskins-Seahawks social media Tug of War for Sunday afternoon's NFC Wild Card round playoff game at FedExField and show, yet again, that you are the best fan base in the NFL. You can do your part to win thi

Share Tweet

'Playbook': Battle of defense

Jan 5

The Washington Redskins and Seattle Seahawks possess defenses that will cause trouble for opposing offenses. The "NFL Playbook" crew breaks down the two strong defenses.

'Playbook': Seahawks vs. Redskins preview

Jan 5

What will happen when star rookies Robert Griffin III and Russell Wilson battle each other in an exciting wild-card battle? The "NFL Playbook" crew breaks down the matchup between the Seattle Seahawks and Washington Redskins.

'Playbook': London Fletcher's impact

Jan 5

Washington Redskins LB London Fletcher stops by "NFL Playbook" and breaks down his experience as a leader of the team's defense.

Washington Redskins quarterback Robert Griffin III Unplugged: Week 17 vs. Cowboys

Jan 5

Robert Griffin III led the Redskins to their first division title since 1999 with a Week 17 victory over the Cowboys. Listen to what it sounded like inside the rookie phenom's helmet last week.