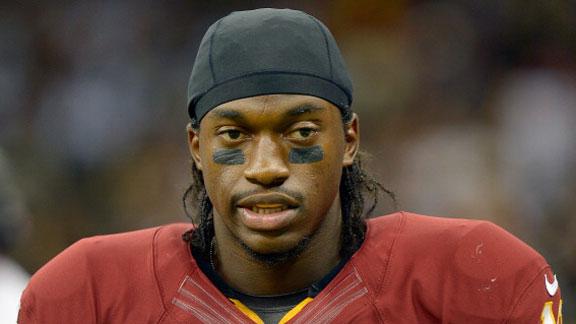 NFL Commissioner Roger Goodell says he doesn't have a problem with the way the Washington Redskins medical staff handled Robert Griffin III's knee injury.
Share
Tweet
redskins.com

Jan 12, 2013

Former Redskins defensive end Dexter Manley knows how to bring the pressure, delivering 103.5 sacks during his illustrious 14-year career. After his time in Washington, he spent time with the Phoenix Cardinals, Tampa Bay Buccaneers and in the CFL, but M…

Share Tweet

Griffin's knee creates more concern than advertised

profootballtalk.com

Jan 12, 2013

And now we know why Dr. James Andrews is pumping the brakes regarding the presumption that Robert Griffin III will become Adrian Peterson II. Per a league source, there is much greater concern regarding Griffin's knee than anyone connected to the Redski

Share Tweet

Sports Columnists

Jim Trotter: Kaepernick answers another question with dazzling playoff deb…

Jan 12

SAN FRANCISCO -- Perhaps 49ers coach Jim Harbaugh is a football savant, because his decision to change starting quarterbacks midway through the season is, for the time being, proving to be as cunning as it was calculated.