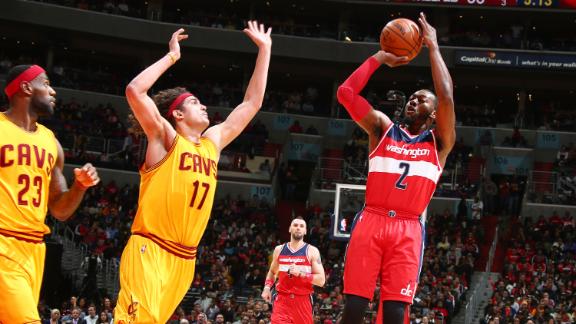 Wall, Wizards deal Cavs 3rd straight loss
ESPN.com
Updated Nov 21 (yesterday)
John Wall took over in the third quarter Friday night and finished 28 points, seven assists and six rebounds, and the hustling Washington Wizards clamped down for a 91-78 win over LeBron James and the mostly flatfooted Cleveland Cavaliers.
Upvote
Share
Tweet
Dion Waiters Goes For Dunk, Gets Destroyed, Is Terrible

deadspin.com

Nov 21 (yesterday)

Millennial Dion Waiters stinks and is bad ; tonight against the Wizards, he tried to dunk on Kevin Seraphin and got stoned—with both hands!—directly to hell. My favorite part is Jon Barry and Mike Breen both initially assuming it must have been a foul, …

Upvote Share Tweet

dimemag.com

Nov 21 (yesterday)

"Rivalries aren't really rivalries unless the teams and players hate each other!" Well, tell that to Paul Pierce and LeBron James. Ahead of their first matchup as members of the Washington Wizards and Cleveland Cavaliers tonight, The Truth offered rare …

Upvote Share Tweet

Wizards' Nene, Kevin Seraphin and Otto Porter play FIFA on Verizon Center big screen

washingtonpost.com

Nov 21 (yesterday)

Now this is how video games were meant to be played. The Wizards' Otto Porter, Nene and Kevin Seraphin recently kicked back and fired up FIFA 15 on the big screen at Verizon Center. Nene tweeted a photo of the scene Thursday and the Wizards shared a few…

Upvote Share Tweet

Brandan Wright Climbs The Ladder On KEvin Seraphin

dimemag.com

Nov 20 (3 days ago)

We're not sure Wizards forward Kevin Seraphin knew what was coming when he elected to get in front of Mavericks center Brandan Wright after he rolled to the hoop last night. J.J. Barea had used the Wright screen to get into the lane, but then he lobbed …

Upvote Share Tweet

Hobbled Dirk hits key 3 as Mavs edge Wizards

ESPN.com

Nov 19 (3 days ago)

Dirk Nowitzki limped off to the locker room after a fourth-quarter fall, then returned to make a key 3-pointer, and Monta Ellis scored 24 of his 34 points in the first half Wednesday night, leading the Mavericks to a 105-102 victory over the Wizards.

Upvote Share Tweet

ESPN.com nba.com dimemag.com

Nov 19 (3 days ago)

Wizards shooting guard Bradley Beal has made his season debut after being sidelined since breaking his left wrist in early October.

Upvote Share Tweet

Russell Westbrook Denies Recruiting Efforts Of Lakers Fan: "Go Back To LA"

dimemag.com

Nov 17 (6 days ago)

If only a Washington Wizards follower would test Kevin Durant the same way. During his team's home game against the Houston Rockets last night, injured Oklahoma City Thunder superstar Russell Westbrook staunchly denied the recruiting efforts of a Los An…

Upvote Share Tweet

dimemag.com

Nov 16 (6 days ago)

Just one day after the Orlando Magic's best young player returned to the lineup, another very promising one is leaving it. Rookie forward Aaron Gordon fractured a bone in his left foot during Orlando's loss to the Washington Wizards on Saturday and is o…

Upvote Share Tweet

washingtonpost.com

Nov 14

The Wizards' red jerseys typically feature "Washington" on the front and "Last Name" on the back. On Christmas Day? Well, flip that script! Because the Wizards' red Christmas Day jersey will feature "dc" on the front — with that old-school Bullets-flavo…

Upvote Share Tweet

Charles Barkley says the Wizards nickname is stupid, will call team the Bullets

washingtonpost.com

Nov 14

Is this blog big enough for two different D.C. sports team nickname debates at one time? Only one way to find out. Remarkably, as national commentators continue to walk away from the Redskins nickname, one national commentator is walking backward to a n…

Upvote Share Tweet

yahoo.com

Nov 13

When first we met Kevin Seraphin as a Washington Wizards rookie in 2011, he checked into a game with his shorts on backwards, returned to the bench, removed said shorts and corrected his mistake. The French have forever been known to be a bit risqué, an…

Upvote Share Tweet

Let's talk about Bret Baier's pre-game Wizards reports

washingtonpost.com

Nov 13

I've never really written about Wolf Blitzer's pre-Wizards-game "Situation Room" reports. My sense is that some fans found these annoying hokey, perpetrating a cliched vision of what D.C. sports fans care about. And that some fans found these charmingly…

Upvote Share Tweet

washingtonpost.com

Nov 13

With their win over Detroit on Wednesday, the Wizards improved to 6-2 for the first time in 39 years. That seems like a long time ago and this tweet really puts it in perspective: The Wizards are 6-2 for the first time since 1975. That's before Andre Mi…

Upvote Share Tweet

Randy Wittman says Sam Smith is 'still drunk on Michael Jordan'

washingtonpost.com

Nov 11

Sam Smith's recent suggestion that the Wizards trade 173 percent of their roster for Kobe Bryant was probably never tethered to reality. And when Randy Wittman was asked about it by 106.7 The Fan's Chad Dukes on Tuesday, he reacted appropriately. "WHO S…

Upvote Share Tweet

Post Sports Live: Expectations for RGIII, Wizards start strong (Video)

washingtonpost.com

Nov 11

The Washington Post's Des Bieler, Dan Steinberg and Mike Wise join Gene Wang to discuss what their expectations for the Redskins are after the bye week, whether the Wizards' 5-2 start is a sign of things to come and which local college teams will make t…

Upvote Share Tweet

NBA reporter Sam Smith suggests Wizards trade Nene and Bradley Beal for Kobe Bryant

washingtonpost.com

Nov 10

Longtime NBA reporter Sam Smith speculates in his Monday column for NBA.com about the future of 36-year-old Lakers star Kobe Bryant. With the Lakers off to a 1-5 start and little hope for a turnaround on the horizon, Smith figures Bryant, who is signed …

Upvote Share Tweet

Pacers center Roy Hibbert bruised his left knee against the Washington Wizards on Saturday night and had to leave the game. The Pacers originally listed Hibbert's return as questionable, but announced in the third quarter that he would not return.

Upvote Share Tweet

GIF: Kyle Lowry Lob To DeMar DeRozan In Record-Breaking Triple-Double

dimemag.com

Nov 8

While it was backup Wiz point guard Andre Miller who suffered the ignominy after Kyle Lowry's crossover behind the screen, starting Wiz point John Wall permitted Lowry to rack up a triple-double, a record fourth while a member of the Raptors in what was…

Upvote Share Tweet

Paul Pierce's illustrious 15-season tenure with the Boston Celtics came to an end when he signed with the Brooklyn Nets for the 2013-14 season, but it seems The Truth still bleeds green. In an interview with Sports Illustrated, Pierce, now of the Washin…

Upvote Share Tweet

yahoo.com

Nov 6

With 12.1 seconds remaining in overtime of their Wednesday visit to the nation's capital to take on the Washington Wizards, the Indiana Pacers prepared to inbound the ball trailing by two points and facing a decision. Would the Pacers try to engineer a …

Upvote Share Tweet

Bradley Beal makes his Eastern Motors debut

washingtonpost.com

Nov 6

We've known for a few weeks that Bradley Beal would be making his Eastern Motors debut this season. But I hadn't seen Beal lip-syncing his way through the famous jingle until Wednesday night, during the Wizards-Pacers broadcast. While it's heartwarming …

Upvote Share Tweet

Wall, Wizards Put Away Cavs

Nov 21

John Wall scored 28 points to lead the Wizards to a 91-78 win over the Cavs.

LeBron's Transition Dunk

Nov 21

LeBron James threw down a two-handed slam while running the floor against the Wizards.

LeBron's Soaring Alley-Oop Layup

Nov 21

Kyrie Irving threw a lob to LeBron James, who skied high for the layup. Irving then stole the ball on the next possession, which led to another James layup.

Friday's Pro Basketball Picks

Nov 21

ESPN Chalk's Erin Rynning gives his take on Friday night's ESPN doubleheader (Cleveland-Washington and Chicago-Portland), along with other games to keep an eye out for.