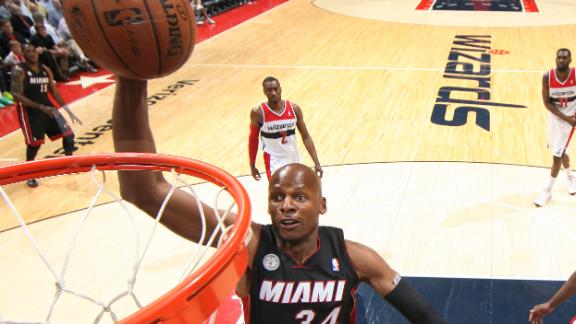 The idle Big Three became a quartet Wednesday night, with Udonis Haslem joining LeBron James, Dwyane Wade and Chris Bosh among those not suiting up for the Miami Heat's game against the Washington Wizards.

Share Tweet

Carmelo Anthony and the Knicks Make History; Kobe Bryant Won't Let the Lakers Die; Outrageous Finish in Houston

dimemag.com

Apr 10, 2013

#KNICKSTAPE! In NYC, they're convinced that this Knicks squad is special, and after last night's 13th consecutive win, who are we to argue? They butchered an outgunned Wizards team, 120-99. New York shot their eyes out, connecting on a franchise-tying

Share Tweet

NBA Rewind

Apr 10

Check out the top action from the past week in the NBA.