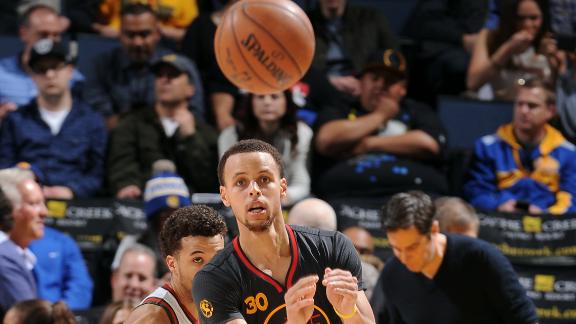 Cold-to-hot Curry leads Warriors over Bucks
ESPN.com
Updated 1 hour ago
Stephen Curry shook off a rough shooting night to make three straight 3-pointers early in the fourth quarter to help the Golden State Warriors beat the Milwaukee Bucks 102-93 on Wednesday night in their return from a season-high, six-game road trip.
Upvote
Share
Tweet
Report: Seahawks expected to pursue Tramon Williams

profootballtalk.com

1 hour ago

If Byron Maxwell leaves Seattle in free agency, the Seattle Seahawks will be in need of help at cornerback this offseason. According to Bob McGinn of the Milwaukee Journal-Sentinel, the Seahawks are expected to pursue Green Bay Packers free agent corner…

Upvote Share Tweet

Cubs seriously considered moving 2015 home games to Milwaukee

yahoo.com

3 hours ago

Miller Park in Milwaukee is often referred to as "Wrigley Field North" because of the large numbers of Cubs fans who make the 90-mile drive north and take over the ballpark whenever Chicago visits the division rival Brewers. However, as we lea…

Upvote Share Tweet

Former Packers No. 1 pick Tom Bettis passes away at 81

profootballtalk.com

3 hours ago

Former Packers linebacker Tom Bettis, the No. 5 overall pick in the 1955 NFL Draft, died Saturday at age 81. His passing was announced in a Legacy.com obituary. Bettis played nine NFL seasons (1955-1963), the first seven of which were with Green Bay. He…

Upvote Share Tweet

Best Brett Favre Moments Part 3: The 2007 Season

greenbaypackernation.com

8 hours ago

Wow! what a year 2007 was for the Packers and Brett Favre. Just found this vid that does a good job encapsulating the year. Check it out and give a sub if you like it! … Continue reading →

Upvote Share Tweet

Henderson Sharp in Return, Brewers Beat Wisconsin-Milwaukee

nytimes.com

9 hours ago

Former closer Jim Henderson threw a scoreless inning in his first outing since May, and the Milwaukee Brewers beat the University of Wisconsin-Milwaukee 8-0 on Wednesday.

Upvote Share Tweet

greenbaypackernation.com profootballtalk.com

11 hours ago

With less than a week to go before the start of free agency, Randall Cobb and the Green Bay Packers have not struck a deal. Reportedly, Cobb's representation has rejected a five year deal worth between 8 and 9 million … Continue reading →

Upvote Share Tweet

Kintzler relieved to move on from painful knee injury

MLB.com

13 hours ago

When he takes the mound for an inning of relief against the Angels on Thursday, during the Brewers' Cactus League opener, Brandon Kintzler will finally have both legs under him.

Upvote Share Tweet

ESPN.com

14 hours ago

Green Bay Packers defensive tackle Letroy Guion has agreed to a deferred prosecution agreement, which will result in probation stemming from his arrest for felony marijuana and firearm possession last month.

Upvote Share Tweet

PFT Live: Eagles talk with Geoff Mosher, Colts/Packers offseason to-do lists

profootballtalk.com

16 hours ago

The Eagles had a very busy day on Tuesday culminating in the decision to trade running back LeSean McCoy to the Bills for linebacker Kiko Alonso. The move can't become official until the start of the league year next Tuesday, but we'll be talking about …

Upvote Share Tweet

Packer Receivers of History: Carroll Dale

greenbaypackernation.com

Mar 3 (yesterday)

Carroll Dale was drafted in 1960 in the eighth round of the NFL draft. Unfortunately, it was not to the Green Bay Packers. Carol played the first five years of his NFL career with the Los Angeles Rams. Those first … Continue reading →

Upvote Share Tweet

yahoo.com

Mar 3 (yesterday)

When baseball players give each other gifts, it's often an exercise in excess — "Here, fellow rich guys, here are $250 headphones for each of you." But when Matt Garza wanted to give his fellow Milwaukee Brewers starting pitchers a spring-trai…

Upvote Share Tweet

How Much Will The Packers Miss Hawk and Jones?

packersgab.com

Mar 3 (yesterday)

Photo by Kyle Engman Packers coach Mike McCarthy has clearly identified inside linebacker as the position in which he wants to see the most dramatic changes in personnel ahead of the next NFL season. The announcement that AJ Hawk has been released by th…

Upvote Share Tweet

Star-studded guest list expected at Brett Favre's Packers Hall of Fame induction

ESPN.com

Mar 3 (yesterday)

GREEN BAY, Wis. -- When the Green Bay Packers announced last week that they would open up Lambeau Field to fans for Brett Favre's induction into the Packers Hall of Fame, former team president Bob Harlan offered a glimpse into what this summer's ceremon…

Upvote Share Tweet

Brewers hint at Opening Day plan with spring rotation

MLB.com

Mar 3 (yesterday)

After Mike Fiers starts an exhibition against the University of Wisconsin-Milwaukee on Wednesday, Kyle Lohse will start in Tempe, Ariz., against the Angels on Thursday, and Matt Garza will pitch against the Dodgers on Friday. That order makes it appear …

Upvote Share Tweet

profootballtalk.com

Mar 2 (2 days ago)

Less than two weeks after being released by the Packers, linebacker Brad Jones has a new home. The Eagles have signed Jones to a two-year deal, the team said Monday. The 28-year-old Jones played 13 games for Green Bay in 2014, recording 18 tackles. He'l…

Upvote Share Tweet

ESPN.com

Mar 2 (2 days ago)

GREEN BAY, Wis. -- The Green Bay Packers did not use the franchise tag on receiver Randall Cobb -- or any of their other pending free agents -- and now have only until March 10 to get a deal done with him before he's free to sign with another team. It w…

Upvote Share Tweet

ESPN.com profootballtalk.com

Mar 2 (3 days ago)

Green Bay Packers veteran defensive back Jarrett Bush was arrested early Sunday morning for misdemeanor public intoxication and later released with no charges being filed.

Upvote Share Tweet

Will A 4 Down ILB Emerge?

greenbaypackernation.com

Mar 2 (3 days ago)

The Packers have made clear their intention of finding an answer at inside linebacker with the release of AJ Hawk along with that of Brad Jones. While this does leave Sam Barrington, it sure does make it seem like TT and … Continue reading →

Upvote Share Tweet

Morris looks to climb back into Brewers' first-base mix

MLB.com

Mar 1 (4 days ago)

Hunter Morris, once the Brewers' heir apparent to Prince Fielder at first base, finds himself exiled from the 40-man roster and sliding down the depth chart. He knows exactly what's at stake this spring.

Upvote Share Tweet

yahoo.com

Feb 28 (5 days ago)

On Thursday, Milwaukee Brewers infielder Scooter Gennett was going about his business after the Milwaukee Brewers wrapped up workouts at their spring complex in Maryvale, Ariz. when he discovered a stray dachshund wondering the area. According to Gennet…

Upvote Share Tweet

It's never easy for a baseball player to leave his family for six weeks of spring training, no matter how nice the weather is in Arizona.

Upvote Share Tweet

Packers open up Lambeau Field for Favre jersey retirement

profootballtalk.com

Feb 27 (6 days ago)

The Lambeau Field Atrium is not big enough for all the Packers fans who want to cheer on Brett Favre when he has his number retired this summer. After the 1,600 tickets for the ceremony at the Atrium quickly sold out, the Packers have announced that fan…

Upvote Share Tweet

profootballtalk.com

Feb 27 (6 days ago)

Former Packers tight end Brandon Bostick became a historical footnote (and a former Packer) by mishandling an onside kick in the NFC Championship Game. And the now-Vikings tight end said yesterday that another player with a famous mistake, Earnest Byner…

Upvote Share Tweet

NFL Free Agency: Buyer Beware

Mar 4

Jim Basquil and Mark Brunell talk about a couple of NFL free agents who may not be worth their big price tag.

Curry Doesn't Worry About His 3-Point Game

Mar 4

Golden State Warriors guard Stephen Curry was so on fire behind the arc that he turned his back while a 3-point shot, which went in, was in mid-air.

Nuggets Snap Skid

Mar 3

The Nuggets beat the Bucks 106-95 to snap their six-game losing streak and get a win for interim head coach Melvin Hunt.

MCW's Alley-Oop Goes Awry

Mar 3

Michael Catrer-Williams' attempt at an alley-oop against the Nuggets didn't turn out as planned.