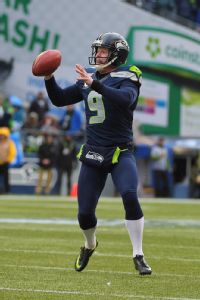 Mike McCarthy mum on possible changes to Packers' special teams
ESPN.com
Updated 1 hour ago
GREEN BAY, Wis. – It might be more than a week before we know coach Mike McCarthy's plan to fix the Green Bay Packers' dreadful special-teams unit. McCarthy would not offer specifics on Wednesday, when he held his season wrap-up news conference, other t…
Upvote
Share
Tweet
Mike McCarthy: Clay Matthews is an outside linebacker, but we like flexibility

profootballtalk.com

3 hours ago

During the regular season, the Packers moved Clay Matthews from outside to inside linebacker at points to help bolster their run defense and change their look in ways that opposing offenses might not have anticipated. It wasn't a permanent arrangement, …

Upvote Share Tweet

Mike McCarthy: Next year's Packers won't 'bear the burden' of collaspse

ESPN.com

4 hours ago

GREEN BAY, Wis. -- The biggest task for Mike McCarthy -- after he decides whether or not to fire special teams coach Shawn Slocum -- might be to figure out how to keep the Green Bay Packers' overtime loss to the Seattle Seahawks in the NFC Championship …

Upvote Share Tweet

yahoo.com

4 hours ago

Sure, longtime theoretical opponents Floyd Mayweather and Manny Pacquiao chatting at Tuesday's Miami Heat-Milwaukee Bucks game is a pretty big deal, I guess. But if you really want to see a fight, you should've been watching the D-League contest between…

Upvote Share Tweet

Wisconsin Gov. Scott Walker says any deal from the state to help pay for a new Milwaukee Bucks arena will also likely have to include contributions from the city and county.

Upvote Share Tweet

Eddie Lacy Highlights Vid

greenbaypackernation.com

6 hours ago

Eddie Lacy has been a big part of the Packers offense for two years now. He shows no signs of slowing down…and with James Starks to keep him fresh…the sky's the limit for Eddie! The Green Bay Packers are gonna … Continue reading →

Upvote Share Tweet

Bucks reunite Gutierrez with Kidd on 10-day contract

nba.com

6 hours ago

The Bucks have signed Jorge Gutierrez to a 10-day contract, replenishing their backcourt depth after a season-ending injury to backup guard Kendall Marshall.

Upvote Share Tweet

Mike McCarthy thankful for condolences following brother's death

ESPN.com

7 hours ago

GREEN BAY, Wis. -- Coach Mike McCarthy will speak to reporters this afternoon for the first time since his news conference immediately following the Green Bay Packers' loss to the Seattle Seahawks in the NFC Championship Game. He was scheduled to do so …

Upvote Share Tweet

Brett Favre: 'Why would I have hard feelings for Aaron Rodgers?'

yahoo.com

10 hours ago

Brett Favre had a responsibility when Aaron Rodgers was his backup on the Green Bay Packers, and it wasn't to get Rodgers ready to take his job. The Favre-Rodgers relationship is a story that won't die, but that happens when one Hall of Famer is backing…

Upvote Share Tweet

Free Agency Part I: Which FA's Should the Packers PURSUE

greenbaypackernation.com

10 hours ago

As always, free agency is a big part of constructing next year's team. Who to sign, who to let walk, how to balance cap space against team needs and who can we replace in the draft. Ted Thompson is not … Continue reading →

Upvote Share Tweet

yahoo.com

17 hours ago

When Ryan Braun set off for Milwaukee to attend the Brewers Fan Fest over the weekend, he couldn't have expected to make an appearance in any wedding photos. However, that's exactly what happened Saturday when a member of a local couple's wedding party …

Upvote Share Tweet

Where will Moncada land among Major suitors?

MLB.com

19 hours ago

Cuban teenage prospect Yoan Moncada has worked out privately for the Yankees, Red Sox, Dodgers, Padres, Giants, Rangers and Brewers, according to sources. The Rays, Cubs, Phillies and Cardinals have also shown interest. The question remains: When will M…

Upvote Share Tweet

Milwaukee Bucks to sign Kenyon Martin for rest of season

ESPN.com

20 hours ago

The Milwaukee Bucks will sign former No. 1 overall draft pick Kenyon Martin to a rest-of-the-season contract this week, according to league sources.

Upvote Share Tweet

Dwyane Wade Exits Heat's Loss To Bucks With Hamstring Injury

dimemag.com

21 hours ago

Dwyane Wade's knees are holding up just fine in 2014-2015, and his shoulder hasn't been a problem for years. But another nagging issue has been plaguing the Miami Heat superstar this season – hamstring pain. The three-time champion left his team's 109-1…

Upvote Share Tweet

yahoo.com dimemag.com

23 hours ago

The four-man field for NBA All-Star Saturday's marquee event has been set. As announced on NBA TV Tuesday night, the Sprite Slam Dunk will feature Minnesota Timberwolves rookie guard Zach LaVine, Milwaukee Bucks forward Giannis Antetokounmpo, Orlando Ma…

Upvote Share Tweet

Brewers, Jays both said to remain in play for Papelbon trade

MLB.com

Jan 27 (yesterday)

Talks between the Phillies, Blue Jays and Brewers regarding a Jonathan Papelbon trade continue, although the seriousness of those discussions is unclear.

Upvote Share Tweet

Wisconsin will help build a new basketball arena for the Milwaukee Bucks with $220 million in bonds that would be funded by projected growth in income taxes from NBA players, Gov. Scott Walker proposed Tuesday.

Upvote Share Tweet

Who Will Be The Packers Toughest Opponent In 2015?

greenbaypackernation.com

Jan 27 (yesterday)

The Packers opponents…recently set by the league constitute the Packers next shot at going the distance, righting wrongs…and beating the Seahawks. But the Pack also has to play the Niners, Cardinals and Cowboys again next year. Will the Bears be … Conti…

Upvote Share Tweet

profootballtalk.com ESPN.com

Jan 26 (yesterday)

The Packers have added a punter to their offseason roster. Green Bay has signed Cody Mandell, who appeared in one preseason game for Dallas in 2014. An Alabama product, the 22-year-old Mandell signed with the Cowboys as an undrafted free agent in May. H…

Upvote Share Tweet

Mayweather And Pacquiao Talk At Bucks-Heat Game

Jan 27

Floyd Mayweather Jr. and Manny Pacquiao met in person for the first time during halftime of the Milwaukee Bucks' game against the Miami Heat.

NBA Dunk Contest Participants Announced

Jan 27

ESPN's Amin Elhassan was disappointed in the field for the 2015 Sprite Slam Dunk Contest.

Bucks Take Down Heat

Jan 27

Jerryd Bayless had 15 points and seven assists to lead the Bucks past the Heat 109-102.

#WithDad: Clay Matthews Jr. discusses fatherhood

Jan 26

Former All-Pro LB Clay Matthews Jr. discusses growing up in a football household.