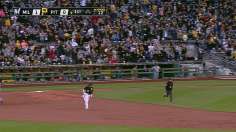 nytimes.com
MLB.com
Updated 5 hours ago
Andrew McCutchen hit his first homer of the season and drove in three runs, Pedro Alvarez had a three-run shot and pinch-hitter Josh Harrison broke a tie with a long ball in the seventh inning as the Pittsburgh Pirates handed the Milwaukee Brewers their…
Upvote
Share
Tweet
Cuban: Bucks' new owners got 'a bargain'

ESPN.com

10 hours ago

Dallas Mavericks owner Mark Cuban considers the sale price of approximately $550 million for the Milwaukee Bucks to be a bargain, suggesting the true value of NBA franchises is north of $1 billion.

Upvote Share Tweet

Dating is hard, but Packers fans now have a website to find true love

yahoo.com

15 hours ago

It is hard being single and searching for the perfect companion. Your so-called friends try to set you up on dates with people who are only attractive to those with their eyes closed. Speed dating is the easiest way to condense a year of letdowns into a…

Upvote Share Tweet

NBA Mock Draft 1.0: Lottery loaded with big names

CNNSI.com

17 hours ago

The NCAA tourney didn't hurt Andrew Wiggins, but it helped Shabazz Napier. Here's our first mock.

Upvote Share Tweet

CNNSI.com

17 hours ago

In a rehearsal room on the fifth floor of the Civic Opera House in downtown Chicago, seven children sit in a row of green chairs, reading sheet music. They look like regular elementary school kids, most ranging in age from five to 12, wearing sneakers a…

Upvote Share Tweet

Time to Bury the Hatchet?

greenbaypackernation.com

18 hours ago

Word came out this week of a reunion that might have happened between Brett Favre and The Green Bay Packers last season, had not his Oak Grove high school team kept winning. It seems so many years ago that Packers GM Ted Thompson committed the unpardona…

Upvote Share Tweet

Time to find the next big-play safety

ESPN.com

18 hours ago

GREEN BAY, Wis. -- Pick after pick crawled across the bottom of television screens last April 25, 26 and 27 and those wondering when the Green Bay Packers would draft a safety got their answer when the 254th -- and final -- pick in the 2013 NFL draft wa…

Upvote Share Tweet

Roundup: Brewers Halt Skid And Avoid A Sweep

nytimes.com

Apr 16 (yesterday)

The Milwaukee Brewers got an important game back from the St. Louis Cardinals, their division rivals, after losing the first two in the series.

Upvote Share Tweet

Hawks' Millsap sits out final game to rest

nba.com

Apr 16 (yesterday)

Atlanta Hawks forward Paul Millsap will sit out the team's regular season finale Wednesday night against the Milwaukee Bucks to rest for the playoffs.

Upvote Share Tweet

Legacy of Champions: Packers 1967 Championship

greenbaypackernation.com

Apr 16 (yesterday)

A continuation of the Legacy of Champions series. Articles that chronicle the 13 Packer championships. If you're just joining us, read about all the great Packer championships by clicking here. In 1967, big changes were taking place in the world of prof…

Upvote Share Tweet

nba.com yahoo.com dimemag.com deadspin.com ESPN.com

Apr 16 (yesterday)

The future of the Milwaukee Bucks became a lot more stable Wednesday.

Upvote Share Tweet

ESPN.com nytimes.com MLB.com

Apr 16 (yesterday)

Peralta helps Brewers beat Cards 5-1 and stop skid

Upvote Share Tweet

ESPN.com

Apr 16 (yesterday)

GREEN BAY, Wis. -- When the Green Bay Packers report for the offseason program on Tuesday, don't expect linebacker Clay Matthews to put his twice-broken right thumb through any vigorous work right away. But when training camp begins in July -- and more …

Upvote Share Tweet

Clay Matthews: Julius Peppers is going to create a lot of opportunities for me

Packers linebacker Clay Matthews is feeling good on a couple of fronts these days. Matthews' thumb is feeling better after a pair of injuries led to season-ending surgery in December and the opposite side of the Packers defense is looking more imposing …

Upvote Share Tweet

As it turns out, Matt Flynn and Josh Freeman were two men for two jobs. But they could have easily reversed roles, as it turns out. Flynn decided yesterday to stay with the Packers, and Freeman just took advantage of the void in New York to agree with t…

Upvote Share Tweet

Look out, Oprah: Bucks' Udoh has book club

ESPN.com

Apr 16 (yesterday)

Ekpe Udoh will leave one positive lasting impression from this dreary season for the Milwaukee Bucks, and it has nothing to do with basketball.

Upvote Share Tweet

Brett Favre hasn't been back to Lambeau in anything other than a Vikings uniform since he left the Packers for the Jets before the 2008 season, but president Mark Murphy said that isn't because the team isn't interested in honoring their former quarterb…

Upvote Share Tweet

Matheny math begets confidence in Cardinals

MLB.com

Apr 16 (2 days ago)

For two nights against the Brewers, the lineup choices Cardinals manager Mike Matheny made were absolutely correct, even if the evidence at hand in one case was not what one would call extensive.

Upvote Share Tweet

Pirates Blast Brewers

Apr 17

The Pirates hit four home runs in Pittsburgh's 11-2 win over Milwaukee.

Which team will win the NFC?

Apr 17

Dave Dameshek unveils the six NFC teams that he expects in the postseason and explains why one team will have the one seed, but another will go to the Super Bowl.

Cuban: Price Tag For Bucks 'A Bargain'

Apr 17

ESPNDallas.com's Tim MacMahon breaks down Mark Cuban's reaction to the Milwaukee Bucks selling for just $550 million.

Brewers Avoid Sweep At Hands Of Cardinals

Apr 16

Jonathan Lucroy hit a two-run single in the fifth inning to help propel the Brewers past the Cardinals 5-1.