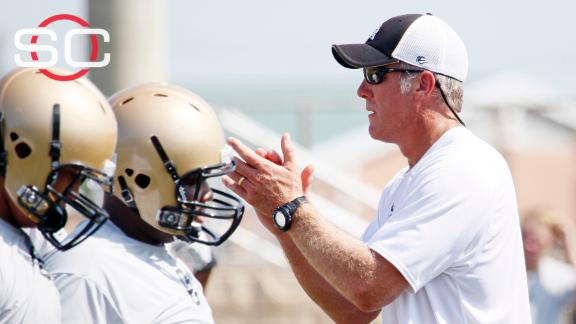 profootballtalk.com
ESPN.com
Updated 2 hours ago
When Brett Favre was playing, some of his most memorable moments were on the fly. So it makes sense that when he's inducted into the Packers Hall of Fame on July 18, that he's not planning on having it all written down. "I think what I'll probably say i…
Share
Tweet
Packers Aren't Jumping To Conclusions

greenbaypackernation.com

4 hours ago

The Packers aren't jumping to any conclusions regarding Andrew Quarless. The veteran tight end had 29 catches for 323 yards and 3 touchdowns in 2015 but the rookie Richard Rodgers had 20 catches for 225 yards and 2 touchdowns. Rodgers would seem

Share Tweet

ESPN.com

6 hours ago

Favre reflects on Packers exit: 'Surreal feeling'

Share Tweet

packersgab.com profootballtalk.com

6 hours ago

About seven hours after the Packers' shocking loss in the NFC championship game, defensive end Datone Jones was ticketed for marijuana possession, Ryan Wood and Doug Schneider of the Green Bay Press-Gazette report. This per Green Bay police. Jones was c…

Share Tweet

Bucks prez repeats relocation threat, invokes Seattle, Vegas if arena funding not approved

yahoo.com

6 hours ago

This should be a happy time for Milwaukee Bucks fans. They're coming off a massive turnaround, vaulting from an NBA-worst 15-67 record in 2013-14 to a .500 mark at 41-41 and a shocking playoff berth last season. New head coach Jason Kidd and assistant S…

Share Tweet

A few days after Green Bay Packers tight end Andrew Quarless was arrested for discharging a firearm in public, the team has reportedly made a decision about his status moving forward. According to Rob Demovsky of ESPN, the Packers have "no plans to rele…

Share Tweet

The Milwaukee Bucks Are Already Threatening To Move

deadspin.com

9 hours ago

When Herb Kohl sold the Bucks last year, it was trumpeted everywhere that one of the immutable conditions of the sale was that the new owners keep the franchise in Milwaukee. Yesterday, in a hearing with state and local lawmakers, the team president dem…

Share Tweet

Fan Hit by Line Drive and Injured During Braves-Brewers Game

nytimes.com

16 hours ago

A woman sitting several rows behind the Milwaukee Brewers' dugout was injured Monday night when she was hit by a line drive off the bat of Atlanta's Eury Perez.

Share Tweet

Braves Win 5-3 to End Brewers' 8-Game Winning Streak

nytimes.com

18 hours ago

Kelly Johnson homered and drove in three runs as the Atlanta Braves ended the Milwaukee Brewers' eight-game winning streak with a 5-3 victory Monday night.

Share Tweet

Play halted after foul ball hits fan

MLB.com

18 hours ago

Monday night's game between the Braves and Brewers was temporarily halted in the top of the ninth inning when a Eury Perez foul ball struck a fan who was seated approximately seven rows above the Brewers' dugout, on the first base side.

Share Tweet

Packer Fans' Favorite Bench Warmer

greenbaypackernation.com

21 hours ago

Last season the Packers made punting history… twice. That begs the question. How many times will they do it in 2015? Twice in 2014 the Pack was involved in a game where neither team had to punt the ball. That

Share Tweet

ESPN.com

Jul 6 (yesterday)

J.A. Adande names the Los Angeles Clippers the biggest loser in free agency so far. "The Clippers had no fallback plan for DeAndre Jordan's departure,...

Share Tweet

Proposed Bucks arena goes before state budget committee

nba.com

Jul 6 (yesterday)

The Milwaukee Bucks' president is trying to persuade Wisconsin lawmakers to devote $250 million in tax dollars to a new arena.

Share Tweet

Key things to watch for in today's games

MLB.com

Jul 5 (yesterday)

White Sox left-hander Chris Sale looks to stand alone in history, Houston's Dallas Keuchel attempts to turn in his third straight scoreless start and the Brewers go for their ninth straight victory.

Share Tweet

MLB.com nytimes.com

Jul 5 (2 days ago)

A better seven-game road trip was simply not possible for the Brewers. How can you top perfection? Milwaukee completed a three-game series sweep of the Reds on Sunday with a 6-1 victory at Great American Ball Park. The club went 7-0 on its trip through …

Share Tweet

Police: Packers Tight End Tried Hiding From Cops In A Plant

deadspin.com

Jul 5 (2 days ago)

Packers tight end Andrew Quarless was arrested by Miami Beach police early Saturday morning on a misdemeanor charge of firing a firearm in public after cops say he fired two shots into the ground after a mild altercation. Read more...

Share Tweet

Gomez day to day with left wrist contusion

MLB.com

Jul 5 (3 days ago)

Brewers center fielder Carlos Gomez was taken out of the game in Saturday's 7-3 Brewers win with a left wrist contusion after being hit by a Josh Smith pitch in the fifth inning -- the fourth Smith plunking victim of the game. X-rays came up negative an…

Share Tweet

Packers sticking by Quarless, despite arrest

Jul 6

ESPN Packers reporter Rob Demovsky discusses the Packers standing by tight end Andrew Quarless, who was charged with a misdemeanor for discharging a firearm in public.

Is Favre serious about being able to play in the NFL?

Jun 30

ESPN Packers reporter Rob Demovsky discusses Brett Favre's comments about playing in the NFL at age 45.

QBs most deserving of a big contract

Jun 29

Mark Brunell explains which five quarterbacks are most deserving of a big contract and why Seahawks QB Russell Wilson isn't on his list.

Packers recover from NFC Championship Game loss, get top offseaso...

Jun 23

ESPN Packers reporter Rob Demovsky says the team has done everything right this offseason and that's why it was given a top offseason grade.