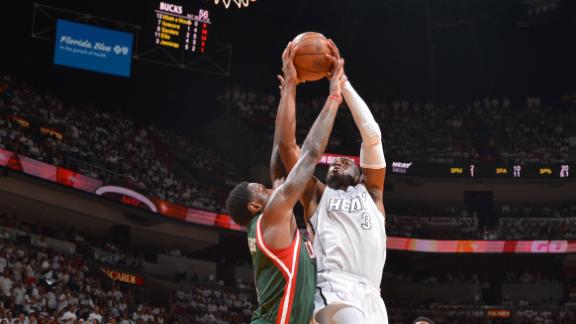 Heat pull away from Bucks, take 2-0 lead
ESPN.com
Updated Apr 23, 2013
Dwyane Wade scored 21 points, LeBron James finished with 19, and the Miami Heat took off in the fourth quarter to pull away and beat the Milwaukee Bucks 98-86 in Game 2 of the teams' Eastern Conference first-round series Tuesday night.
Share
Tweet
yahoo.com

Apr 23, 2013

Plenty of goofy things happen during an NBA season, but it's possible that there was no comment more ridiculous than Milwaukee Bucks shooting guard Monta Ellis's proclamation that the only differences between him and Miami Heat superstar Dwyane Wade wer…

Share Tweet

Carlos Quentin returns to the San Diego Padres lineup on Tuesday, having served an eight-game suspension for his role in the April 11 bench-clearing brawl between the Padres and the Dodgers. Speaking to reporters before the Padres game against the Milwa…

Share Tweet

ESPN.com profootballtalk.com

Apr 23, 2013

Why are the Green Bay Packers bringing in free agent running back Cedric Benson for a visit Wednesday, as ESPN's Adam Schefter reported? The guess here is they want to gauge the progress of his recovery from the foot injury that ended his 2012 season af…

Share Tweet

MLB.com

Apr 23, 2013

When the Brewers started off 2-8, they didn't panic, and by staying calm and sticking to their fundamentals, they've reeled off eight straight wins to get right back in the NL Central mix.

Share Tweet

yahoo.com deadspin.com

Apr 23, 2013

Here's Yuniesky Betancourt hitting a three-run homer in the first inning of the Milwaukee Brewers' 7-1 win Monday night against the San Diego Padres. But Betancourt, as nice a homer as this is, isn't the star of this clip. Check out the Padres fan who d…

Share Tweet

Heat Pull Away In Fourth, Take 2-0 Series Lead

Apr 23

Dwyane Wade scored 21 points to lead the Heat to a 98-86 win over the Bucks in Game 2.

Brewers Use Five-Run Second To Clip Padres

Apr 23

Yuniesky Betancourt and Jonathan Lucroy both drove in two runs in Milwaukee's five-run second inning.