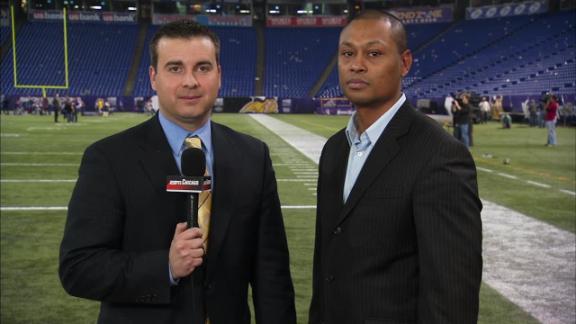 Updated Dec 10, 2012
Share
Tweet
Chicago Bears quarterback Jay Cutler said he received treatment for his sore neck on Monday morning and expects to be ready for the Green Bay Packers on Sunday.
Updated Dec 10, 2012

Share Tweet

After the Detroit Lions' 27-20 loss to the Green Bay Packers, here are three issues that merit further examination: Here is a scary snapshot of 3 3/4 seasons under general manager Martin Mayhew and coach Jim Schwartz. Beginning with the start of the 200…

MegatronWatch: Closing in on Jerry Rice

Updated Dec 10, 2012

Share Tweet

Sunday night produced quite a testament to the season Detroit Lions receiver Calvin Johnson has had. NBC gave one of its player of the game awards to Green Bay Packers cornerback Tramon Williams, who matched up for most of the night on Johnson and held …

BBAO: Figuring out the NFC North

Updated Dec 10, 2012

Share Tweet

We're Black and Blue All Over: Good morning. Week 14 brought us two things in the NFC North: Snow and a bit of clarity. We've largely dispatched the former, so let's hash through the latter while we have a moment. The Green Bay Packers (9-4), winners in…

Updated Dec 10, 2012

Share Tweet

The 2010 Green Bay Packers overcame a multitude of injuries during the regular season to win Super Bowl XLV. The current Packers team is showing the same kind of resiliency. Playing without several key starters, the Packers overcame a 14-point second-qu…

The Year In Sports On Twitter

Dec 10

Katie Linendoll sits down with Omid Ashtari, head of Sports and Entertainment at Twitter, to talk about the biggest Twitter sports moments of the year.