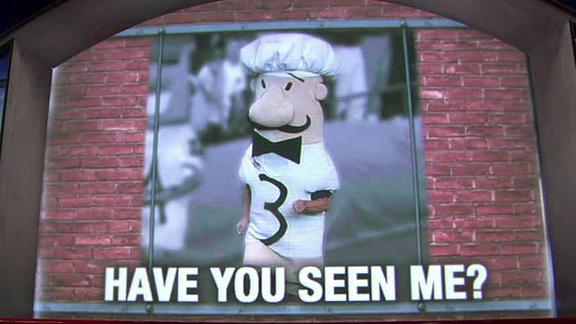 ESPN.com
deadspin.com
yahoo.com
nytimes.com
Updated Feb 27, 2013
The $3,000 Italian Sausage costume that is used in the sausage races at Miller Park has been found, according to FOX6 News.
Upvote
Share
Tweet
ESPN.com packersgab.com

Feb 27, 2013

We've spent some time running through the Green Bay Packers' options for tight end Jermichael Finley, who at the moment has the third-highest salary cap number on the team for 2013. We've also noted that coach Mike McCarthy appears in favor of whatever …

Upvote Share Tweet

The 5 NBA Teams Primed To Make A Late-Season Run

dimemag.com

Feb 27, 2013

Some teams tank for the NBA Lottery in their final 25 games. Others coast into the playoffs contently. Only a few can pull off a run this deep into season that can change their playoff fortunes - even get them into the playoffs. These are the 5 teams I

Upvote Share Tweet

Green Bay Packers fan gets season tickets after spending 37 years on waiting list

yahoo.com

Feb 27, 2013

They say all good things come to those who wait, but it took 37 long years for Brad Sauve to appreciate the full meaning of that maxim. The Green Bay Packers fan put his name on the waiting list for season tickets in 1976, but didn't hear his name calle…

Upvote Share Tweet

profootballtalk.com

Feb 27, 2013

Packers coach Mike McCarthy was asked at the Scouting Combine if his team has grown soft. He didn't care for the suggestion. "To me, we're a physical, tough football team," McCarthy said, via the Milwaukee Journal Sentinel. "I totally disagree.

Upvote Share Tweet

Bryan Bulaga could move to left tackle for Packers

profootballtalk.com

Feb 27, 2013

Packers coach Mike McCarthy has vowed to have a better offensive line next season and he's not willing to rule out any configuration of players to make that happen. Bob McGinn of the Milwaukee Journal Sentinel reports that the team will spend part of th

Upvote Share Tweet

Warriors & Pacers Brawl Spills Into The Stands; LeBron Goes Absolutely Crazy

dimemag.com

Feb 27, 2013

It wasn't exactly reaching Malice at the Palace levels, but the brawl that spilled into the stands last night during Indiana's 108-97 win over the Warriors will certainly result in some special spankings from the league office. And you're never gonn

Upvote Share Tweet

Bucks bump Mavs in spite of Dirk's 21-20 night

ESPN.com

Feb 27, 2013

Monta Ellis scored 22 points, and the Milwaukee Bucks spoiled Dirk Nowitzki's first game in nearly 10 years with at least 20 points and 20 rebounds with a 95-90 victory against the Dallas Mavericks on Tuesday night.

Upvote Share Tweet

Monta Ellis Lifts Bucks Past Rockets At The Buzzer

Feb 27

Monta Ellis' off-balance 3-pointer at the buzzer the difference in Bucks' 110-107 win over Rockets.

Are the Green Bay Packers soft?

Feb 27

Washington Redskins linebacker London Fletcher joins "NFL Total Access" to talk about whether the Green Bay Packers are a "soft" team because of their pass-first offense.

Brewers' Italian Sausage Went Missing

Feb 27

Milwaukee Brewers Italian sausage that went missing earlier this month has been found at a bar in Wisconsin.