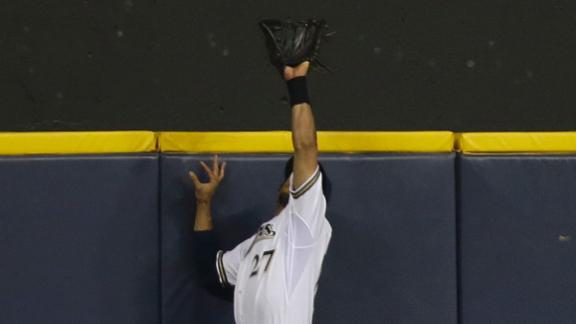 ESPN.com
Updated Jul 8, 2013
Carlos Gomez robbed Joey Votto of a potential go-ahead homer with a spectacular catch in the ninth inning, saving the Brewers' 4-3 victory over the Reds on Monday night.
Share
Tweet
Ryan Braun is back, and Aramis Ramirez is out again.

Share Tweet

Free-agent roundup: Nets fill out the bench, Bucks bring back Delfino, Garcia stays in Houston, etc.

yahoo.com

Jul 8, 2013

There's been plenty of free-agent activity since Dwight Howard made his decision late Friday to join the Houston Rockets, with point guard Jose Calderon heading south to Dallas, Chris Kaman leaving Texas in favor of sunny SoCal and a slew of other agree…

Share Tweet

CNNSI.com

Jul 8, 2013

With a quartet of players 21 years old or younger leading the way, the All-Star Game will have more fresh talent than ever, writes Joe Lemire, who also looks at the big snubs.

Share Tweet

ESPN.com

Jul 8, 2013

The replacement referee who made the controversial touchdown call that gave the Seattle Seahawks a victory over the Green Bay Packers last season was the guest umpire at Richard Sherman's charity softball game on Sunday.

Share Tweet

Web Gems

Jul 8

Does Carlos Gomez's leaping catch to rob a home run top Manny Machado's reigning Web Gem?

Gomez's Leaping Catch Saves Brewers

Jul 8

Homer Bailey allowed four earned runs in 5 2/3 innings as the Brewers defeated the Reds 4-3.