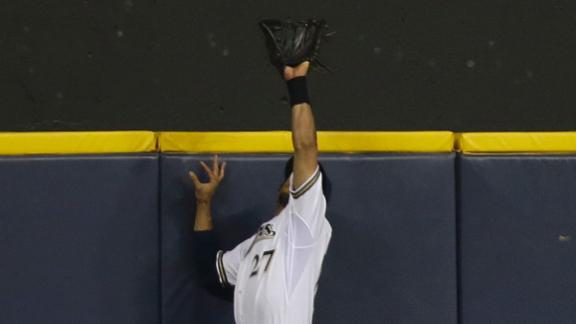 Updated Jul 8
Share
Tweet
Carlos Gomez robbed Joey Votto of a potential go-ahead homer with a spectacular catch in the ninth inning, saving the Brewers' 4-3 victory over the Reds on Monday night.
Source:
ESPN.com
Updated Jul 8

Share Tweet

Ryan Braun is back, and Aramis Ramirez is out again.

Updated Jul 8

Share Tweet

With a quartet of players 21 years old or younger leading the way, the All-Star Game will have more fresh talent than ever, writes Joe Lemire, who also looks at the big snubs.

Source:

CNNSI.com

Updated Jul 8

Share Tweet

The replacement referee who made the controversial touchdown call that gave the Seattle Seahawks a victory over the Green Bay Packers last season was the guest umpire at Richard Sherman's charity softball game on Sunday.

Source:

ESPN.com

Web Gems

Jul 8

Does Carlos Gomez's leaping catch to rob a home run top Manny Machado's reigning Web Gem?

Gomez's Leaping Catch Saves Brewers

Jul 8

Homer Bailey allowed four earned runs in 5 2/3 innings as the Brewers defeated the Reds 4-3.

Sports Columnists

Marreese Speights agrees to deal with Golden State Warriors, sources say

Jul 8

The Golden State Warriors have agreed to terms on a new deal with Marreese Speights, according to sources with knowledge of the deal.