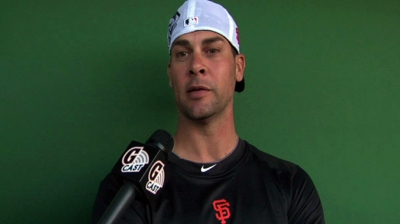 A's, Brewers make a trade for minor leaguers

CNNSI.com

Mar 20, 2013

MILWAUKEE (AP) -- The Milwaukee Brewers acquired third baseman Stephen Parker from the Oakland Athletics in exchange for right-handed pitcher Darren Byrd on Wednesday.

Upvote Share Tweet

MLB's PED vendetta against Ryan Braun: Seeks informants, offers immunity for players testimony

yahoo.com

Mar 20, 2013

Major League Baseball is going to appalling lengths to find evidence that it can use to punish Milwaukee Brewers slugger Ryan Braun for performance-enhancing drugs. A report by Bob Nightengale of USA Today says MLB already is pestering Braun's friends a…

Upvote Share Tweet

Vikings not planning to try Joe Webb at another position

profootballtalk.com

Mar 20, 2013

The Vikings signed Matt Cassel to back up Christian Ponder at quarterback last week, leading to questions about what the Vikings might have planned for Joe Webb. Webb started and played poorly in the playoff loss to the Packers and there's been talk in

Upvote Share Tweet

dimemag.com

Mar 20, 2013

The playoffs are getting close, and that means playoff seedings, which are as jumbled as ever this year after more than two thirds of the regular season has elapsed. The East, especially, has bunched up just below the winning streak that's catapulted th

Upvote Share Tweet

ESPN.com

Mar 20, 2013

After signing with Green Bay's biggest rival, Minnesota Vikings receiver Greg Jennings took out a full-page ad in the Milwaukee Journal Sentinel on Wednesday to thank Packers fans for their support in his first seven NFL seasons.

Upvote Share Tweet

deadspin.com

Mar 20, 2013

Spring training, breezy and noncompetitive, tends to present certain spectacles that would have no business in regular season baseball. Hooters ball girls. Life-sized Al Roker Yankees Weebles. The Royals in first place. But in yesterday's Angels-Brewers…

Upvote Share Tweet

The Denver Nuggets Put A Thumping On OKC; Sacramento Pulls Off A Huge Upset

dimemag.com

Mar 20, 2013

The star of the night might've been the random ice cream guy (more on this later), but the theme of the night had to be based around the Denver Nuggets. Even up until this point - which is now 13 wins in a row for them - no one (and that's includi

Upvote Share Tweet

Teague Powers Hawks Past Bucks

Mar 20

Jeff Teague drops a double-double on the Bucks.