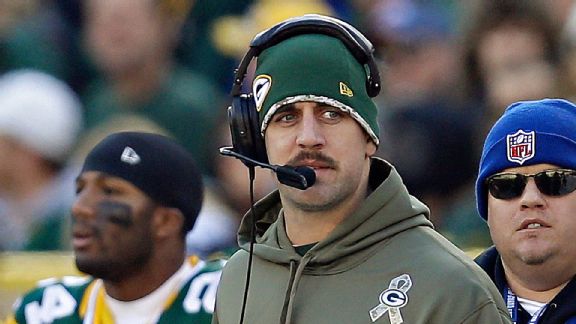 GREEN BAY, Wis. -- Sunday provided our first full look at the Green Bay Packers in the raw. The results were predictable. Unvarnished and now unprotected by their cocoon, the Packers appear headed where most NFL teams would land in their situation: an e…
Share
Tweet
ESPN.com profootballtalk.com

Nov 10, 2013

GREEN BAY, Wis. -- Green Bay Packers linebacker Clay Matthews returned to the field Sunday after a four-game absence. Sort of. Matthews was active and played a majority of the defensive snaps in a 27-13 loss to the Philadelphia Eagles. But with a substa…

Share Tweet

ESPN.com profootballtalk.com

Nov 10, 2013

Nick Foles threw three long touchdown passes and the Philadelphia Eagles pulled away for a 27-13 victory over the injury-ravaged Green Bay Packers, who lost backup quarterback Seneca Wallace to a groin injury on Sunday.

Share Tweet

profootballtalk.com ESPN.com yahoo.com

Nov 10, 2013

There won't be any need to keep a close eye on Seneca Wallace's groin over the next few days. Packers coach Mike McCarthy said in his postgame press conference Sunday that Scott Tolzien will start at quarterback against the Giants in the Meadowlands nex…

Share Tweet

CHICAGO -- Observed in the locker room after the Detroit Lions' 21-19 win over the Chicago Bears. Happy group: There was a sense of enjoyment in the Lions' locker room after this game, especially as they found out the Green Bay Packers lost, giving the …

Share Tweet

profootballtalk.com

Nov 10, 2013

The Detroit Lions are well positioned to win their first division title in two decades. Detroit, which last won the NFC North in 1993 when it was called the NFC Central, went to Chicago and won 21-19. Combined with the Packers' loss to the Eagles' today…

Share Tweet

Mychal Kendricks, Jason Peters head to locker room, Eagles grab lead

profootballtalk.com

Nov 10, 2013

The Eagles are down an inside linebacker, but they are up on the scoreboard. Mychal Kendricks had to leave the field during the Packers' first offensive possession after suffering a right knee injury at the end of a run by Eddie Lacy. Najeh Goode replac…

Share Tweet

Inactives: T.J. Lang is active for Packers

GREEN BAY, Wis. -- Greetings from Lambeau Field, where I'm filling in for ESPN Green Bay Packers reporter Rob Demovsky for Sunday's game against the Philadelphia Eagles. The Packers' list of inactives, listed in full below, are significant for a couple …

Share Tweet

Join our ESPN.com NFL experts as they break down the Philadelphia Eagles' visit to the Green Bay Packers. Contribute your thoughts and questions beginning at 1 p.m. ET. And, be sure to visit our NFL Nation Blitz page for commentary from every game, as w…

Share Tweet

Sunday Blitz: Eagles-Packers Recap

Nov 10

Cary Chow and Tom Waddle break down the Eagles' Week 10 win over the Packers.

Wallace Injured, Eagles Top Packers

Nov 10

Packers QB Seneca Wallace left the game in the first quarter after suffering a groin injury, and Nick Foles threw for 228 yards and three touchdowns to lead the Eagles past the Packers 27-13.

Packers postgame press conference

Nov 10

Packers react following game with Eagles

Week 10: Eagles vs. Packers highlights

Nov 10

Philadelphia Eagles quarterback Nick Foles throws for 288 yards and 3 touchdowns to help lift the Eagles over the Packers 27-13 in Week 10.