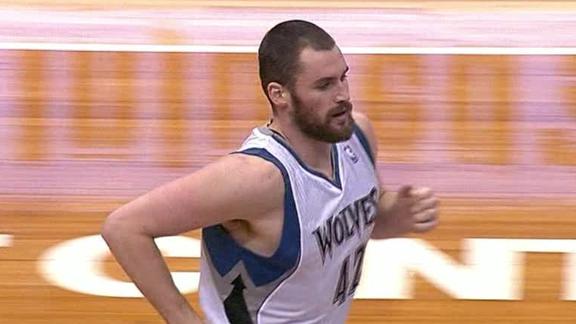 Love overcomes virus to lead Wolves by Bucks
ESPN.com
Updated Nov 30, 2012
Alexey Shved scored 10 of his 16 points in the fourth quarter and Kevin Love overcame a nasty stomach bug to collect 15 points and 14 rebounds in the Minnesota Timberwolves' 95-85 victory over the Milwaukee Bucks on Friday night.
Share
Tweet
ESPN.com profootballtalk.com

Nov 30, 2012

Minnesota Vikings wide receiver Percy Harvin has been listed as doubtful to play the rival Packers on Sunday because of a sprained left ankle, a frustrating absence for him and the team that would reach three games if he's not in uniform at Lambeau Fiel…

Share Tweet

What Might the Lakers Get by Trading Gasol?

nytimes.com

Nov 30, 2012

The Lakers should have plenty of appealing options for trading partners if they decide to move Pau Gasol.

Share Tweet

ESPN.com

Nov 30, 2012

Five nuggets of knowledge on Week 13: Non-Favre dominance: Over the past six years, the only time the Minnesota Vikings have won at Lambeau Field was when Brett Favre was their quarterback. All told, the Green Bay Packers have won five of the past six g…

Share Tweet

ESPN.com

Nov 30, 2012

Forecasters are projecting sunny skies and temperatures approaching 50 degrees Sunday in Green Bay. That sounds pretty inviting to me. I'll be at Lambeau Field bright and early Sunday morning in anticipation of the Green Bay Packers' matchup with the Mi…

Share Tweet

Jerron McMillian thinks NFL "has a hit out" on Packers

profootballtalk.com

Nov 30, 2012

Packers safety Jerron McMillian picked up a $21,000 fine from the NFL for a hit on Giants tight end Martellus Bennett during last Sunday's 38-10 Giants victory and he doesn't believe that the punishment fits the crime. McMillian doesn't think there

Share Tweet

NFL Kickoff OT: Week 13 Predictions

Nov 30

NFL Live makes their predictions for Week 13's key matchups.

'Playbook': Minnesota Vikings vs. Green Bay Packers

Nov 30

The Minnesota Vikings have lost three of their last four games, but will they be able to get back on the winning track against the Green Bay Packers? Our "Playbook" guys discuss this NFC North matchup.

Green Bay Packers going into Sunday with sense of urgency

Nov 30

While the Green Bay Packers are preparing for their game against the Minnesota Vikings with a sense of urgency, they will have to pick up the pieces with two key players already ruled out.

Love Leads Wolves Past Bucks

Nov 30

Kevin Love overcomes stomach bug to post another double-double and lead Wolves to 95-85 win over Bucks.